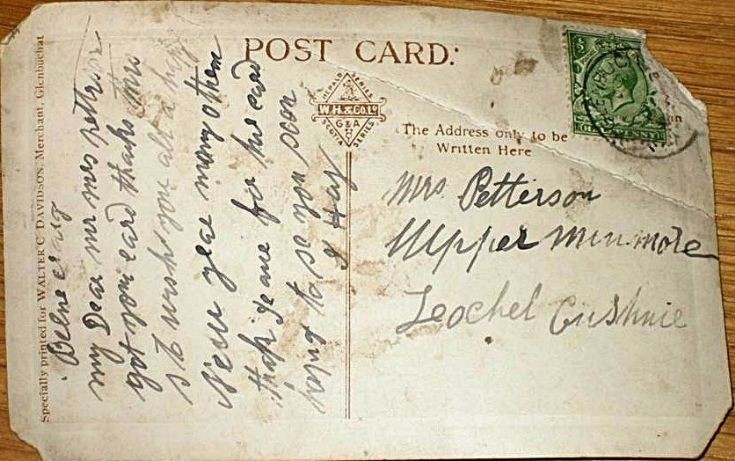 The Glenbuchat Image Library
76 Post Card about 1934 The reverse of the Post Card
with a picture of the Free Church and Manse
To:
Mrs Petterson
Upper Minmore
Leochel Cushnie
Belnacraig
My Dear Mr Mrs Petterson
Got your card thanks,
this is to wish you all a happy New year many o' them
Thank Jeane for her card.
Hoping to see you soon
?G Hay
This Post card is interesting for a number of reasons.
Firstly the stamp with the head of George V dates the card about 1934.
You will note that there is a Glenbuchat Post Mark.
The original Post Office was at the Bridge of Buchat
and a corrugated iron shed by the bridge marks the remains of the Postal sorting room and a bus shelter. Later the Post Office moved to the General Merchants store of
Walter Davidson
at Craigton. This shop closed in the early 1970's. You will note on the card the words. "Specially printed for Walter C. Davidson, Merchant ,Glenbuchat"
The letter is from ? G. Hay.
The Hay family lived at Craighead, a croft at the top of the Belnacraig brae. George Hay lived there until the early ninteen eighties and he would have been about 80 when he left. You can see his handwriting in a poem
'The Garnet Rock.'
Is this from him or an older relative.
Finally who is Mrs Petterson at Leochel Cushnie and are they connected? Perhaps someone may let me know.
Picture added on 19 December 2010 at 21:01
This picture is in the following groups
church