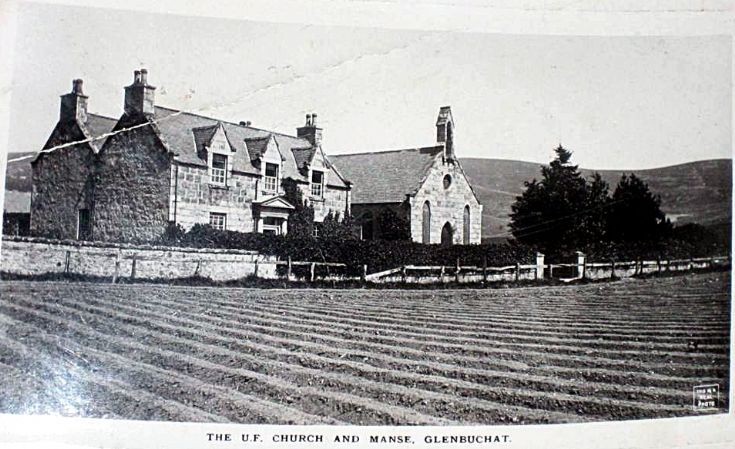 The Glenbuchat Image Library
75 United Free Church and Manse 1934
This is a picture of the United Free Church and manse at Glenbuchat on a Post card sent in by Mr James Addison. From the stamp, the card is dated about 1934
The Post Card is interesting as it mentions the 'United Free Church'. The Free Church broke away from the established Church in 1843 (see below) in the 'Disruption'. A new free church (picture) was built and the established 'Old Kirk of Glenbuchat' also continued.
The Two churches re-joined together after 1929, just about the time of this card. Then services were moved to the New Church in 1934.
The other side of the card
has also many interesting points of historical interest
'The Disruption'
(from Wickipedia)
Despite being 'the national Church of the Scottish people' as recognised by Acts of Parliament, the Church of Scotland, particularly under John Knox and later Andrew Melville (and unlike the Church of England), had always claimed an inherent right to exercise independent spiritual jurisdiction over her own affairs.However, the right of 'patronage', that is the right of a wealthy patron to install a minister of his or her choice into a parish, became a point of contention between those who held that this infringed on the spiritual independence of the church, and those who regarded it as a matter of property under the state's jurisdiction.

On 18 May 1843, 121 ministers and 73 elders led by Dr David Welsh, the retiring Moderator, left the Church of Scotland General Assembly at the Church of St. Andrew in George Street, Edinburgh, to form the Free Church of Scotland. After Dr Welsh read a Protest, they walked out and down the hill to the Tanfield Hall at Canonmills where their first meeting, the Disruption Assembly, was then held with Thomas Chalmers the first Moderator. A further meeting was held on 23 May for the Signing of the Act of Separation by the ministers. Eventually 474 of the about 1200 ministers adhered. Perhaps a third of the Evangelicals, the 'Middle party', remained within the established Church

In fact, most of the principles, on which the protesters went out, were conceded by Parliament by 1929, clearing the way for the re-union of that year, but the national Church of Scotland never fully regained its position after the schism.
Picture added on 19 December 2010 at 20:58
This picture is in the following groups
church