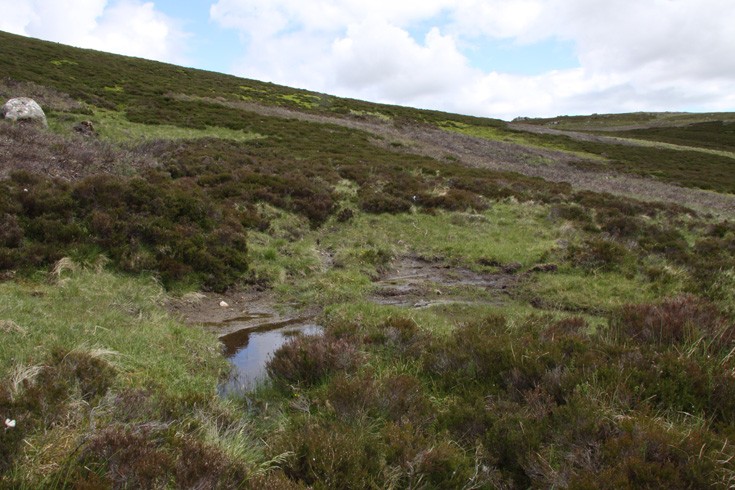 The Glenbuchat Image Library
18 Creagandubh Ring-Ditch House
24.06.10
Ring-ditch house on slopes of Creagandubh, at NJ31NE 95 3550 1951.
Dating from later prehistoric time,the ring-ditch house is located near to a group of shieling huts.
The outer bank can be seen arcing from left foreground, with water standing in the ditch.
In archaeology, the term ring ditch refers to a regularly-shaped circular or pennanular ditch cut. The term is most often used as a generic description in cases where there is no clear evidence for the function of the site: for instance where it has been ploughed flat and is known only as a cropmark or a geophysical anomaly. The two commonest monument types represented by ring ditches are roundhouses (where the 'ditch' is actually a foundation slot or eaves drip gully) and round barrows. The term is not normally used for larger features than these, which would instead be described as 'circular enclosures' (From Wikipedia)
Site Type RING DITCH HOUSE
County ABERDEENSHIRE
Parish GLENBUCHAT
Council ABERDEENSHIRE
NGR NJ 3568 1981
Latitude, Longitude 57.264403N, 3.068012W
Images 0
Archaeological Notes
NJ31NE 83 3570 1973 to 3600 1976
The remains of this ring-ditch house, which are situated at a height of 450m OD on a heather-grown terrace on the S flank of Creag na Gamha, comprise a shallow ditch with a thick external bank. It measures 7.6m in diameter over the ditch , which is 2.1m in breadth and 0.3m in depth, and the outer bank is up to 2.7m in thickness and 0.3m in height. The entrance is on the S, and what appears to be a contemporary shallow drainage channel is visible immediately outside the bank on the N and W, where the surface of the terrace falls gently to the SE.
Visited by RCAHMS (JRS, KM), 27 November 2002.
Scheduled as 'Newseat, ring-ditch 1300m ENE of... the remains of a ring-ditch house, visible as a penannular ditch and bank... at 450m above sea level... The monument is a circular stone bank measuring 15m in diameter, over a thick bamnk and internal ditch. The ditch is 2.1m in breadth and 0.7m in depth. The outer bank measures up to 2.7m in thickness and 0.3m in height. The entrance is to the S.'
Information from Historic Scotland, scheduling document dated 27 September 2007.
Picture added on 29 June 2010 at 22:36
This picture is in the following groups
places