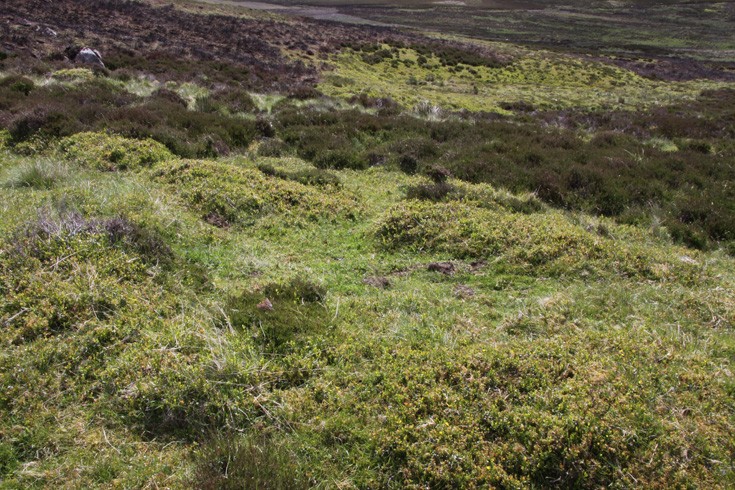 The Glenbuchat Image Library
17 Creagandubh Sheiling
24.06.10
Shieling hut on slopes of Creagandubh - one of fifteen located between NJ31NE84 3542 1971 to 3545 1945.
Creagandubh " Little black craig"
A shieling is a small house or hut once common in the hills and mountains of Scotland and northern England. Farmers and their families lived there during the summer, when their livestock were grazing common land in the hills.
Site Type SHIELING HUT(S)
County ABERDEENSHIRE
Parish GLENBUCHAT
Council ABERDEENSHIRE
NGR NJ 3570 1973
Latitude, Longitude 57.263687N, 3.06766W
Images 0
Archaeological Notes
NJ31NE 83 3570 1973 to 3600 1976
At least six shieling-huts are spread out across a S-facing slope in this area of rough heather moorland; all comprise low wall-footings and further structures probably remain to be detected in the long heather. The huts are described in order from E to W:
1. NJ 3597 1976. This hut measures 6m from E to W by 3.8m transversely overall and has an entrance on the S; small pens or outshots are attached to the N side and the E end respectively.
2. NJ 3591 1977. This hut lies about 60m W of (1) and measures 6m from N to S by 4.8m transversely overall; there is an outshot at the S end.
3. NJ 3591 1981. This hut is situated about 70m NW of (1) and measures 5.4m from ENE to WSW by 3.8m transversely overall; it has an entrance in its S side.
4. NJ 3589 1978. This hut is situated about 75m WNW of (1) and measures 8m from ENE to WSW by 4m transversely overall. The entrance is in its S side and the interior contains two compartments.
5. NJ 3577 1972. This hut is one of two lying close together about 200m WSW of (1). It measures 6.5m from E to W by 4.2m transversely overall and has a small pen attached to its N side.
6. NJ 3576 1972. Situated immediately to the W of (6), this hut measures 7.5m from ENE to WSW by 4.9m transversely overall.
Visited by RCAHMS (JRS, KM), 27 November 2002.
Picture added on 29 June 2010 at 22:33
This picture is in the following groups
places