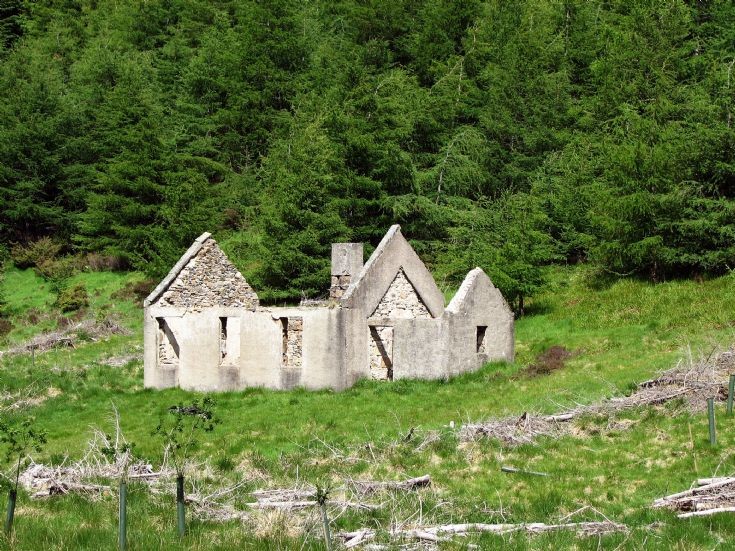 The Glenbuchat Image Library
6 Balloch School
Note how the school had now lost its roof and is surrounded by trees.
compare how it has changed since 1983
Alternative Name(s) GLENBUCHAT, OLD SCHOOLHOUSE
Canmore ID 126572
Site Type SCHOOL
County ABERDEENSHIRE
Parish GLENBUCHAT
Council ABERDEENSHIRE
NGR NJ 3363 1785
Latitude, Longitude 57.246506N, 3.101467W
Images 0
Archaeological Notes
NJ31NW 79 3363 1785
The old schoolhouse in the valley near the head of the Burn of Balloch is a rectangular, single-storeyed, slate-roofed building with an additional porch to the SSW and a small coal-store to the NNE. It is now falling into ruin within the fringes of a coniferous plantation about 20m W of the burn.
The school stands on a platform terraced into the rising ground on the E and measures 11.5m from NNE to SSW by 5.55m transversely over all. The attached coal-store is of corrugated iron, while the slightly offset porch is a little narrower than the main building (3.5m). The exterior has been rendered (save for the N gable). Three W-facing windows illuminate the single school-room, while a fourth lights the porch from the S. The entrance to the latter faces W and is fronted by a single-stepped threshold, but access to the school-room is gained through a door in the S gable.
The classroom is distinguished by a fireplace with a carved stone mantel centred against the N wall and the chimney stack rises above. Narrow timber uprights attached to the masonry of the walls support the remnants of lath and plaster; and the graffiti scrawled upon the walls dates back to the 1960?s. The timber flooring largely survives.
Two cracks in the rendering adjacent to the northernmost window of the schoolroom, together with variations in the character of the masonry within the interior, suggest a blocked doorway in this position.
The representation of the school upon both the 1st and 2nd editions of the OS 6-inch map (Aberdeenshire, sheet l, 1869 and 1903 respectively) suggests that the porch was added to the school after the turn of the 19th century, but the later map does show a path heading due E from the road, towards the doorway in the S gable of the building.
The 1st edition of the map also depicts a trackway leading towards the quarry on the scarp to the N, but this was omitted from the 2nd edition. No trace of it is now visible, although the quarry itself (NJ31SW 37) remains extant.
Visited by RCAHMS (ATW, JRS), 15 May 1997.
Picture added on 20 June 2010 at 23:39
This picture is in the following groups
school