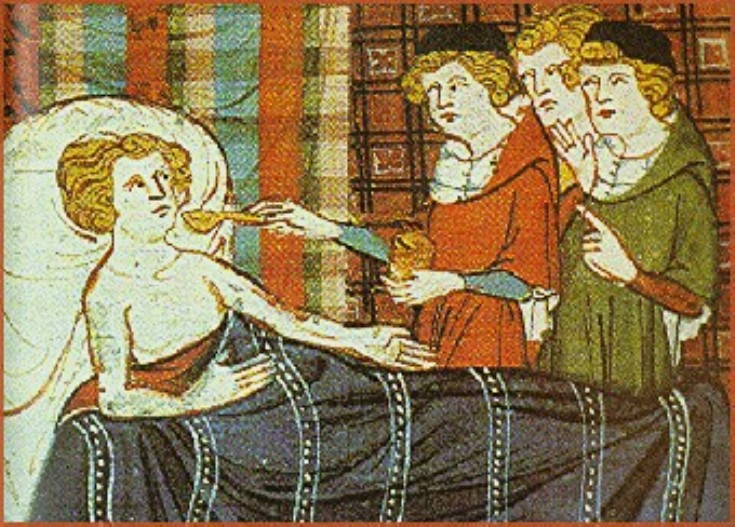 The Glenbuchat Image Library
59 Illness Death and Medical Care
With our all encompassing 21st century medical and social services we forget how devastating it must have been in the days when such services and knowledge were not available. A glimpse of the death certificates from 1850-1900 demonstrates the prevalence of illness, which are now no longer killers. The site
Strathdon Vital Records
contains a lot of information about births, deaths and marriages in the area.
Kellas, Jean 1859 February fifth, Belnacraig Glenbucket Aberdeenshire
F: 5 months, parents: Robert Kellas, shoemaker (master) & Elizabeth Kellas ms (Inch)
cause: Weakness & influenza. No medical attendant
Smith, Lewis farm servant 1859 April fourteenth, Mains of Glenbucket Aberdeenshire
M: 18 years , parents: John Smith pauper formerly farm servant & Catherine Smith ms William
cause: Diphtheria three weeks.
Michie, Jean 1859 August eleventh Upperton Glenbucket Aberdeenshire
F: 3 months, parents: [blank] & Maria Michie domestic servant
cause: Laryngitis four days.
James Clark (twin)1861 January sixth Badenyon, Glenbucket
M: 7 weeks. parents: Helen Clark, Domestic Servant [father left blank]
cause: Whooping Cough, about a week. No medical attendant.
Elisabeth Mary Young 1866 April nineteenth, Belnaboth Glenbucket
F: 28 years, parents: John Young, shoemaker & Jean Young ms Reid
cause: Chronic tubercular peritonitis 3 months, Phthisis 2 weeks.
John McRobbie Illegitimate 1866 September twentieth Rhintanig Glenbucket
M: 25 years, parents: William McRobbie, farmer & Margaret Fraser, domestic servant
cause: Phthisis pulmonalis 9 months.
William Michie (1871 March twenty-first, at Sluggy, Glenbucket
M: 32 years, parents: James Michie, Farmer & Helen Michie ms Beattie (deceased)
cause: Phthisis Pulmonalis, years.
James Alexander Beatton 1871 April twenty-second, Belnacraig, Glenbucket
M: 20 years parents: John Beatton, Day Labourer & Helen Beatton ms McHardy
cause: Supposes Phthisis and Disease of Spine. Not certified
Annie Kellas 1900 May Twenty-third, Dulax, Glenbucket
F: 11 years, parents: Alexr Kellas, Farmer & Annie Kellas ms Gordon
cause: Osteo Myelitis 10 days, Pericarditis 1 day.
Jessie Bremner. Pauper, Lunatic 1890 December twentieth, Altnacraig, Glenbucket, F: 56 years, parents: Thomas Bremner, Meal Miller (deceased) & Elspet Bremner ms Dow (deceased)
cause: Epilepsy 41 years; progressive muscular atrophy 1 year & 1 month.
More distressing, perhaps, are the maternal deaths, which almost never happen nowadays.
Tulloch, Jean, wife of a farmer, 1859 March twentieth Badenyon Glenbucket
F: 34 years, parents: James Ross, farmer & Jean Ross ms Michie
cause: Sudden after 7th day of delivery of second child. Labour natural a few minutes.
Michie, Helen, wife of an agr labourer, 1857 June tenth Inverbucket, Glenbucket,
F: 29 years, parents: Harry Ross, Farmer (deceased) & Ann Ross ms Anderson
cause: Puerperal Fever 16 Days,
It is interesting to note that the majority of deaths in 1850 were not certified by a doctor, and this number gradually increases until 1900 when most, but not all, were certified by a doctor. It is notable that many suffered severe illnesses for many years with out ever seeing a doctor. It was not until 1855 that the civil registration of births and deaths was introduced. Even after this date many deaths went uncertified, or the causes were wrongly entered on the death certificate. Stillborn babies went unregistered and had no burial ceremony. In places with few doctors the cause of death was badly recorded, with 24% of deaths in Glasgow uncertified in 1871. By 1893 this had been reduced to 3%, but in Inverness 42% of deaths were still uncertified.
The following is a list of the names of the doctors certifying death. They seemed to have lived near Glenbuchat but only two had an address in the Glen
1857 Alexr Profeit Towie
1857 Alexr Robb MD Inverkindie
1873 W. Coutts LRCP, Mains of Glenbucket
1876 R MortimerYule MB & CM, Towie MD
1884 Charles L Wattie MD, Glenbucket
1885 Peter Calloway MB & CM
1890 Peter Rough MB CM
1890 James Troup MB CM
1890 P.E. Howie MB CM
1893 R Elstorvie MB, CM
1900 W. Marshall Phillip MBCM DPH
1900 James McKay MB ChB
1945 Douglas McBain M.B.Ch.B Strathdon
1969 John Reid M.B.Ch.B Aberdeen 1945 Strathdon (tel 209)
Dr Charles Wattie is of interest; he was born in the glen and served as an army surgeon abroad. On his retirement with ill health he must have carried out some medical work in the Glen before his death in 1888. Below is his BMJ obituary
CHARLES LINDSAY WATTIE, M.D.,C.M.ABERD. 1888
(born about 1846)
DR. WATTIE, of Glenbucket, Aberdeenshire, who has succumbed to an illness from which he has long been suffering, was educated at the Grammar School and University of Aberdeen. On the outbreak of the Serbian war he went abroad as one of the volunteer surgeons sent out by the Marquis of Bute, and merited the special thanks of the Serbian Government. Dr. Wattie was also attached to the army in the Russo-Turkish war, under the command of Mahomet Ali Pacha, and was present at many of the principal engagements up to the time when Sofia was captured. On that occasion he was, along with another English surgeon, taken prisoner and confined for six weeks, but on the conclusion of then war he received the thanks of the Turkish Government, and was awarded the Third Degree Order of the Osmanieh by the Sultan. Since returning home Dr. Wattie's health has gradually broken down, and three years ago he had to retire from active duty. BMJ July 7th1888
His family were living at the Milton in the 1851 census when he was five.
John Wattie Head Mar 47 Farmer of 95 acres (empl 2 Lab)
Charlotte Reid Wife Mar 42
Charlotte L. Wattie Daur 18 Farmer's daughter
John Wattie Son 12 Scholar
Jean Wattie daur 11 Scholar
Helen Wattie daur 8 Scholar
Charles Wattie Son 5 Aberdeenshire, Glenbucket
William Forbes Serv 18 Farm Labourer Strathdon
William Moir Serv Mar 43 Farm Labourer Tarves
Over the hill from Glenbuchat lies the Cabrach and writings in
'Cabrach Diary's
gives more insight into the Medical conditions of the time. The thought of a local doctor on reaching the region are not very flattering:
"Now listen to Dr Michie's first impressions of the Cabrach, and you will gain some notion of the inhabitants-"
"The doctor by nature was a very stout built man, he was a great pedestrian in walking. On his first approach to Cabrach he preferred walking across the hills from Rhynie; on reaching the summit of the hill and looking down on the valley below, he observed a river winding its serpentine course along its midst. This river had the appearance to emerge out from below a mountain to the west, and to disappear below a mountain to the east; there was no appearance of an ingress or egress, its banks were decked in greensward where black cattle grazed in abundance, and its heath clad braes covered with fleecy flocks; after surveying the scenery below he cast his eyes westwards, and he could behold mountain after mountain, I said to myself, 'I have travelled mony a weary foot through this warl', but noo I have reached the backside of it, I wager this colony escaped the researches of Dr Johnson. When he reached the Hebrides he said they were the outside or the riddlings of creation. I began to contemplate in my mind what sort of a race its inhabitants might be. It brought to my recollection the incidents related by a pedestrian something like myself who had travelled largely through the world; on his return home he related that he found a colony whose inhabitants had but one leg, they had a very large round foot like a girdle, they hopped when they walked and were called "Girdle Hoppers." Well, I presume this to be that colony, I have made a wonderful discovery and perhaps a profitable one too, I may catch a pair of these creatures and have them exhibited, or at least I might do the public a service and send one of them to the Zoological Gardens at London.'"
The medical condition so the time are also described in the Cabrach diaries:
1837
June 7. Died at Nether Ardwell, Christian Dawson, daughter of John Dawson who was lost in the hills of the Ardwell about ten years ago. She died of fever.
June 8. Died at Aurgaulie, Glass, John Watt, merchant and farmer. He was a brother of James who died at Nether Ardwell upon the 17th of last month and uncle to Ann, who died upon the 5th. Christian Dawson died also of the same fever. There are eight persons in the town of Nether Ardwell at present dangerously ill. The fever is very contagious and medical men are at a loss to know how to treat with it. It affects the brain very much and causes derangement, with the loss of different of the faculties. John Watt was an unmarried man aged about 50 years. He has left considerable property, viz. the farm movables and money. He has one brother, William and four sisters alive. The weather has had no precedent for cold in the month of June. The grass has scarcely begun to sprout. The cattle and horses are in starvation. The manufactories are at a stand. In Paisley there are upwards of 10,000 hands unemployed.
1838
Lost in Cabrach Hills. February 5. This day went out in search of James Ramsay, who was amissing since the 16th of January. He was at a roup belonging to Alex Bain, merchant, Poyneed. He was supposed to have perished by reason of the intense frost. The greater part of the men of the parish met at Auchmair, at least upwards of 200, and after a fruitless search of six hours returned without finding him. As much snow had fallen since he was lost he was not missed for about 14 days. He was a native of the parish of Mortlach but had generally resided in this neighbourhood this 20 years engaged in farm service during the winter and driving cattle in summer.
May 7. This day James Ramsey, who has been a missing since the 14th of January, was found by Elizabeth, daughter of John Gordon, farmer, Aulton. His body was found at what is termed the Broadrashes, upon the farm of the Bank. The body being much decomposed, he was buried in the churchyard of Cabrach, the following morning the 8th inst.
December 20. The smallpox is very prevalent in all the surrounding countries...James Duncan4, Drywells, is very bad, also Alexr Duncan, tailor, and his family, in Loanhead.
December 25. Died at Loanhead of smallpox, an infant of Alexr Duncan5, tailor there. It was interred at Cairnie.
1840 April 8. Died of typhus fever Margaret1, daughter of James Horn, aged 18 years. She was in service at Dykenook, Clatt, where she caught the infection, brought home, and she died at Drywells.
From the Medical Officer of Health's Report 1891 Alford area
"Several specific enquiries were made into the cause of outbreaks of enteric fever, as at…Castle Newe…some of these investigations indicated the necessity of adopting careful precautionary measures in dealing with first cases of typhoid fever.
Diphtheria is a common form of disease in this area, several cases occurred in the village of Alford."
Strathdon Population 1891, death rate 17.5/deaths per 1,000 of population
In spite of the poor statistical information available to historians it would appear that although disease was a feature of rural life, it was more of a problem in cities. Between 1835 and 1845 the average death rate in 331 rural parishes, with
a total population of 751,016 was 20.3 per 1000. The average death rate in the14 principal towns of Scotland, with almost exactly the same population, was 26.7 per 1000. The lower death rate for the rural parishes was largely due to the fact that people living in the country were spread out over a large area, which meant that in times of epidemics they had a natural system of quarantine. The generally healthier environment in the countryside also helped build up resistance to disease.
The
Parochial Statistical Accounts
also had references to the Health of the area:
1838: Strathdon
"Epidemic distempers are seldom known, and there is no endemical disease. Stone or gravel is mentioned in the former account as very prevalent. It is now confined chiefly to one glen, (Nochty). A few years ago there were five or six cases at one time in that glen. One individual, in 1832, 73 years of age, went to Liston in Edinburgh,
(Robert Liston (1794 - 1847) was a pioneering Scottish surgeon. He was likely the best surgeon of his day, noted for his skill and his speed in an era prior to anaesthetics. He was able to complete operations in a matter of seconds, at a time when speed was essential to reduce pain and improve the odds of survival of a patient; he is said to have been able to perform the removal of a limb in an amputation in roughly 30 seconds)
and had three stones the size of a hen's egg extracted. In a few weeks he returned cured, and at this day retains perfect health, walking three miles to church every Sabbath, and discharging his duties as an elder, which he has been in the parish for upwards of thirty years. Hernia is not uncommon. In several instances young men are afflicted with it. The former account states "consumptions are very rare." There is no reason to believe the parish less healthy at the present day than forty years ago, but it cannot now be truly said consumption is rare. In its various forms, with the diseases resembling and connected with it, not a few fall victims to its ravages. Of these diseases, unquestionably scrofula is most predominant.
( Scrofula is any of a variety of skin diseases; in particular, a form of tuberculosis, affecting the lymph nodes of the neck.)
One family in the parish, consisting of a father and four children, have been cut off by it, and the childless widow is a helpless cripple. There is one decided case of bronchocele, as distinctly marked as the writer has often witnessed it on the Cretins in Canton de Vallois in Switzerland. There is, however, no Cretinism or fatuity in this case. The woman has a numerous family, but the disease has not hitherto appeared in any of her offspring. It is a singular circumstance that the woman lives in the glen already mentioned as the locality where calculus prevails. It would be an interesting subject of inquiry, whether or not the common origin of both diseases might not be traced to some peculiar impregnation of the water in the glen. Still, on the whole, the quantity of disease is small, unusually small, when the extreme variations of temperature, already referred to, and the insufficient protection that the dwellings and clothing of the poorer classes too often afford against the rigours of winter, are taken into account. Many of the parishioners have from time to time reached an extreme old age. About four years ago, one man died in the 103rd year of his age. When the present incumbent became minister of the parish, his session consisted of six elders, the youngest of whom was about 70. Not many years since, nine Forbes's, born within the sound of the kirk bell, met at Bellabeg, whose united ages were 750 years."
Glenkindie 1791
The people in general are healthy, but there are few instances of longevity. Some years ago, a woman in the parish died at the age of 100. There are a few persons still living about 80. The most common distempers are the hooping cough, measles, and small pox; fevers sometimes make their appearance, consumptions very rarely; among old men, stone and gravel are very prevalent. Inoculation for the small pox has not yet become general throughout the parish. In one corner, (on Kindyside), it has at different times been practiced with great success, owing chiefly to the influences and attention of the proprietor. The parishioners at large do not seem to entertain any prejudice against inoculation, if they could afford the expense. There is a chalybeate spring at Glenconry; but it is little attended to, though it is said to be nothing inferior to some elsewhere, that are in good repute.
From the
letters of Harry Begg,
the effect of illness in a family can be noted:
1838
My uncles in Badenyon and Blackhillock with their families are well. George Begg has given over thinking about America now; he has been looking at several farms in this quarter. In Glenbucket in the time of the storm Adam Hay who lived in the (Upper)town was lost a short distance from his own house and lay for days before he was found; after he was found a rumour was spread that he had not got fair play, and the Sherriff was called out to examine into it, but found no evidence of any thing of the kind. Two of the family of Tollafraik in Kindyside, Harry and James have now died in consumption and the youngest daughter is fast following, (Jane or Sam) died not long ago at the (piece torn from letter next to seal) Harry about two years ago.
1841
Your friends here & Glenbucket are all well. My father is still alive & in good health (but dead to the world). He is now become so feeble and helpless that he requires to be lifted from chair to chair & fed like a child. For eight or nine months past he has been in the helpless condition & since Whitsunday 1840 he has been with us, as we were not able to endure the fatigue of waiting upon him in his own house. And his nurse Betty Downie was little better, therefore I discharged her, and took charge of him ourselves ­ I may add that Betty Downie had got him to give her a Bill for £21 Sterling besides a great many other items of no inconsiderable value, equal to nine or ten pounds more, independent of the privilege of working for her own behoof to the neighbours, spinning, weaving & [&c stands for and also or etcetera] for years, all which was kept secret from us until a notice reached this [us] from the Bank that the Bill was due three days thereafter.

I had no alternative but take the coach and post on to Aberdeen and pay the Bill. And upon returning I give her leave. You will readily see that we are fixed here for a time, & until it please God to liberate us from our present charge we are & must remain for a time & indeed it is a very great consolation to us that he [father] is so well pleased. He cannot suffer my wife to be absent. He is equally attached to the whole of the family & some of the younger children is always fondling about him. The rest of my friends in Glenbucket have not been very solicitous in enquiring after his welfare. Blackhillock [I think Charles is using a place to describe a person he¹d rather not name] in particular has only been once or twice seeing him since he removed & his wife never and George only once. John & his family have been several times. I have not bee able to learn any particular reason and can only suppose that they don't expect to come by a fortune or they would have been oftener.
Professional Care
The above paragraphs refer to the illnesses suffered and that most care was absent or provided by the family. This section looks at the organised care services in as much there were any.
Distant Past
Before any organised state care communities provided their own medical care. Certain unqualified people became called upon to provide services of varying quality. We have note the unsatisfactory nurse in Harry Begg's letter above. A midwife lived at Belnacraig (1851 Belnacraig Elizabeth Brodie W 60 Midwife) and there was a Paupers Nurse at Belnaboth (1851 Ann McHardy Nurse 58 Paupers nurse (formerly House Serv)). This was before there was professional registration of Doctors or Nurses.
Herbal medicine survived, however, as a practice associated with secret knowledge of natural cures, mainly because there were few doctors outside urban areas: George Buchan (d. 1738) was a leech, or bloodletter, who also treated people with ale brewed from herbs in his garden at Inverugie. The old ballads frequently refer to love-charms and aphrodisiacs, and mention specific herbs in relation to chastity, pregnancy, labour and abortion. Walter Gregor states that two sweets stuck together with sweat (a recognised aphrodisiac) were believed by the ordinary folk of his day in Aberdeenshire to have a compelling effect on a women who was courted. Conception could be effected in a sterile woman by coitus on the ground out of doors, and children born beneath the trees are mostly male: 'It could'na but be a boy, as it was gotten under a green-tree' (or 'among the green girse' [grass]). Servant girls in Aberdeenshire, late in the 19th century, would 'pu' the yarrow' to determine who their sweetheart might be: 'The first young man that I do see, 'Tis my sweetheart he shall be.'
A type of professional medical care was provided my monasteries and religious organisations. We have noted that
St Walloch
, a Celtic saint, lived in Glenbuchat and by his 'preaching, exhortation, and miracles, he converted the locals.to the faith of Christ.' Also among the rocks on the banks of the Deveron, St. Wolok's baths, famous for the cure of various disorders. People were driven by superstition and rumour and sought help from any agency. There was a
Holy well
at the top of Ben Newe, which was supposed to have health properties. Wells were often revered and the object of pilgrimage. The Wishing Well at Culloden Moor and the Well of St Mary at Orton both drew pilgrimages into the 20th century. The Saint's Well at Navity, barely used as a rag well in Hugh Miller's day, was decked with rags in 1934.
The Celtic Church was not completely ignorant and there is a Gaelic Manuscript
'Regimen Sanitatis'
a manuscript of the early 16th Century, by the medical attendant of the Lord of the Isles. This text indicates that they were familiar with the writings from medical texts from Rome, Arabia and Greece. It contains some common sense principles for maintaining health when taking into account he medical knowledge of the day.
In
1579
, an act of the Scottish Parliament "For Punischment of Strang and Idle Beggars, and Reliefe of the Pure and Impotent" laid the basis of the system of poor relief in Scotland that was to continue for the next three centuries. Amongst its provisions were for each parish to make a list of its own poor (those who had been born there or who had lived there for seven years or more), "that the aged, impotent, and pure people, shuld have lodgeing and abiding places", and to enable "heritors" or land-owners to take the children of beggars into unpaid service until they were eighteen, in the case of girls, or twenty-four, for boys.
A further act in
1597
shifted the administration of poor relief to the church authorities in each parish, the Kirk Session. Money for its operation was raised in a number of ways.
An act of
1672
ordered magistrates to erect "correction houses" or workhouses in which beggars could be detained and made to work. One of the earliest recorded workhouses, "the workhouse called Paul's work", is known to have operated in Edinburgh from at least 1720.
By the
1840s
, it became apparent that reform was necessary. The demand for relief exceeded supply and it was administered very irregularly. A further factor, in 1843, was the Disruption where the established Church of Scotland suffered a split with forty percent of its clergy leaving to form the Free Church. The existing system of administration via the Church of Scotland's Kirk Sessions was no longer effective after half its members had departed. In January 1843, a Commission of Enquiry was set up to inquire into the system of poor relief in Scotland and suggest improvements.
Move form the religious Orders
The study and practice of medicine and law was eventually forbidden to all who had taken religious vows, under pain of excommunication. This was followed in 1215 by a further anathema on transgressors, with an additional canon decreeing that, as the Church abhorred sanguinary practices, not only should no priest be allowed to practise surgery, but benediction should be refused to all who did so. The priests therefore turned to the barbers, who, for tonsorial purposes, were much employed by the Church, who were accustomed to the skilful use of sharp instruments, and who from time immemorial had been entrusted with the minor operations. In this way the barbers became the recipients of any surgical knowledge still surviving in the Church
Thus Medical expertise moved to Physicians, Surgeons and Apothecaries who made up medicines.
Ignorance of the basic principles of hygiene was also an important factor in the generation and spread of disease. It was not a common practice to boil water in the 19th century, nor was bathing popular. Dirty water and unclean bodies were major factors in the spread of diseases such as cholera and typhoid. Milk and other dairy products were a common breeding ground for scarlet fever and diphtheria. Dairies and shopkeepers diluted milk with (infected) water to yield greater profits. Beer was even adulterated with narcotic substances such as strychnine to counter the effect of over dilution with water of the original. The effect was slow poisoning. Of course, alcohol consumption, mainly of whisky, induced all manner of health problems, and Scotland's reputation for drunkenness was legend. The problem of food and drink pollution was addressed with a law in 1860 banning the adulteration of milk. At about the same time alcohol consumption started to reduce. The consumption of whisky which stood at 1.65 gallons a year per head of the population in 1861 fell to just 0.40 gallons a year by 1931.
Under old Scottish poor law, relief of poverty in general, as well as help with medical treatment in particular, was the province of the local kirk and parish. By 1840 the parish structure could not cope.
1845 Poor Law Act
care secularised through the parish. Parochial Boards were set up to verse parish relief, and this relief of necessity involved medical and surgical care. Overseeing the boards was a Board of Supervision in Edinburgh.
The 1845 Scottish Poor Law Act
The Commission's report, delivered on 2nd of May 1844, noted that poor relief in Scotland was generally confined to the old, infirm, disabled, mentally ill and so on, and that relief to the able-bodied was rare. They therefore proposed to broadly keep relief organized at the parish level. Their main recommendations were:
•A central Board of Supervision would regulate the operation of the new system. The Board's membership comprised the Lord Provost of Edinburgh, the Lord Provost of Glasgow, The Solicitor General of Scotland, the Sheriffs Depute of the counties of Perth, Renfrew, Ross and Cromarty, and three other persons appointed by the Crown.
•Each of the country's 880 parishes was to have its own Parochial Board of managers, locally appointed each year.
•The parochial board would decide whether to raise poor relief funds voluntarily, or to impose a poor rate "according to any established usage" — generally based on assessment of property ownership.
•Poor relief could be given in the form of cash or in kind, or a poorhouse could be set up to shelter the sick or destitute, but not the able-bodied.
•Parishes, particularly in urban areas, could be united for settlement and poor-relief purposes, including the establishment of joint poorhouses.
•Poorhouses could be set up only by parishes, or Combinations of parishes, whose population exceeded five thousand people.
•An Inspector of the Poor in each parish would examine all applications for relief.
Interestingly, in Shaw's Union Officers Manual 1847, Mr William Chree is noted as Inspector for the Parish of Glenbucket and therefore was involved in the administration of the Poor Law.
See page 58
for details about the Poorhouse at Belnaboth and Mr Chree and his family.
What was available in terms of health care for the sick and diseased in the 19th century? Unless one was a pauper, all health care at this time had to be paid for privately. If a person was ill there were three types of care available: treatment in a voluntary hospital; treatment in a poor law hospital; and treatment at home by a doctor. The voluntary or teaching hospitals were superior medical institutions with first class facilities and staff. They were supported by private donations, endowments and subscriptions. To receive treatment a patient had to be provided with a 'line' signed by a subscriber. All patients had to leave the hospital within 40 days, and funeral expenses were to be guaranteed by the subscriber. Certain categories of patient were not admitted - the poor, as poorhouses dealt with them, apprentices and servants, who were to be looked after in their masters' houses. There were also some illnesses considered unsuitable for entry, including those associated with pregnant women, and incurable diseases such as smallpox.
Those on poor relief could also receive visits from the parish doctor and call at his surgery free of charge. This outdoor medical service was, however, stretched to the limit. The doctor was only employed on a part-time basis and the number of patients in his care was quite phenomenal.
British Medical Journal Advert 1890
PAROCHIAL BOARDS OF STRATHDON GLENBUCKET,
Medial Officer. Salary, £65 per annum. Applications to the Chairman of the Boards.
Many parishes, particularly in the east of Scotland, instead (or sometimes additionally) operated smaller and more informal poorhouse establishments variously known as almshouses, parish homes, parochial houses, or parish lodging houses. In 1861, the Board of Supervision identified two classes of parish poorhouses: those being used for the purposes of statutory poorhouses, and those that were merely dwellings for those receiving outdoor relief. Although a few of the larger institutions such as that at Peterhead were comparable in scale to statutory poorhouses, most were very modest establishments. Rather than the dormitories that characterised poorhouses, parish accommodation was more likely to be arranged as small apartments or cottages. The inmates ('persons of good character') could live with as much freedom as in their own homes, often with their own furniture, and buying and cooking their own food.
Note mention of
Ann McHardy Nurse U 58 Paupers nurse (formerly House Servant)
in the 1851 census of Belnacraig
At that time Aberdeen had the following Hospitals
ABERDEEN EYE AND EAR INSTITUTION No 11 Littlejohn St
Established 1831 of applications since the Institution was opened 4882
ABERDEEN GENERAL DISPENSARY
Established 1823 Medical Attendants W Templeton MD J Galen MD R Jamieson MD J Campbell Esq. W Leslie Esq. R Smith Esq. Apothecary MW Paterson Treasurer A Anderson Advocate Secretary J Watt Advocate
Average number of patients 5000 per annum of whom about two thirds are attended at their own homes
ABERDEEN ROYAL INFIRMARY
Established 1739 Number of beds 300
Physicians Dr R Dyce Dr A Kilgour Dr GI Nicoll Surgeons W Keith MD J Cadenhead MD Ophthalmic Surgeonl W Pirrie MD D Kerr MD AJ Lizars MD Resident Superintendent and Apothecary R Rattray MD Resident Physician's Assistant John Ogilvie Resident Surgeon's Assistant A Sanderson Treasurer and Secretary W Walker Esq Matron Mrs Shanks
Average number of in patients 152 out patients 300 cases from the country parishes only being prescribed for as such
By 1919 maternity and child welfare schemes were in place in areas comprising
55% of the population of Scotland. Ten years later this had increased to 94%, and by 1935 the scheme was operating in all areas of Scotland. Those Scots living in remote parts of the Highlands and Islands also saw their access to medical care improve. These parishes were generally too small and poor to support a rate funded medical service and the State was forced to intervene. The Highlands and Islands Medical Service was established in 1913 by a grant of £42,000 from the government. The intention was to induce doctors to settle and practice in these out of the way places.
The combination of private medical attendants with some state social care continued until
1947
when the National Health Service was started. From then on Health and Social care was free at the point of contact. Also the care was supposed to be uniform throughout the country.
Dr John Reid was the GP at Strathdon for many years and after a few years of changing GP's the area is now served by Drs Janet Fitton and Dr Alan Carr. Both doctors are resident in the Glen although the
Surgery
is at Newe. They are supported by a nursing team and out of hours are covered by NHS24 and GMED doctors. This is great change from the old days. What will the future bring?
Picture added on 08 April 2010 at 16:18