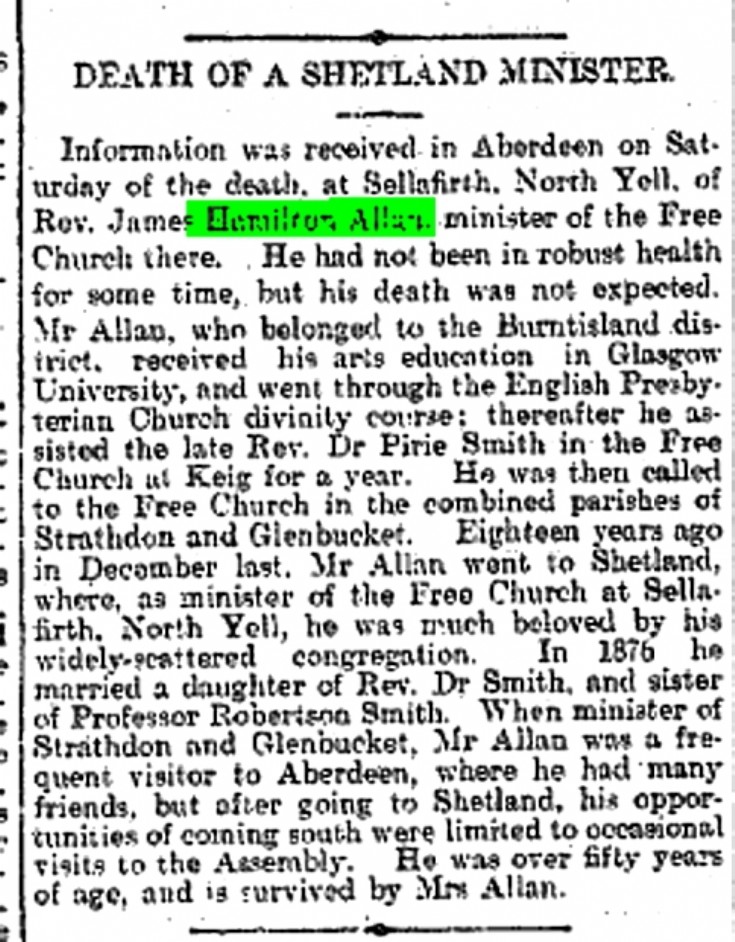 The Glenbuchat Image Library
13 Obituary Free Church Minister
In my papers I found an obituary on the Free Church minister James Hamilton Allan.
The last sentence:
....."When minister in Strathdon"....refers to the reason why he was translated to Yell.
This happy-go-lucky lifestyle was more than his calvinistic flock could endure. My gr.-grandmother Alice Thiele Smith in her reminiscences wrote that it was his congregation that wanted to get rid of him. The presbytery took him off the streets - so to speak.
Alice called him a rogue. This especially, as - when assistant of his father-in-law to be - he first proposed his wife's youngest sister Lucy. But while Lucy along with Alice was in Germany for a while, he proposed Nellie. When Lucy received the "good" news of the planned wedding, she nearly got ill from grief.
Well, that's a bit of family gossip, but surely will do not any harm to anyone nowadays.
See pictures
Ellen (Nellie) Deans Allan 1851-1917,
Free Church Annals,
,
Church and Manse
,
Picture added on 19 March 2010 at 21:03
This picture is in the following groups
church