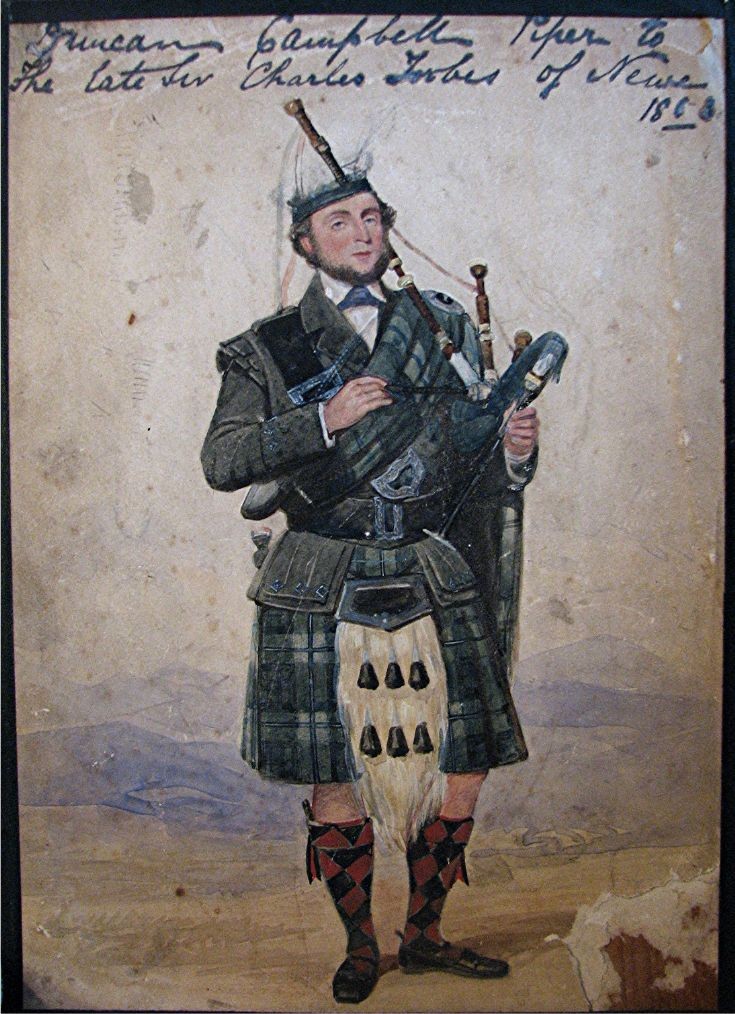 The Glenbuchat Image Library
7 Duncan Campbell, The Piper of NeweDuncan Campbell, The piper of Newe From piperspress.com
Picture kindly contributed by Mrs Elspeth Hardie of House of Newe
Duncan Campbell was born at Balintyre, Glen Lyon, in the parish of Fortingall in Perthshire, on 1 June 1816, and was reputedly a friend of Angus MacKay, according to Campbell-K, who also claimed been a pupil of John MacKay, but the dates do not marry up. The ex-judge was at his mendacious worst because the claim insinuated that Duncan had copied out The Big Spree from the father's music and not Angus's, meaning both were identical, which was simply untrue.
The original manuscript was said to have been copied out from Angus MacKay's MSS by the
Castle Newe
piper, Duncan Campbell, about twenty years earlier and had been around. It contained 88 pibrochs, only four of which did not come from Angus's papers, but not one was from his published book. On the surface, they were treasure trove to the young piper, but Gillies was being asked to sup from a poisoned chalice.
Duncan Campbell, 1816-1860 had earlier been piper to the Duke of Atholl at Blair Castle in Perthshire, and had moved on because of castle gossip. He had copied out the manuscript for his new employer to whom it was supposedly inscribed: "Sir Charles Forbes of Newe, 21February 1853, Highland Bagpipe Music."
Sir Charles may well have paid him to copy out Angus's manuscript and was evidence of the family's dedication in helping to save Highland culture, which was then all the rage among the landed classes, for Duncan Campbell left the manuscript behind when he departed from Newe. It was certainly through other hands afterwards, and other copies were apparently made
Duncan went south to become pipe major of the Edinburgh City Volunteers, but sadly he afterwards fell off a scaffold on which he was working in the city in 1860 and was killed.
Donald Cameron's third son, Sandy Cameron (1848-1923), was marked out for piping greatness from early on in life, winning the prize pipes at Inverness in 1867 when he was only 19. It was the same year that his father, Donald, became Champion of Champions at the same gathering, and when Donald's youngest son, Keith, (1853-1899) was only eleven he was awarded a special prize there for his playing.
What it effectively did was to endorse the Cameron style (or more properly, the John MacKay style) as the gold standard of pibroch playing at the premier and oldest meeting in Scotland
In 1870 Sandy won the gold medal for former winners at Inverness when he was only 22, and had already been appointed piper to the Marquis of Huntly at Aboyne Castle on what became known as Royal Deeside, for Balmoral Castle was only about 20 miles or so to the west, while the City of Aberdeen, on the coast, was 32 miles to the east
He was described as piper/valet in the 1871 census and is said to have worked for 20 years at Aboyne Castle, but in the 1881 census he was described solely as "valet", indicating he may not have played pipes so regularly, and rarely competed.
In 1875, however, he was placed 3rd in the strathspey and reel contest at Braemar but may not even have entered the pibroch contest, which attracted only three competitors. It was won by John MacDougall Gillies, then aged 20, who was awarded the silver cup and £1 by Braemar Royal Highland Society. He was also awarded a shoulder brooch valued at £3, a highly successful launch for Gillies into competitive piping
A fortnight later Gillies was awarded first for pibroch at Aboyne Games when Sandy Cameron, only seven years older was one of three piping judges, and could never have given him 1st prize if Gillies had then been a pupil, which came later.
John MacDougall Gillies (1855-1925) was born in Aberdeen, although his family came from Cowal and had gone to live in the city where he learned pipes as a boy and became keenly interested in pibroch, which he probably first learned from P.M. Alex. Fettes, a most musical man. He composed the Glendaruel Highlanders, which has remained a popular 6/8 march to this day, especially after G.S, MacLennan added two more parts to the original two
The year after the emergent star's win at Braemar in 1875, MacDougall Gillies, by then a corporal-piper in the Aberdeen City Rifles, was very much the up-and-coming young piper in the Deeside area. That was on Saturday, 26 August 1876, when the "handsome silver cup" was presented to him by Mrs Charles Forbes of Castle Newe (pronounced N'yowe) who "added a few words of encouragement" to the trim young piper as she handed him the cup. On the surface, they were treasure trove to the young piper, but perhaps Gillies was being asked to sup from a poisoned chalice.
These words may have conveyed the worst message possible, if, as seems more than likely, Mrs Forbes mentioned a certain pibroch manuscript, or a version of it, to Gillies, for he then vanished into a piping wilderness for six years.
From www.college-of-piping.co.uk
Piobaireachd Manuscripts in the National Library of Scotland
Campbell, Duncan. "Alexander Skinner's Manuscript" of Piobaireachd, so-called from the inscription "Presented to Mr. Duncan Campbell, Piper to Sir Charles Forbes, Bart, of Newe, by Alexander Skinner, Teacher of dancing…. London, 15th June 1855"
What Skinner presented was, it seems, by the blank volume. The music was almost certainly written by Duncan Campbell. According to a note at the beginning by Archibald Campbell, Duncan Campbell left at least two manuscripts, one referred to simply as "Duncan Campbell's Manuscript" in the publication of the Piobaireachd Society, the other this, an incomplete and probably unrevised copy of the first.
The first has disappeared since 1910, when Archibald Campbell used it, but a copy of it came into possession of Pipe-Major William Ross in 1948. It seems also to have been used by Donald Dow; see below, MS 3750. Included in the volume, in addition to Archibald Campbell's note by her husband; and an index by her sister-in-law, Lady Dorothea Ruggles-Brise. Examples of tunes are: "lament for the Castle of Dunyveg", "The Kings Taxes", "The Battle of Atholl", "Lord MacDonald's Lament", "The Red Ribbon", "Waking of the Bridegroom", "The Drunken Great", "Donald McDonell of Laggan's Lament". Some tunes have been handwritten in pencil.
Duncan Campbell (1814-1860)
The "Notices of Pipers" published in the Piping Times in the 1960s and 1970s were originally compiled by Lt John McLennan — father of G.S. and D.R. McLennan, who were half-brothers — and subsequently revised by Major I. H. MacKay Scobie and Archibald Campbell. Some are dry and factual, others more animated. This account of Duncan Campbell's life, in the June 1968 Piping Times, deserves to be reproduced in full:
From www.pipetunes.ca
A tall, handsome man, and a celebrated piper. Born at Foss, on Loch Tummel. Taught by the famous John MacKay, piper to Raasay. He was a most successful competitor and had the strongest fingers of any piper of his day. Being well aware that he would not get all the first prizes, no matter who were against him, he was always in the habit of asking if Donald Cameron was likely to be present, as he would be sure the two would get all the firsts and he would not then have to submit to be beaten by a 'nobody.'
He was piper to the Duke of Atholl, to Sir Charles Forbes of new, and latterly was Pipe Major to the Edinburgh Volunteers. Unfortunately, he came by an accident, a fall from a scaffold, which caused his death. His funeral was a magnificent one, from his house to Newington Cemetery, the pipers of the 78th Highlanders playing laments all the way through an immense crowd of spectators.
He competed at Edinburgh in 1838, being awarded 3rd prize; was again 3rd in 1844, just missing being second by one vote, Donald Cameron being first and John MacAllister, piper to the Duke of Sutherland, second. Supposed to be the composer of "Sir Charles Forbes' Farewell to Edinglassie," "Edinglassie House" (Jig), the "Edinburgh Volunteers' March," and a number of other good tunes. The last named is stated to be "Duncan Campbell's last" by Pipe Major A. MacKellar, 79th Highlanders, on the fly-leaf of a MS book dated 25th April, 1862, belonging to Norman MacSwayed, pipers, Highland Rifles Militia.
From bobdunsire.com
James Farquharson was both piper and physician to the Duke of Edinburgh and a regular visitor at Deeside, where the men enjoyed piobaireachd, having been taught by Angus MacKay's father.
As there was nothing on telly, I looked further back and found the article I was thinking of in Vol 50 No. 11 August 1998, which gives some details of JF Farquharson being born in Strathdon around the Towie area in 1845.
Farquharson was taught by
Duncan Campbell,
Donald Cameron and John Ban Mackenzie while studying medicine at Aberdeen Medical College. After being appointed physician to Prince Albert the Duke of Edinburgh, he went on a tour of the world with him, but returned to compete at the Northern Meeting. Farquharson also played at the wedding of the Duke to Marie of Russia, daughter of Tsar Alexander III. He died in 1918 and is buried in Wandsworth Cemetery, London. Lament for Patrick Og MacCrimmon was played at his graveside by David Ross in accordance with his last wishes. Tons of info, still no tune though.
I did find one related tune, Sir Charles Forbes of Edinglassie by JF Farquharson, (which had been found in a handwritten book in Strathdon in Vol 51 No.2 but no Farewell to Strathdon as of yet. I then went to Vol 51 No.4 January 1999 and BINGO! there it is, Farquharsons Farewell To Strathdon, I wisnae' going mad after all. The answer your waiting for is, the tune was published in Henderson's Tutor between 1901 and 1910, but it is not in the first edition, which was published in 1900.
Picture added on 14 March 2010 at 23:07
Comments: