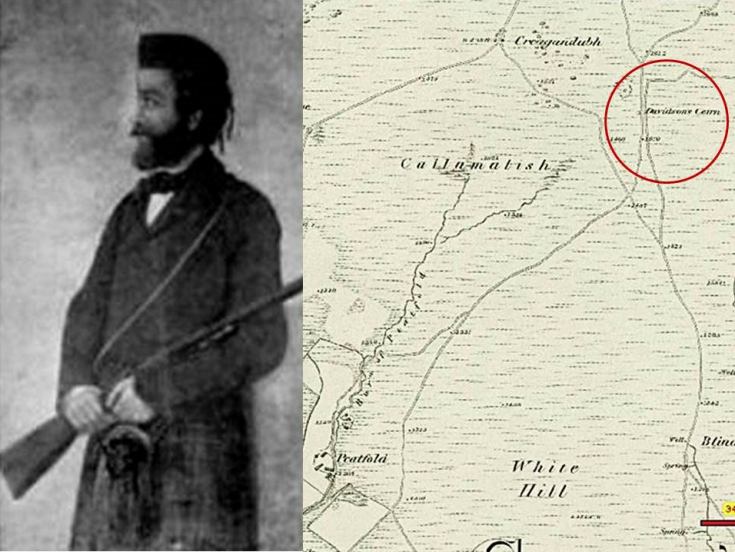 The Glenbuchat Image Library
43 Alexander (Sandy) Davidson Poacher See entry 42 for details about his cairn
Poacher who died in 1843 on the slopes of Creag an Sgor, among the "blooming heather".
Text from Deeside Tales: Or Men and Manners on Highland Deeside Since 1745
Ful text at end of this article.
Details about his death in Glenbuchat
"I hope," he was often heard to say, "that when my time to die comes, it may take place among the bonnie blooming heather, with the glorious sun pouring down his rays of heat upon my perishing body".
That wish was granted him. On the morning of the 24th of August 1843, passing through Ballater he met the late Dr Sheriffs, who observed something about Sandy's appearance he did not like, and, on being permitted to examine him as to the state of his health, strongly dissuaded him from going to the moors that day. The warning was unheeded; he must follow that bent of mind, which he could never resist, and which made him appear to the poetical onlooker to be the genius of his native mountains.
Next morning he was discovered on the hills of Glenbucket, lying on his back, with his faithful companion, the little brown pointer, seated on his breast, keeping watch over him. At first, knowing his habits, the party who discovered him believed him to be asleep, but it was the sleep that knows no wakening. Passing the same place about an hour afterwards, and finding the supposed sleeper in the same position, their apprehensions were aroused, and it was resolved to make an investigation.
It has often been observed of dogs that have been attached to a man, that they have a perception of death in their masters as a change that requires them to undertake duties that they have never before practiced. Had Sandy been concealing himself from the keepers, or even asleep, his dog, as it had been trained to do, would have crouched closely by his side to avoid being observed; but now it took its stand openly upon his breast, and when a stranger approached, instead of concealing itself, the faithful creature attacked savagely, and it was not without a strenuous resistance that it allowed the remains of its master to be conveyed to the nearest human dwelling.
Thus passed away the last poacher of the olden type, under conditions befitting the life he led. Without justifying that life, it is only a simple truth to say that, in his own eyes, it was no violation of the laws of God.
Another article reprinted from an Australian Newspaper of 1989 show that Scottish news was broadcast across the empire and also implies Sandy had a close connection with Glenbuchat as he was called "Roch Saunie of Glenbucket"
('Roch' is the Scots for rough and 'Saunie' is noted on a web site "Sounds to me like your friend's name is a variant spelling of Sawney, the scottish pet form (nickname) of Alexander." which would fit in this case.)
From The Queenseyan Age (NSW : 1867 - 1904) Saturday 17 September 1898 Supplement: SUPPLEMENT TO THE QUEENSEYAN AGE p 1 Article

A FAMOUS HIGHILAND POACHER. ROCH SAUNIE'S ROMANTIC CAREER.
One day in the late autumn of 1820 Major Farquharson of Invercauld and a number of his guests were out shooting deer on the Braemar hills. The party suddenly came upon a man and a dog leisurely basking in the warm sun shine. The stranger was a tall broad shouldered man standing fully six feet, finely built, with sinewy limbs and iron frame, inured by constant exposure to the elements to with stand cold and fatigue. Vigour and robust manhood were expressed in every lineament of the bronzed face of this shaggy-haired, black browed Celt, who looked as though he had been hewn into shape by the hands of a Greek sculptor, so perfect had Nature moulded him. The sportsmen were somewhat puzzled at this strange apparition before them, attired in the costume of the Gael, with his dog crouching close to him. He did not, however, in the remotest degree flinch before the carious gaze of those round him, but seemed rather to enjoy the situation. The Major was a fierce, passionate man, with a deadly hatred towards poachers, and when he submitted the trespasser before him to a hurried examination, he ended by demanding sharply " Who are you, sir?' adding a vigorous epithet by way of emphasis. "Nopoty," the man answered without a trace of apprehension. "And what are you doing in my forests ?" thundered the Major. "Nopoty," was again the laconic reply, a broad smile lighting up the poacher's rugged face. "Where the blazes do you come from, then?" "Nopoty," repeated the Highlander, with the most irritating imperturbability. This little comedy took place on the brow of a bill overlooking a mountain tarn of consider able depth and with steep banks. "Take the fellow," said the Major, now livid with passion at the daring coolness and impudence of the poacher, "and Duck him in the Loch, and that may probably make somebody of him." Two of the keepers, anxious to show their zeal in their master's service; seized the poacher roughly. He made no attempt to escape, and walked quietly between the two keepers, who held him firmly by both hands. Just within a few feet of the lake he suddenly sprang back a couple of paces, and taking an iron grip of his escort, threw them without any apparent exertion head foremost into the water. It was a master stroke, and evoked even the plaudits of the Major and his friends. He then, with the fleetness of the roe, skirted round the loch, and speedily disappeared. The two keepers wobbling in the water had a serious five minutes' struggle, and had to be aided to the bank by the sportsmen. The Major, who admired pluck and the ability to get out of a tight corner in an emergency, laughed heartily at the utter discomfiture of his keepers, remarking that Mr. Nopoty was after all a very smart fellow. "Do you know that man?" the Major inquired, addressing one of the droukit keepers. "Sandy Davidson, sir, the deadliest shut and cleverest deerstalker on Deeside," was the reluctant admission of the keeper. "You mean Roch Saunie of Glenbucket?" "That is so, your honour, none other." "Then why, in Heaven's name, didn't you tell me that before ? " roared the Major. "Why, that man," turning to his friend," is the most daring poacher in these parts. Only last year, sometime before Christmas, he coolly left the head of one of the finest stags in my forest in the doorway of lnvercauld House, with a note saying that as I was an admirer of superb heads, it afforded him, Sandy Davidson, poacher, smuggler, and social outcast, the greatest possible pleasure to present me with a trophy of the chase, shot in my own forest. That seemed to me the climax of impudence and cheek." Such was the Laird of Invercauld's introduction to
The Most Notable Highland Poacher
of the century; a poacher, too, who combined in his person in a very pre-eminent degree those qualities which in every age, and in every clime, ensure popular favour -fearlessness, generosity, and kindness of heart. The field of Davidson's poaching expeditions was a wide one, embracing in its scope the great pine forests of Aberdeen, Moray, and. Inverness, and wherever he went, strange as it may seem, he and his mongrel cur were always certain of a genuine Highland welcome. His career was a most eventful one, and to find a parallel to it one must go back to the twilight of Celtic civilisation, to those halcyon days when might was right and forest laws existed only in name. Even his bitterest enemies -the lairds and sporting tenants of his tune were compelled to acknowledge that in point of intelligence and even business tact he was considerably above the average native. In ordinary conversation he spoke the Gaelic, but when the language was unsuitable to the occasion he spoke English, and clothed his conversation in robust, vigorous Saxon. Through good and bad times he was invariably neatly dressed: In summer he wore a thin tartan coat and kilt, and when winter set in he exchanged the philabeg for the trouser. He was the most graceful dancer of Highland reels of his time. Davidson began life as keeper with Colonel Farquharson of Finzean. No one studied with better results the ways of the wild red deer, with its keen eyesight, acute hearing, and fear of its natural enemy-man- than Davidson. He was an excellent stalker and an unerring shot. The life, however, was not sufficiently exciting for him. Like the ptarmigan, the lone denizen of the bleak mountain upland, which revels in the storm and the fury of the blast, Sandy loved unbounded freedom and the keen, blood pulsating excitement of the chase. He was a man, too, of sturdy independence, who would not cringe nor crawl, to duke or earl." Sooner be said, when he had severed his connection with game keeping, "than be in any way a flu key I would rather go and beg my bread." At this time the manufacture of illicit whisky was the only healthy and prosperous industry in the Highlands. Sandy Davidson threw in his lot with the smugglers, and elected the most hazardous and dangerous part of the undertaking namely, that of conveying the manufactured article to the market. For fully a couple of years he was a prominent member of a gang who manufactured sma' still on an extensive scale in the mountainous districts of the Highlands of Braemar and in the braes of Glenlivet. He withdrew from them when he could no longer tolerate their methods of warfare, but not before he accumulated a considerable sum of hard cash.
A Kidnapping Adventure.
His severance from the smugglers came about in this way. One clear moonlight night in the late autumn, a cavalcade of smugglers' ponies and carts heavily laden were on the way to Aberdeen. Hounding a sharp boulder of a hill with the imperturbable and wide awake Sandy Davidson acting as leader the party were met by a large contingent of gaugers. A regular scrimmage took place, during which an exciseman was shot dead. The occurrence caused quite a sensation, and one man was arrested on the capital charge. The only evidence that the Crown could adduce was that of a solitary witness, a gauger, who identified the prisoner, and would swear that the accused was the man who shot his colleague. The trial would take place in Aberdeen in a couple of months, and the result was looked upon as a foregone conclusion. The Crown witness must be removed by book or by crook, at least till the trial was over. Sandy Davidson was consulted. He would not listen to any plot that aimed at the eternal removal of the gauger witness. "Give him," he said," "a six months' holiday somewhere. That won't hurt him." A couple of nights after this, the fatal witness was kidnapped, and his sudden disappearance was set down as another smuggling murder. When the date of the trial came round there was a postponement for a month, but ultimately the charge had to be withdrawn, and the prisoner liberated. Late in the summer the missing gauger, fat and plump, turned up as mysteriously as he had disappeared. He bad, he said, been taken by easy stages to the remote island of St. Kilda, lying in The Western Main, by three masked men, who acted as kindly towards him as could be expected of them. He was hospitably treated by the natives, in fact, he had a good time of it. With the first boat that reached the island he returned to civilisation. Meanwhile the alleged murderer had taken refuge on the broad bosom of the American Republic, and was never afterwards heard of. The fierce bloodthirsty proclivities evinced by the smugglers was not at all to Sandy Davidson's liking, and when a favourable opportunity presented itself he quietly deserted them with £700 in his pockets as his share of the proceeds of the spoils. From that period till the grave closed over him, covering a period of more than twenty years, he was an inveterate and invincible poacher, a kind of Ishmalitish Nimrod of the hills, spending the most of his time in pursuit of game. He was frequently arrested.' and on one occasion he was caught napping by no less a personage than Sir George Macpherson Grant, father of the present Sir George. Sandy, while passing the time till Sir George and shooting party retired for the day to the lodge, fell sound asleep. He was suddenly awakened by the sound of approaching footsteps and by hit faithful dog " Charlie " whining and crouching: close to him. One of the sportsmen angrily' stepped towards the poacher stretched at full length in the heather. "I demand your name instantly, sir," He shouted. "My name, sir," the poacher said, with the utmost coolness, and remaining in his sitting posture, " is Alexander Davidson, of Glenbucket. What is yours, pray ?" " My name, fellow, is George Macpherson Grant, of Ballendalloch, and I require you to follow me." Sandy was muleted in £5 for this little affair, but some time afterwards he said that the money was by no means lost, for the moors of Ballendalloch had to pay for it handsomely " I knew Sir George perfectly, and he knows me, but I thought it would not be every day I would have it in my power to ask the name of such a great man." For the consideration of from £5 to £10 Davidson could provide the southern stranger with one of the finest stag heads in the forest. Some of these trophies strange as it may seem, adorn at the present moment the residences of at least two well-known Edinburgh families. Even to-day the Northern poacher does not kill the stag so much for the carcase, which yields only from 4d. to 5d. per pound, as for the head, which almost invariably produces a return of £5, and a much higher figure if it is royal in the number of points. Sandy was held in the highest esteem by some of the foremost landed proprietors, and was often the guest of the late Duke of Gordon at Gordon Castle. An invitation from the present Duke of Gordon was found on his person at the time of his death, asking him to attend and take part at a supper and ball. He had often expressed the hope that when
The Final Act
in the romantic drama of his life closed be should pass into the undiscovered country among his beloved hills. Curiously this is exactly what happened. On the 25th of August) a party of sportsmen found the dead body of the poacher cold and stiff on the moors on Glencairney, in the wilds of Glenbucket, with the faithful dog " Charlie " seated on his this breast, watching over him. The remains of the last of the old Highland poachers were laid deep down in the throbless loam of the family burying ground, and the grave is marked by an undressed stone on which are cut in rude characters the initials of some of his turbulent ancestors, and bearing the date 1715.
Another article form a New Zealand paper highlights his connection previously with the smuggling trade and his relationship with the gentry.
Otago Witness, Issue 2357, 27 April 1899, Page 58
ALEXANDER DAVIDSON, POACHER.
The late Sandy Davidson was a poacher by profession, but he might also have been truly described in half a" dozen other epithetal phrases of varying sorts. Sandy was a versatile Highland man indeed, for at different epochs in his lifetime he was gamekeeper, smuggler, and lumberman, in addition to being the most notable poacher of his time. Among what may be called his non-professional attainments he held the proud position of being the finest dancer in Scotland, and I hope to show briefly that he was also a gentleman a real sprig of Nature's nobility.
There are, I am well aware, many good folk who never could be got to believe that a man who poached extensively and who defrauded the revenue by dealing in whisky upon which duty was never meant to be paid could be a good man. Nevertheless Davidson was not only a mighty poacher and an erstwhile smuggler he was also a very religious man. Throughout his fairly long life he upheld the character of a sincerely God-fearing man, maintaining a rigid adherence to his native Presbyterianism and to those -who are disposed to cavil I have the task of deciding wherein his poaching, his smuggling, and his Presbyterianism fail to agree one with the other.
In his lifetime Davidson shot and fished over almost every game- preserving estate on Upper Deeside and Speyside, sending deer, hares, salmon, feathered game, etc., in wholesale quantities to English dealers. Yet with it all he made few enemies and many friends, these latter being in many instances prominent among what might have been reckoned upon as his natural foes landlords and gamekeepers. Among the many stories told of him few fail in showing the finely human character of the man. He could, and invariably did, retaliate in right-telling style when used with downright despitefulness when a kindness was done to him he was not the man to ever forget it. But, above all, his magnanimity towards those whom a smaller-minded man would have treated as enemies merely was a prominent trait in his character. The following little n episode will illustrate this.
Out on the moors one day a keeper accidentally dropped across Davidson, who had been so absorbed in his beloved pursuit of deer-stalking as to have been quite oblivious of the risk of being stalked himself. The keeper would rather have been looking the other way, too, for like others, he had an immense regard for Sandy, but he durst not entertain the idea of not reporting what he had seen, and told Davidson so. The gamekeeper, a married man, apologetically explained that "if I don't tell on you, my wife and family will be ruined." I would not have such a thing happen to a poor man on my account no, not if the matter were to cost me £100 instead of £5. Go you and report me, and when I am summoned I will appear and relieve you out of danger," was the generous reply of the poacher. In due course he was reported, summoned, and fined, and then the matter ended so far as justice was concerned, but Davidson's goodness of heart was shown later by several gifts of money to -the man who had to report him, he being a poor man with a large family. Another pleasing incident showing Davidson's kindly thought for others occurred at a farmhouse on the estate of Invercauld, the tenant of which was distantly related to the poacher. The gentleman factor of Invercauld, a Mr Roy, had threatened to expel this farmer from his holding because he had given one night's bed and board to his poaching relative. While on his- way to the farm on a subsequent occasion, Sandy had this story told to him, and rather than get his friend into trouble he contented himself with the shelter of an open shed. Here he was discovered by the farmer's son who urged him, with Highland -warmth, to come to the house but Davidson firmly -refused to do so, and even made the lad promise not to tell his father. The boy reluctantly promised; but the weather was severe, and later in the evening he told his father what he had done. When, however, they went to fetch Davidson in. he had disappeared Fearing that the boy would tell of his being there lie had forsaken the shed for the cold shelter, mayhap, of a heather clump, or boutrie bush in the open. Next morning the farm folk found a freshly-shot hare m the shed, but Davidson himself never mentioned that he had been in the vicinity.
Davidson could retaliate effectively when he had reason to consider himself harshly treated. One day, calmly sleeping amid the heather on Speyside, waiting for the witching hour of night most .suitable for his purpose, he was found by a shooting party, the leader of which made a mighty bother about his being there, and demanded his name. "My name is Alexander Davidson what is your name?" was the poacher's quiet reply. "My name is George Macpherson Grant," replied the arrogant owner of the region, "and you must follow me." Without palaver, Sandy followed, and the local J.P.s relieved him of £5 for being found asleep amongst a great man's heather.
It would have been better had his trespass been noticed with no more than a passing word of friendly remonstrance, for hen so treated it became Sandy's particular aim and pride to clear his foe's ground of all the game he could get at. The money was not at all lost." he said, for the moors of Ballindalloch paid for it handsomely afterwards. I knew Sir George perfectly, but I thought it would not be every day 1 would have it in my power to ask the name of such a great man and I believe he had as little occasion to ask my name."
s a young man, Davidson acted for a time as gamekeeper to Lord Kennedy, heir of the Earl of Cassilus. Like others of his kind, this young spark led a very fast life and indulged himself in many senseless extravagances. His shootings were rented from the Duke of Athole, whose restrictions were felt to be oppressive by the young lord and his party, though their own ill-behaviour was the sole cause of the Duke's displeasure. Either in bitter pique, or in as sour jest, young Kennedy said one day to Davidson, Now, Sandy, if you go and shoot that man (the Duke)" I will give you £500." Whether jest or earnest, the youthful gamekeeper's reply, though your lordship would give me £5000, I would not do it; for I have a soul to be saved as well as your lordship," was very characteristic of the man.
Davidson soon grew disgusted with the wild life led by the lordling and his friends, especially with their disregard of Sabbath observance a matter repugnant to every sincere Presbyterian. Leaving Kennedy's service, strangely enough his next essay was in the lawless but lucrative occupation of whisky-smuggling and running. Made in very sma' and primitive stills located in little-known spots among the hills, the mountain dew was mostly transported thence towards Aberdeen at night. To move with it by day, save in the most remote places, was scarcely possible without detection, owing to the close espionage of revenue officers and their assistants.
The procedure was somewhat as follows: The -whisky was put up in small barrels called kegs, and two of these, with the man in charge of them, formed the regular load of a Highland sheltie," as the unkempt but sturdy little ponies employed were called. At the appointed hour a cavalcade of these usquebah-laden beasts would set out from the hill rendezvous in the direction of town. Wending along by the highest-lying paths the main object was to elude the vigilance of the gangers and their men known to be in the neighbourhood. Once beyond the official district there was little to fear, for the townspeople seem to have been thankful to get their whisky cheaply, and mocked at gangers and excisemen. The whisky once fairly "run," its bearers rode merrily home again, open faced to all the world. Their empty kegs, thumping, bumping against the sheltie's ribs, might exhale strong evidential odours, but the men of law were foiled for that time. But it was far from rarely that the other thing happened. Met in some awkward spot by the word 'Halt' the mountaineers usually reckoned it most politic to give in without a struggle, knowing that they would have six or eight armed men to contend with. If no resistance was made the ganger's men drove in, with their iron-shod pikestaves, the keg ends, spilling the Liquor on the ground. There the matter usually ended, the despoiled riders being free to return whence they came. If, however, resistance was made, and sometimes it was made very stoutly by large parties, blood was apt to be shed, and arrests and transportation to follow. Things had become comparatively quiet in the illicit whisky trade when Davidson engaged in it, "but he left it soon to try his fortune at timber-felling and rafting— taking contracts to fell timber and raft it down the River Dee to the port of Aberdeen. A considerable trade used to be, perhaps still is, done in Deeside in this way, and many a stout fellow who has since taken a large part in the "lumber" trade of Canada and the States has served his apprenticeship in the pine and fir forests and on the log rafts of the Dee. Often, too often, as a youngster truant from school have I watched such rafts go shooting past upon the swift-flowing current, deftly poled by a crew of one or two men.
While engaged in the limber trade Davidson had another encounter with the factor of Invercauld estate, Mr Roy. This gentleman had, exasperated by the daring /poacher's successful forays on the estate, done everything in his power to outlaw Sandy from Invercauld. Not that Davidson cared much, save for the possible inconvenience to his friends in being annoyed on his account. The loggers and rafters were greatly bothered by a big rock in the bed of the Dee near Invercauld House. It obstructed the passage of their rafts and they resolved to employ d3'iiamite to blow it up, without asking leave of anyone. This rock, however, was a fine place of harbourage for salmon, and, therefore, of much value from the point of view of -the lord of the manor, his amusement being, of course, of far greater importance than the work of the poor timber-floater. When Roy heard what was taking place at the river he hastened to the scene, determined to put an end to the project. The desperate loggers, Davidson alone dissenting, agreed that if the factor attempted to cross they would throw him and the plank bridge together into the river. At that spot there is a rapid-flowing, mountain stream, swollen then with melting s-now, and anyone falling in would be far more likely to stay in than to get out again. Roy did attempt to cross, in spite of Davidson's warning, and had gained the middle of the plank when a crowbar was shoved under the end of it preparatory to launching both plank and man into the water. In another moment murder might have been done had not Davidson sprung upon the already moving bridge, and catching up the minion of authority in his powerful arms, bore him swiftly back to the shore.
History bears no record of kindly feeling generated in Roy's breast by this incident, and it is probable that lie felt none. Be that as it may, the timber business proved to be a far from lucrative one for Sandy, and he soon gave it up and took again to unlicensed practice with rod and gun. Inveterate poacher that he was, an expert with the rod and a deadly, if unauthorised, shot, he applied certain good principles in his poaching operations which insured him the respect of many whose preserves lie helped to deplete. He was a true sportsman, resorting to no underhand processes, to secure a bag. I have mentioned the fact that he is a famous dancer incomparably the most graceful dancer of his time and this, coupled with the undeniably upright, even noble, character of the man, went far with many of the better minded gently to eclipse his misdeeds on river and moor. Sandy was a. great favourite of the ladies, and was on many occasions, by express invitation, the guest at Gordon -Castle of the Earl of March, now the Duke of Richmond and Gordon. Naturally, Sandy was proud of these invitations, though, to please all, he frequently danced till he hurt his health. "The Earl of March," he sometimes said, made me dance with all the large company of ladies staying at Gordon Castle.!' He liked to please the Earl, not because he was an earl and a great landowner, but because his behaviour was that of a gentleman.
At these parties the Earl was always very scrupulous to treat Davidson as his own equal, and, indeed, anyone might have been proud to call Sandy Davidson his friend. These two never parted without the nobleman in possession assuring the one out of possession that he was not to refrain from having a day's sport on the estate whenever he was inclined to 'have it.
Davidson won his dancing championship at what, so far as I am aware, was the greatest competition in national dancing ever held in Scotland. The meeting was held in Edinburgh, under the patronage of the Caledonian Hunt, and many prizes were offered for the encouragement of Highland dancing. There was a great gathering of the clans, for all the great nobles and gentry brought their best men to compete for the honours of the occasion. Sixteen evenings were required during which to give all then- due opportunity, but at the end, Sandy Davidson, an independent competitor under no great man's patronage, stood first the best dancer in Scotland.
There are too sides to the Border, but only on one of them could such a character as Sandy Davidson be found. Game laws he held in sovereign contempt, for he was a natural, not an accidental, lord on moor and river bank this man. There was nothing of the .mere trapper or leisterer about him he was a natural hunter, but a true man as well, whose abounding kindliness of heart was' exemplified in many an unobtrusive good deed done to his poorer neighbours. He was truly the '"freenly, social man so beautifully delineated and ardently praised by Burns, and among his native hills and glens it will be long ere his maim grows less.
Even to his dog Davidson was as tender and considerate as if it had been a human being. Once, when overtaken upon desolate Ben Avon by a fierce storm his canine comrade would have perished had Davidson not taken off his coat to wrap the poor beast in. While struggling along thus, coatless and carrying the dog, exposed to the biting blast in all its fury, he was seen by a shepherd, otherwise the incident would have remained unknown.
The day came, alas, when Sandy went abroad for the last time. He was found dead upon the hills of Glenbucket, his faithful dog lying upon his breast, menacingly defying anyone to approach. They got the dog away somehow, and bore the renowned poacher tenderly home. In his pocket was found an invitation from the Earl of March to a ball at Gordon Castle. His body they laid in the quiet churchyard of Glenmuick, but if his spirit wanders anywhere it will be where celestial heather and red deer abound, and his dog, faithful in life and in death, will be by his master's side.
From "Deeside Tales: Or Men and Manners on Highland Deeside since 1745"
By John Grant Michie Late Minister of Dinnet

ALEXANDER DAVIDSON; OR THE LAST OF THE OLD POACHERS
"The steady brain, the sinewy limb
To leap, to climb, to dive, to swim ;
The iron frame inured to bear
Each dire inclemency of air ;
Nor less confirmed to undergo
Fatigue's chill faint, and famine's throe.' —Scott.
The propriety or impropriety of some kinds of life is to be judged of, not from any fixed canon, but from a relative point of view, and their social conventional aspect at the time they were enacted. This statement, of course, holds good only so for as man's estimate of morality in his day and generation goes ; for we must logically believe, whatever we do sentimentally and educationally, that the habit of "rieving," or cattle-lifting, was abstractly as immoral in the days of Rob Roy as it would be in our own. So great an influence, however, has a perverse conventionalism on the mind of a man as to distort and pervert in his moral nature all honest notions of meutn and tuum, and to paralyze in his mind the legitimate use of "The Law and the Testimony " of an inflexible standard of appeal.
To illustrate what is meant: Rob Roy lived at a time when such lax notions prevailed about cattle-lifting and money-taking from the wealthy, as to lead him not only to believe that there was no harm in this kind of life, but positively to think that, when the Chief of the McGregors could not live any other way — work or even commerce was out of the question — it afforded a means of livelihood not unbefitting a chieftain and gentleman. He would not allow young Rob to be taken to Glasgow by the Bailie, with whom his name is indissolubly associated, to learn the trade of a weaver, or any other honest calling. So perverted were the minds of men of this order of thinking, that, though they accounted the kind of theft spoken of rather meritorious than otherwise, they would sooner have burned their fingers than have been found burglarizing away the silver plate of those gentlemen from whom they would take a purse well lined with "gowd guineas," or a well fed ox. "Do you think the chief of the Macgregors is such a dog as to steal your silver plate ?" is the language Rob Roy would most naturally have used.
Whether, at any time, a sense of wrong-doing crossed the minds of these men, in their deviations from what now appears to a child the supreme law of right, may be open to question ; but it is certain that there was at a more recent date another class of men, by many not thought much better than Rob Roy, who believed most sincerely in the legitimacy of their calling. One of these, Alexander Davidson, is the subject of this sketch.
Sandy held determinedly by the old saying that "the fish out of the water and the deer out of the forest were his, as well as the rich man's." He used to boast very much that he once argued the point with a minister the writer knew very well, and " fairly beat him." Whatever may be thought of the casuistry by which he imposed upon himself, it is certain that he did not come to this conclusion unreasoningly.
He was even punctilious in carrying his principle out into nice details. As an instance, he rarely, if ever, poached on the grounds of those who had recently paid hard cash for their property, saying, "It would be like stealing to take game from men who had really paid for them;" though he always questioned the right of the original disposer to take money for what he had no good tide to himself, at least no exclusive property in. He held with many in our own day that, if it were inquired into, it would be found that the ancestors of many of our proprietors did not come fairly by their estates; and that in any case, neither they nor their ancestors had paid hard cash for their lands, and had no exclusive right to the natural productions of these lands. On this principle also he held that " there was no harm in taking a stick out of the wood, if it was not planted, but to help one's self to planted timber was theft" Sandy and the class of men, of which he was a splendid specimen, are not for a moment to be confounded with the poachers or roughs, teeming in our large towns and villages, who hold at arm's length all law, human and divine. He is rather to be classed with the men in our own day, who account the Game Laws as an iniquity on the statute book, and who only want his daring and bravery to shoot a deer or a muircock, with as little scruple of conscience as he felt The well-known tenderness of conscience of this wonderful man in his own way will show itself as we proceed with a sketch of his life.
Alexander Davidson, or, as he was more frequently called, Sandy Davidson, or not unusually "Roch Saune," from his long beard and moustache, though, were he living now, the appellation would not be so distinctive as it then was, was born at Mill of Inver in the year 1792. His grandfather, or great-grandfather migrated thither from Glenmuick, early in the century, having previously come from Donside for something not so commendable as "biggan' kirks." He probably was in the position of the grandfather of Tetsy, Dr. Johnson's wife. When, in their courting days the Doctor, to test the sincerity of her love, informed her that his grandfather had been hanged for sheep-stealing, she replied that hers was not hanged, but should have been. In those days there were many men accounted worthy, who should have been hanged for sheep-stealing, or something worse. "Muckle Forbes," whose history George Brown used to narrate, was one of them. He also migrated from Donside for a misdemeanour similar to that which drove Sandy's ancestor from that country. They were unlike the migratory birds in this respect, that the latter leave on account of the cold, the former from the place getting "too hot for them."
But to return to Sandy. Of his early years and education little is known, but it may be inferred from the fact that he could read well and write ordinarily so, that it had not been so much neglected as was too common at that time among people in the social position of his parents. But whether he got much school education or not, he must have been early imbued with the superstitions of Highland Deeside, having known from childhood the "story of the black han'," a ghostly visitation experienced by his grandfather. Perhaps it may be as well here to narrate this story, as it will be an apology for Sandy's strong belief in the preternatural, and for his feeling a little timid, or as he used himself to express it, "a little eerie," at the murky hour of midnight, when lying out, as he almost invariably did, among the wild mountains of Lochnagar, Ben Muicdhui, or Benavon.
In the year of grace 1767 there lived at Mill of Inver, Crathie, a brave and honest miller of the name of John Davidson. On a certain night he, along with another man, who, as the sequel of the story shows, was not so courageous when unearthly visitors made their appearance, was engaged in drying com. The night was a very dark one, and none of the neighbours were abroad to keep the miller from "thinking lang." He therefore directed his assistant to keep watch over the kiln, while he lay down to sleep on some sacks behind the door, telling him to awaken him when the corn was ready for turning. The dryster promised to do this; and then, to beguile the time, busied himself in clipping off his beard with a scissors, which, according to the custom of the men of that day, he carried for the purpose. The miller, who had been mistimed for several previous nights, was soon fast asleep. But his well-earned repose was of short duration. All the mill and even barn doors of that period were provided with a round hole about the centre, and from this hole a heavy weight was dropped upon the sleeper's breast, which awoke him just in time to see a black hand withdrawn from the opening, while beside him lay a stone of consider- able size, that appeared to have been just taken from the bed of the mill bum. Instead of being alarmed at the uncouth visitant, or deeming it unearthly, he came to the conclusion that it was some person practically joking with him, and lay down again to sleep. But his slumbers were again disturbed by another visit from the " black han'," and another stone dropped upon his breast. His temper was now ruffled, and he resolved within himself that, if the thing should be again repeated, he would rush out, lay hold of and chastise the perpetrator who would thus be caught "black handed. 1 ' He had not long to wait ; a heavy sleep seemed to have fallen upon him. Again the black hand appeared, and the third stone was dropped upon his breast Springing up in hot haste, he was just about to rush forth, when he was startled by a voice that spoke 'richt howe' — "Follow me." Before obeying the unearthly summons, the miller cast his eyes on the man sitting on the kiln-logie, whose ghastly visage and quaking limbs bespoke his fear, and in order to prove how far he might be serviceable in the circumstances, he said to him, "Will you go out, or will you watch the kiln? "Go out yourse," was his instant reply, "for I winna."
Finding there was no help to be got from his craven companion, he opened the door and issued forth. The darkness of the night not a little appalled him, but he was supported by unnatural courage; or, if certain doctrines of the present day be true, that spirit afflatus was upon him which transforms its subject into a spirit-meeting condition of mind. Notwithstanding the almost palpable darkness in which he found himself, he was conscious of a still darker shadow that preceded him across a small foot bridge over the Fearder, the stream on which the mill stood, and then on through a glade to a " heugh " beside the stream. Here the apparition came to a stand ; and the miller, knowing that a combat was inevitable, rushed forward, and laid hold of it, resolving to do battle with it according to the rules laid down in ghost lore, which saith that no spirit can be laid " unless words can be had of it," and that it will not speak till " the air be let between it and the ground" After a long wrestle he succeeded in accomplishing this feat; and then his antagonist gave utterance to its troubles. It revealed its name, though the miller, like all spirit wrestlers, would never divulge it; but it informed him, as the cause of its dis- quietude, that in the days of its fleshly sojourn it had stolen a sword-handle, which, having iron on it and being concealed in the earth, debarred its former unlawful possessor from finding rest in the world of spirits.
The progress of events now brings the tale a link nearer to Sandy Davidson. On the day after the interview above narrated, the miller directed his son, Sandy's uncle, whom the writer remembers well, and has often heard tell the story of the " Black Han'," to look out for a spade and bring it to him. When the little boy did so, the father, addressing him in a more solemn tone than was his wont, said, "Come awa', laddie, wi 1 me," and then directed his steps to the kail-yard, where he began digging industriously beside an apple tree. The mysterious silence he preserved regarding the purpose of his work impressed the boy much ; and still more was he struck, when, after digging a long while and going very deep, he began to mutter to himself with evident tokens on his face of disappointment, " I doot I'm wrang." But he still went on digging downwards, and when at last the spade struck on something hard, his son observed a light of joy suffuse his countenance, as he handed him the spade, saying, "Noo, noo, laddie, gae 'wa and put by the spade, the ' black han' ' will get rest noo."
This sword-handle was kept for many years, laid up on the top of one of the beds, as a trophy of the old man's encounter with the " black han' "; and as the story was often told in the hearing of Sandy, during his most impressionable years, and the sword-handle exhibited in token of its truth, it is little wonder that he was deeply imbued with the superstitious notions of his forefathers.
Having said so much about his grandfather, it may not be amiss to notice shortly his father, who also was a remarkable man, if not for doing battle with spirits, at least for holding his own against any beings of flesh and blood, in a set-to with cudgels. All the old people the writer has ever met, who knew Alexander Davidson, Sandy's father, are unanimous in saying that for personal appearance, noble courage, sprightly manners, as well as for the moral qualities of a warm and kind heart, he had no peer on Deeside in his day. It is a pity these qualities were not better directed. Their possessor was well fitted to shine in other walks than the barbarous one into which he was led by the infamous custom of the age, in which he had no match in a very extensive district of country. It must not, however, be inferred that, though he was universally acknowledged to be the prince of fighters, he was a rough, or even a quarrelsome man. The combats in which he won his laurels were not accounted brawls, they were rather looked upon as trials of strength. In short, they were ill-regulated plebeian tournaments, copied from the more aristocratic engagements so named in previous centuries, and adapted to the circumstances of the time, and of those who engaged in them ; and they had the very same objects in view — to earn the envy of men and the admiration of women. In a purely moral point of view it might be difficult to determine who was most to be condemned, the knight of the bloody tournament, who with lance in rest spurred on to meet his antagonist that he might win the applause of beauty, or the man who, at a penny wedding or a Tarland market, should, for his prowess in dealing most plaguey knocks, be crowned by the shouts of an admiring crowd, king d the cudgel.
Alexander Davidson, having fairly earned this meed over a large district, was held in high admiration by his own class. But he had other qualities, qualities of head and heart that procured him the friendship of those above him in the scale of society. Besides being the hero of country balls and festivals, he was on terms of familiarity with the surrounding gentry, and a guest at all their rejoicings. Captain Gordon, Abergeldie — he to whom reference has already been made in connection with the 77th regiment — was particularly fond of him, and they were very often together. Though in different stations in life, they were men very like each other in natural gifts; and they held one accomplishment in common, they were both great dancers. Of Captain Gordon's dancing powers it is related that he leaped so high, and possessed such agility that he could cross his legs three times before coming to the floor. At that time, men in his position did not think it derogatory to their social standing to rub shoulders with their poor neighbours at balls and weddings; and it was no unusual sight on such occasions to witness the Captain and Sandy trying each other's mettle at an old Highland u headset" This easy intercourse per- mitted a familiarity of speech between Davidson and his superiors, which is now a thing of the past, but of which the following will serve as an illustration.
In Aberarder, the district in which Sandy resided, there happened to be a penny wedding; and of course Captain Gordon was there to help to set up the young couple in the world. Sandy, it would seem, as was usual with him in his neighbourhood, was governor of the feast The Captain (he was afterwards Colonel), observing that there was rather a scarcity of drinkables, seized the opportunity to chaff the master of ceremonies, knowing the generosity of his nature, and addressed him, " How is it, Sandy, that ye have not plenty of whisky going among the people ? " To which Sandy replied in the same high-toned strain, "If I were Captain Gordon of Abergeldie, I would order in an anker forthwith." "It shall be done, Sandy," said the Captain, quietly remarking to himself, "Sandy has the best of it."
Whether there was any fighting at this wedding or not is not recorded ; but it is certain that hardly ever did a penny wedding pass over without some display of this nature, and when people from different districts met at one, they never parted without such a trial of skill and strength. One of these occasions was the direct cause of Davidson's strong life being snatched away.
At Ruibalchlaggan, a grazing station far up on the Gairn, there happened to be a penny wedding, to which assembled two or three hundred men, contributed in nearly equal numbers by Deeside and Donside. Their ostensible object was social enjoyment, but the real object of the meeting was to put to the proof & outrance, which district produced the best men, if it was necessary to draw a distinction between these two objects. Each party was led on by its own champion; the Donside people by Finla MacHardy,* Dalgargie, and the Deeside men by Alexander Davidson. There had never been such a tournament as this in the memory of the oldest man ; and it is still spoken of, though nearly a hundred years have gathered their mists around it, as " the great fecht at Ruibalchlaggan." Davidson performed prodigies in the mitte, but was, it has been said, surrounded in a quiet way, sometime after the contest had been decided, and got his strong skull so injured that he came home, lingered for a few months, and then died, leaving a widow with two sons and two daughters to bewail the barbarous custom of the times, which had deprived them of that life on which they depended for support.
The day on which his remains were conveyed to the family burying ground in the churchyard of Glenmuick, was so remarkable for the depth of snow on the ground that tradition still signalizes it as " the day of the great storm." Yet, notwithstanding the inclemency of the weather, three hundred men from Crathie turned out to do honour to the shade of their hero, and conduct his remains to their last resting place. (Of the ancestors of Finla MacHardy, see a good story recorded in the Daman Tourist, page 36. ) When the procession had advanced a little beyond Corbieha', a hamlet about a mile below Abergeldie, the men deposited the coffin on the snow, and sat down to rest and have some refreshments — a dram, to wit Perhaps they had been a little too free with the dram; at all events, it was deemed unbecoming for the funeral of such a man to pass over without a fight, and a fight too, worthy of the occasion. They accordingly set to, and nearly ended by doing by the coffin, what was done by " Lady Jane's, 1 ' as recorded in Dean Ramsay's Reminiscences, going to the churchyard without it. Such ancestors as are described in the previous chapter was descended the last of the old poachers. Though little is known of his boyhood, he early began to display a touch of that chivalrous and generous nature for which he was afterwards distinguished, as well as contempt for walking in the paths usually trodden by humanity, for which he was still more remarkable. An incident is recorded of his early manhood, which made people apply to him the old saying, "Sic like father, sic like son." There were in those times, and even down to a year ago, when the present Chancellor of the Exchequer's gun tax put a stop to them, shooting matches at which each competitor contributed a certain sum, and the money so collected was given in prizes to the best shots, or more frequently in the olden time expended in the purchase of articles of various kinds that some poor man had made for the occasion, which articles then constituted the prizes.
Sandy had been at one of these, probably one of his first appearances on such occasions. The prizes were to be "cogs" made by some poor cooper, to earn a little money thereby. He had won a large number of the cogs; but instead of carrying them home in triumph, he set to toss them up in the air, and shot balls into them. After thus destroying his own, he turned round, and seeing a young fellow looking with blank astonishment at such a proceeding, offered to purchase the few he had won. The offer being accepted, he treated them in the same manner; and handing the young man something to drink his health with, remarked, " If all the cogs were to be done that with, the poor man we have been helping to-day would get more work."
About the time Sandy attained manhood, the most stirring gentleman on Deeside was Lord Kennedy, son of the Earl of Cassillis. This young nobleman was devoted to
Sporting of all kinds, and along with Mr. Farquharson of Finzean and two or three more oflike disposition, led a very fast life. The party had shootings in various parts of the Highlands, but their principal quarters were at Falar, a deer forest and grouse shooting near the sources of the Tilt Sandy's first engagement was as gamekeeper to his lordship at this place; but he did not remain long in their service, being " disgusted," as he often said, " at the fast and godless life led by his employer and party."
The Duke of Atholl, from whom the shootings were rented, had found it necessary to put certain restrictions on the party which were considered vexatious and oppressive. This roused their ire, till the feeling between them ran so high that one day when passing Blair Castle and seeing the Duke sitting in front of his mansion, Lord Kennedy, probably in jest, though it was not so understood, said to Sandy, " Now, Sandy, if you go and shoot that man, I will give you five hundred pounds."
"Though your lordship would give me five thousand pounds, I would not do it," replied Sandy, manfully; " for I have a soul to be saved as well as your lordship."
His spirit was not of a temper to endure gentlemen's service, even under the most favourable conditions, having frequently been heard to remark, "Sooner than be in any way a flunkey, I'd rather go and beg." But especially odious to him was the service of such a man as Lord Kennedy, since to the degradation of the position must be added the shock his religious feelings often experienced through the life led by the party, especially through their profanation of the Sabbath, a day always held in high esteem by Sandy. His master insisted that he should go out with him and his companions to shoot on that, as well as on other days ; and Sandy's stout resistance to such an order was probably the reason of his giving up his situation. The party, however, often went without him; and when they did not go, they betook themselves to other sports, equally offensive to Sandy's feelings, such as playing cards and shooting at targets. Sometimes they would lie on their backs and shoot their rifles sheer up into the air, to test the truth of the natural law that a bullet so shot will come right down again. This practice Sandy used to denounce as "not only a violation of the Lord's day, but a tempting of Providence as well."
At this period of his life he was a money-making man; and though he attended the balls and other merry-makings in his neighbourhood, he did not acquire the too common habit of excessive drinking, which is all the more to his credit, as he was "much taken out at them."
Smuggling was then the ordinary means resorted to, to earn a little spare cash. There were, however, two departments in the illicit trade, one the production of the whisky, in which the population generally, both male and female, engaged; the other the transportation of the manufactured article to market in the large towns, which, though more perilous, was also perhaps more lucrative than the other; but it required more daring and caution in those who embarked in it. It was to this branch of the traffic that Sandy gave his attention; and in conducting it had many a hairbreadth escape, and many a brush with the gaugers, even, it is said, encountering the dreaded Gillespie himself.
He was now in his prime; and his personal appearance was so remarkable that the writer remembers well how, when a boy, he and his playfellows used to gaze upon it with admiration. Yet it was not for any gigantic proportions his frame exhibited—he was only 5 feet n inches in height — nor yet for the idea of strength and muscular power it displayed, though that was striking, but for its wonderful symmetry of mould, and the noble bearing and lordly demeanour of the owner. How we used to steal up to where he might be sitting or standing, that we might enjoy the feeling of wonder which an inspection of his leg was always sure to inspire! It measured 17 inches round the calf,* and yet, was so neat and " clean in the bone," that he could clasp it at the ankle with his hand We knew by inquiry — it was a matter on which we had a craving for the fullest and most exact information — the length of his foot, the girth and length of his arms, his breadth between the shoulders, and his girth round the waist; in short, the exact measurements of his frame were to us matters of great importance, because they formed in our opinion the standards by which to estimate the perfection of other human forms. (W. McCombie Smith in his " Romance of Poaching " says that Robert Dinnie, father of Donald Dinnie, the athlete, told him that Davidson and he had measured legs, and that each was 18 inches round the calf.— D. )
Add to this physical development a face so finely chiselled that it might have formed a model for Grecian statuary, a luxuriant, jet black beard and moustache, thick curly hair of the same colour, a dark hazel eye with an eagle glance, and we have a pretty correct idea of the personnel of the last, if not also the best, of the old poachers.
Sandy had too much sense to be vain of his personal appearance, but he cannot be acquitted of a consciousness that nature had cast his frame in her finest mould, and that it was his duty to invest it with suitable and becoming setting. He was therefore almost always clad in the garb of Old Gaul, which he had also strong patriotic reasons for wearing. His step was singularly elastic, and his movement when walking so light and graceful, that it might have served as a model to lady students of calisthenics. To the same feeling is probably to be ascribed the style he adopted in conversation. His mother tongue was Gaelic, which he used on all suitable occasions. When, however, this was unsuitable, he adopted pure English, which he spoke with the ease and accent of a real English gentleman. He never spoke Scotch, and seldom did a Scotch word escape his lips, and when it did, it was always tinged with an English accent
The Forest of Mar, which anciently filled both sides of the valley of the Dee, from Mar Lodge upwards to the slopes of Cairntoul and Braeriach, with the tributary glens of the Lui and the Deny, had been much reduced in its vast extent since the time when John Erskine, Earl of Mar, assembled on its confines the chiefs of twenty powerful clans with their followers to waken its echoes with the sound of the huntsman's horn, and then to march at their head to place the "auld Stuarts" on the throne of the three kingdoms. But there was still a large quantity of valuable timber in these glens, especially the Deny, which the late Earl of Fife desired to turn to cash, and accordingly offered it for sale. Sandy Davidson, having made a considerable sum of money by the illicit traffic in which he had been engaged, turned his attention to this new speculation, after the smuggling days thus early fallen under the suspicion of being an occasional poacher in the Invercauld forests. The factor on the estate,
Mr. Roy, had accordingly put him under ban of house and hauld, with the view of driving him from the country. It is probable that Sandy was not quite guiltless. He was too good a shot not to hanker after the sport which his gun afforded him, and too fond of excitement calmly to calculate the consequences to his temporal interests; for morally he held he was entitled to the indulgence. Mr. Roy's action in the matter wounded him deeply; he resented what he deemed his tyranny, and took revenge by more frequently invading the forest than he might otherwise have done. That he was now an extensive contractor in the interest of the Earl of Fife had no tendency to mollify the feeling of hostility entertained towards him by the factor to the neighbouring chief, but rather tended to make him the reverse of accommodating to the floaters.
A little beyond the bridge of Invercauld, and in view of the mansion house, there was in the channel of the river a large fragment of rock, highly prized by the proprietor for its picturesque appearance, and as affording harbourage to salmon, but very obnoxious to the floaters, as it caught their logs in a part of the river where, on account of the dangerous rapids with which it was surrounded, it was impossible to reach them when the river was in floating condition. A huge cairn had collected on the summit of this rock, designated the "big stane o' the Cluny," and all efforts to move the logs and cause them to pursue their journey had been unavailing. When the river was high they could not be reached, and when low they were too firmly matted together and too heavy for human effort to produce much impression. The floaters therefore resolved to blast the obstructing rock, so that, when the next flood came, the whole cairn would be carried clear over the top of it. To this work they addressed themselves without leave asked of the factor, whose permission they knew they had no reason to expect. Could it have been accomplished in the course of one night, it would have been done without his knowledge; but he had a sharp eye on these wild fellows, and learning early in the morning what had been going on while he slept, he lost no time in interposing his authority to stop the destruction of the favourite "salmon rock." An altercation took place, in which personal violence was threatened to the factor if he did not desist from his vexatious visits, and defiance was hurled in his face. An interdict was procured from the Sheriff of the County, but there was some difficulty experienced in serving it, and it too was set at defiance. Meanwhile the floaters had become desperate, and a plot was formed among some of the more lawless that, should Mr. Roy and his myrmidons dare to come on the cairn " he should be thrown into the river, sink or swim." An insecure temporary gangway of legs had been constructed to afford a passage from the bank to the cairn, and it was planned that should Mr. Roy venture to come on this gangway, the log should be slipped, and he should be left to his fate. Sandy Davidson was no party to this murderous plot, but he had heard of it and resolved to frustrate it, though the intended victim was the man who had exercised towards him every species of persecution in his power. He took care, therefore, to be on the cairn next day, when the factor's visit was expected. The river had risen overnight and was in a very dangerous condition. When the factor, attended by a few followers, appeared in the distance, Sandy heard one of the men, not one of his company, swear that if the "tyrant" should come on the bridge he would never go back. He remonstrated against any personal violence being offered to him, however tyrannical he might be, but all to no purpose.
Mr. Roy, on reaching the bank, determined, against the advice of those who were with him, at once to cross to the cairn. Sandy, observing his intention, bawled out in a voice that rose shrill over the roar of the stream — "Don't come, Mr. Roy ; your life is in danger." "I'll take my chance of that," replied the courageous factor, and continued to advance, cautiously balancing himself on the unsteady logs. " For God's sake and your wife's, if not for your own," cried Sandy, " don't venture on the cairn."
But by this time Mr. Roy was midway across, with the foaming torrent beneath him.
"Slip the log," said the leader in the plot, and suiting the action to the word, set his spoke in rest to hitch it off. "On your life, don't," interposed Sandy, endeavouring to push the man from his rash act. But rinding that he was not supported by the other men, he leaped on the gangway, caught Mr. Roy in his arms, and by superior strength bore him safe to the bank. In another second the fabric swept down the river.
Whatever may be thought of Mr. Roy's want of gratitude for his kindly act, there is but one opinion about Sandy's conduct in sinking all differences, and braving all dangers to save the life of the man who had endeavoured by harsh means to drive him from the country. As a Justice of Peace, and as factor to an employer in whose eyes poaching was an unpardonable offence, Mr. Roy was justified in taking the most vigorous measures to prevent the destruction of his master's property; and even, on rinding that the usual legal steps were unavailing, 'in calling in the aid of the military to enforce the authority of the law; but he might have dealt a little more leniently with Sandy afterwards, without violating any part of his duty.
This floating business was the ruin of Sandy. The speculation proved unprofitable. The cost of conveying the heavy timber of Glen Derry 70 miles to market in Aberdeen far exceeded his calculation; and to put the cope-stone on his misfortune, he had re-sold to the Earl of Fife two hundred pounds' worth of timber, the cutting down of which his lordship thought would be destructive of the amenities of Mar Lodge, soon after which the Earl became bankrupt ,leaving poor Sandy unpaid and without any acknowledgment of the debt. When Sandy would be asked, "How were you so simple as to trust the Earl, when a report that he was on the point of failure was current?" he would reply with a degree of surprise at the question, " What ! Not trust a Lord of the Realm?" pronouncing the word in two syllables to give it more importance.
From this date Sandy ceased to be like other men, or to walk in their ways, and however little sympathy we may have for the course of life he adopted, we cannot withhold some meed of admiration for the character of one who, though exposed to the demoralizing influences of a lawless and unsettled avocation, never lost his native simplicity and generosity, or sank his respect for the dictates of morality and religion. Sandy now took professionally to the bag and the gun, and for twenty years led a roaming kind of life, having his home nowhere but everywhere. From March to November he seldom sought the shelter of a house to pass the night, preferring the grassy banks of the Dee or the Spey, or, what was to him more delightful still, the "bonnie blooming heather " of the mountains. This was of choice and not necessity. He was well known over the greater part of the Highlands, both among gentle and simple ; and all who knew him would have been glad to have given him any comfort they had to bestow. The halls of noblemen and gentlemen were open to him at any time, and no poor man's door would be shut if he requested admission. But he had a contempt for luxury. " No bed for me," he would say, if he observed any preparations with that view, where he might make a call, wet, and probably hungry, after a day's fishing — "No bed for me, they are but soft fellows that go to bed in summer." It may illustrate what poor shifts he would be content with, as well as the generous impulses that governed his actions, to relate here an incident that came within the writer's knowledge.
Mr. Roy, the factor on the Invercauld Estates, already mentioned, having been informed that one of his tenants, an old acquaintance, if not also a distant relation, of Sandy, was in the way of occasionally affording him shelter, and ministering to his wants, took the farmer severely to task for his conduct, and threatened him with expulsion from the estate if he again admitted under his roof the detested poacher. It happened that soon after this Sandy in the course of his peregrinations had arranged to pass the night, a very stormy night in winter, at his friend's house; but learning on his way thither what had taken place, and not knowing where else to go for that night, chose rather than bring trouble on any man to turn into an open shed, and take what shelter it afforded Late in the evening, a lad was sent out to the shed for some fuel, the storm and drift being considered too wild for the female servants to face. In
groping about under the snow-drift for the peats he was in search of, his hand alighted on Sandy's beard; and the exclamation of terror and surprise which he uttered awoke the sleeper. Recognizing Sandy's voice, the lad insisted that he should come into the house. He gave some lame reason for declining to accept the invitation, saying that he wished to be at such a place by day-break and couldn't stay all night; and made him promise not to tell his father that he was there, and he would rest for half-an-hour and then be off. Guessing the real reason, the lad argued that nobody could know of his having been in the house that night, and he need have no scruples about coming in. It was to no purpose; Sandy's chivalrous determination that no one should suffer or run any risk of suffering loss on his account overcame all entreaty, and the lad was constrained to depart without him. But a few minutes' reflection convinced him that his conduct in keeping silence was neither brave nor generous; and he accordingly told his father, and both sallied forth to bring in the poor wanderer, but he was gone; and the drifting snow had filled up the footmarks. They called loudly and long, but no answer was returned; and where Sandy spent that and many a similar night, none knew but himself, for he had a repugnance to recount what hardships he endured. In the morning, however, a hare was found in the shed, left by Sandy as compensation for the miserable shelter it had afforded him, or rather as an expression of his goodwill to the family.
He invariably devoted the month of March to fishing. His mode of prosecuting the sport few would care to imitate. He knew all the pools and parts of the pools, both on Dee and Spey, where the fish were likely to be met with at any particular season or condition of the river ; and to get at that part, no matter how bitterly cold the weather might be, he walked straight in, often till nothing was to be seen of him above the water but his head and shoulders. There he would remain plying the gentle art, until he had either hooked his fish, or satisfied himself that it would not be forthcoming. After a day so spent, it was his usual custom, when the winds were very piercing, to make his way to the house of some friend, and after steaming himself over the kitchen fire for half an hour or so, turn out to the barn, throw himself down, wet clothes and all, among the straw, and take his chance of what sleep might fall to his lot till morning, when he would be early astir to go through the same privations again in some other district
In the matter of clothing he was equally hardy. Those who knew him will remember the thin tartan coat, the thinner tartan trousers, with no under clothing save a cotton shirt, and the unsubstantial Forfar pumps, which formed his winter's attire. The only change he made in summer was the substitution of a kilt for the trousers. If anyone suggested something more warm and comfortable, his usual remark was — "No, no, people kill themselves wearing too many clothes." He never paid anything for washing, that is, he never had any article of wearing apparel washed, and yet he was of very tidy habits, even, it must be owned, fond of being smartly dressed. When therefore, a shirt appeared to him to be losing its respectability, he would make it in his way to pass some shop where a new one could be purchased, dressed and ready. This he would carry with him to some lonely and rugged cony on the mountains, or sylvan retreat by the river, where he could make the transfer, and leave the discarded article to be washed and bleached by a purely natural process, but never to be worn again by him. Though he had nothing of the fop in his nature, it must be owned that he had something akin to a child's pleasure in seeing himself smartly dressed after his own style. When he got a new shirt that pleased him particularly well, it was no unusual thing to find his coat wrists turned up a bit, and his vest laid open an extra button or two to display its graces, while furtive glances of satisfaction were occasionally cast by the wearer at both localities. Alas ! he ought to be forgiven for this apparent vanity, for in his latter days the opportunities of indulging it had become somewhat rare.
Of his peculiarities of mind the most striking were his feeling of reverence, and keen perception, and unbounded admiration, of whatever was great and grand. These might be traced in all his sentiments and opinions. "His deep and sacred regard for the name of God," says one who knew him intimately for many years, "was such, that I have never known him profane the sacred majesty of heaven by an irreverent use of his Maker's name. That name he never took in vain, unless he were in the heat of some violent passion, and even then it was very seldom he did so, and on cooling down, deeply regretted he had done it. The condition of his clothing often prevented him from attending church, especially in his later years; but as Sunday came round, he invariably took a Bible or a volume of sermons and went to worship in some quiet spot in the great temple of nature. I have never known another man who had the same amount of awe and holy dread cast over his mind as Sandy, when brought into contact with the wild and grand in nature. The terrible loneliness, and huge massiveness of Ben Muicdhui brought a tremor over his mind, as it suggested to him that passage in the Revelations, where sinners are spoken of as calling on the mountains to cover them from the wrath of the Lamb. We cannot,' I have heard Sandy say, c have any idea of a sinner's fear on the day of judgment,' when it is such that he will call on these terrible rocks to fall on him. In a moment an army would be destroyed were it even hurled over them. It makes one's mind recoil with horror at the idea of falling over them, going down, down, down."'
"A thunder storm too," continues the same acquaintance, "had an overpowering and hallowing influence on his susceptible mind I remember once meeting him on his way from Benavon, where he had been during an extra- ordinary thunderstorm. He was literally shaking with sensation. It was not fear, but that sort of holy awe which pious persons sometimes feel when they are, it may be, on the brink of eternity. " 1 would not have missed,' said he, 'being on Benavon to-day for five pounds: the thunder was so majestic and awful among the rocks. It produced in my mind a fear of God's greatness and might nothing else could. I tremble yet at His terrible power who could have hurled me to destruction in a moment with one of the smallest of these flashes of lightning. But he preserved me safe in the midst of it, giving me time for repentance ; and I am not without hope, however small, that he has some love for me when he did not crush me in yon terrible place this day.' "*
On 28th July, 1852, the writer, happening to be on this same mountain, though for a very different purpose from poor Sandy's, was caught in a thunderstorm of such sublimity that the whole scene is even yet fresh in his memory. The following short note was made soon after the occasion: A little before noon, after having well filled a botanical case with small cairngorms, and other treasures of the mountain, I was standing on one of those huge excrescences of rock that extrude like great moles on the brow of Benavon and distinguish it to the distant beholder from the surrounding mountains. The day was moderately calm, and the sky, though not free from some ominous looking clouds, was very transparent, affording a fine and extensive view to the north and east. Suddenly a little cloud showed front over the north shoulder of Braeriach. On it came through the glack between Ben Muicdhui and Cairngorm, increasing in magnitude and darkening in aspect. It descended into the hollow of Loch Avon, and I could see the summit of Cairngorm over its upper surface. There it twisted and boiled in a most wonderful manner, while the lightnings glared amid its murky folds with a peculiar red colour, and the thunder reverberated among the rocks incessantly. Qft it came down the deep valley of the Avon, till almost under my feet I could see the lightning playing through the cloud beneath me. I had heard of such sights before, but though I had wandered among the mountains since ever I could wander at all, I had never seen one till now; and I recollected the lines of Byron descriptive of such a scene —
"When I roved a young Highlander o'er the dark heath,
"And climbed thy steep summit, oh Morven of snow !
"To gaze on the torrent that thundered beneath,
"Or the mist of the tempest that gathered below."
Not a drop of rain fell where I was — some 3,800 feet above sea level — but in the valley below, I have little doubt, it fell in torrents. The cloud passed away in the direction of Inchrory, but its culminating grandeur to me was gone, and I set off for Benabourd, thankful for the magnificent spectacle I had beheld.
Sandy could not endure to observe people other than serious when the thunder rolled and the lightning flashed. To their philosophical arguments as to their safety he would answer with impatience — "Why, what's the good of your reasoning ? Though only one person may be killed, what does that matter to you, if you be the man?
Though one might have thought that his living day and night among the grand and solitary in nature for so many years would have blunted his susceptibility of receiving impressions from them, yet it was not so. His feelings were as keen for realising the grandeur of a waterfall and the sublimity of a great mountain at the day of his death as when he was young.
It was this same feeling of veneration for all that was entitled to respect that made him sometimes appear severe to conceited young people when more talkative than he deemed respectful in the presence of their seniors. "Hold your tongue, you brat; you speak like a powder monkey,* was his usual rebuke on such occasions.
He was at war also with several of the habits of luxury and effeminacy that he accounted innovations on the good old modes of living. The use of tobacco as an article of luxury, and of pork as an article of diet was particularly offensive to him. "Tobacco smokers and pork eaters I abhor," he would say in his own proud way; but it was the practices and not the practisers that he despised. These peculiarities of taste showed how thoroughly Scotch he was. On this point it will not be irrelevant to adduce the authority of Sir Walter Scott, who thought it necessary to explain the absence of pork at the great feast at Glennaquoick by the following note :
" Pork, or swine's flesh, in any shape, was till of late years much abominated by the Scotch, nor is it yet a favourite food amongst them. King Jamie carried this prejudice to England, and is known to have abhorred pork almost as much as he did tobacco. Ben Jonson has recorded this peculiarity, where the gipsy in a masque, examining the King's hand, says, —
'Yon should by this line Love a horse and a hound, but no part of a swine.'
The Gipsies Metamorphosed. James's own proposed banquet for the Devil was a loin of pork and a poll of ling, with a pipe of tobacco for digestion." For any difference in their tastes King Jamie and Sandy might have dined together every day in the year.
In politics Sandy was a Tory to the heart's core. The principles on which the two great parties of the state were divided he probably had not studied theoretically. It was enough for him to observe the practices which as individuals in a private capacity they followed. On that he founded his politics; and as might be supposed, his opinions were strong, and strongly expressed. He did nothing by halves, least of all did he hold opinions so. With him it was no case of agreeing with this man and disagreeing with that; it was simple loving and hating.
Happening to be present on one occasion when politics formed the subject of discussion among some friends, Sandy listened for a little to the arguments used by the champion of the Whig cause ; and, having caught their gist, abruptly broke in, " What a fool you are to allow yourself to be duped in that manner ! The Whigs are not the poor man's friend. They are made up of high promises to the poor, but it is the Tories who practise them. The Whigs, on the other side, practise every villainy and meanness, pouring the woes of sour-milk persecution on those below them. They have no veneration for anything human, and end too often by dis- believing everything divine."
When he had denounced a nobleman as a Whig, he had emptied upon him the vials of his utmost contempt After that there was nothing more to be said; there was no lower depth into which he could be flung. It must be admitted that the treatment he personally received at the hands of certain gentlemen may have had some influence in swaying his politics ; but no man had a keener perception, or a higher appreciation of noble and generous features of character ; and with whomsoever these were found, to them, man or party, he ascribed all the virtues, political among the rest He was besides drawn towards the Tories by the reverence of his nature for any institution or custom hallowed by age, or enshrined in the affections of the people.
His love of freedom was his ruling passion. It probably drove him from earning his living after the manner of other men; for he could not endure to be bound to work or to
follow any course of action whatever if his inclination did not lead him to it. The very idea of imprisonment was torture to him. He had often been heard to say—" Before I would be a month in jail I would give five hundred pounds of the hardest earned money I ever had for liberty to get my feet on the heather again." He had, however, one night's experience of this hated place, but it was not on account of poaching, but for a debt alleged to have been due by him arising out of some transaction regarding the purchase of wood.
Sandy's mode of conducting business was far enough from being in accordance with the rules now universally adopted, but like many other traits of his character it faithfully reflected that of his countrymen before they were corrupted by the introduction among them of a system that appealed less to personal virtue than to the observance of legal forms.* To ask a man for a receipt or an acknowledgment of payment was in his opinion to cast a doubt upon his honour. " A man's word is his honour," was a favourite maxim with him, and he had not that respect for the law and lawyers that would lead him to look for justice in a court of law, if it were denied him at the hands of a private individual. The loss he suffered at the time of the Earl of Fife's bankruptcy, from this style of conducting business, has already been noticed. That was a case, however, in which it may be safely affirmed his noble debtor would have afterwards done him justice had it been in his power; but there were others in which those who owed him money denied their debt designedly, knowing well that Sandy would not prosecute. He was himself entirely governed by his high sense of honour, and he could not understand why any other safeguard against unjust dealing was required. Only experience taught him that there were a few mean people who did not value their word of honour, and whose proper punishment in his estimation was, not to raise an action against them at law, but "to hound them from society." Some dealings with one of this fraternity in the days when he traded in wood, resulted in Sandy being brought into a Court of Law, where an adverse decision on some technical point was given against him. He had relied on the justice of his case to carry him through, but finding that it was no match for the craft of his prosecutor in the arena into which he had been dragged, he resolved to balk him of the money which he was unjustly suing him for, by going to prison for a time. But one night there entirely altered his resolution.
General Stewart has recorded the following instance of the regard paid by the Highlanders to such engagements: " A gentleman of the name of Stewart agreed to lend a considerable sum of money to a neighbour. When they met and the money was already counted down upon the table, the borrower offered a receipt. As soon as the lender (Stewart of Ballachulish) heard this he immediately collected the money, saying that a man who could not trust his own word without a bond, should not be trusted by him and should have none of his money, which he put up in his purse and returned home."
His own account of his experience is the best that can be given — "No sooner was the door locked upon me than I felt myself nearly going mad ; and all the night through instead of sleeping I kept thinking, if I had not the money to take me out, my reason must give away. In the morning I paid the one hundred pounds without thinking of the unfair play I had got, and immediately set out for the hills; and such was the state of my mind that I never was satisfied I was free till I got my feet on the heather moors again."
Reference has already been made to Sandy's attainments as a dancer, but a triumph which he achieved in this line requires still to be noticed; and when it is known that he had never been taught the art but possessed it as a pure gift from nature, his success will appear all the more marvellous.
At a meeting of the Caledonian Hunt in Edinburgh, it was resolved to give a number of prizes for the encouragement of Highland games and accomplishments, among others one for dancing. The Highland gentlemen, members of the society, were ambitious of the honour of producing from their estates the winners of the prizes, and accordingly brought with them on the day of trial such of their retainers or tenants as they deemed likely to be successful competitors. There were thus assembled in Edinburgh, from all parts, the best men the country could produce. Sandy presented himself among the rest, though under the patronage of no superior. So great was the number entered for the prize in dancing that the competition extended over sixteen evenings, each succeeding trial however diminishing the list ; and finally the first prize was awarded to Sandy. Though very averse to talk about his actions, he was proud of being considered the first dancer in Scotland, and could be got to give an account of the "great competition in Edinburgh."
"Though I had good hope, he would say, "after the first day's trial, of being the successful man, it was not till I got up to dance for the last time, that the great cheering of the ladies and gentlemen made me certain that I was the lucky man ; but I sprained my thumb ' cracking,' and it has never been quite right since." "As a dancer," says one who has had good opportunities of judging, " he was incomparably the most graceful of his own time ; and his style was more characteristically Highland than any I have ever seen; while his fine personal appearance, lit up by the sparkle of his bright piercing eye, never shone to better advantage than when he became excited in a Highland reel"
His victory in Edinburgh, though it could scarcely have increased his celebrity on Deeside, spread his fame into other parts, so that, wherever he went, he was the hero of the ball- room ; and it must be admitted that he had no disposition to hide his talent in the earth. He was so fond of this pastime that when opportunities were long wanting for its indulgence, he would sometimes organise on his own account a ball, paying the whole costs, for this among other reasons, "that he might get a right hearty dance."
As a poacher, Sandy was as systematic in his operations as any farmer. Early in the spring he would provide himself with rod, bag, and gaf£ and set out for the most likely place to find fish. He recognised the validity of the law which enjoined a close time in both fishing and fowling. "Yes," he would say, when questioned on this subject, " Yes, it is right that there should be a close time, though the day fixed on by the law is arbitrary. It depends upon the season; but I suppose someday must be chosen, and the law is not far wrong. 'There or there about,' is what nature says." As soon then as close time had expired Sandy was in the field, equipped for work as above noted; and dressed in tartan coat and trews, with white felt hat, he looked as smart as any gentleman in the land, and indeed by those who did not know him, he would be certain to be taken for the landlord of the property on which he might be found. Poaching, as now practised, is so associated with ruffianism and crime, that it appears almost unfair to apply the term to Sandy's high style of doing the thing. He was more like the "free forester" of the olden time, claiming the privilege he exercised as the unalienable right of a free born Scot
Limited only by his own desires, his field of operations was very extensive. One day he might be seen with his dog Charlie — a little brown spotted setter— crouching close at his heels, and his white felt hat all stuck over with hooks and other fishing tackle, plying the rod on the banks of Dee at the Craggandoun, four miles above Balmoral, and the following day lashing in the same style the salmon pools on the Ballogie water thirty miles lower down the river ; while a day or two after would find him similarly engaged on the Spey at Carron or Aviemore.
As an angler, he was perhaps less successful than as a sportsman in any other line ; yet considering the wretched trim in which he kept his fishing gear, the bags he made were wonderful His rod, a few days after purchase, would be found tied round at some ugly break with the coarsest whip cord, while line, reel and hooks were subjected to the worst of usage and the least of attention. In fact he thought everything he handled ought to be like himself, capable of sustaining any treatment however bad.
How he passed the first month or two of the fishing season has already been noticed. With the advent of spring weather in April, Sandy renounced the luxury of lying down in wet clothes among the straw in some friend's bam, and sought no other comfort for the night than what nature supplied on the grassy bank of the rolling river, " Lolled to sleep by the rush of the stream, And gently awaked by the early beam."
In this manner the months of April and May were generally passed. There were occasional interruptions. When the produce of his labours had lined his pockets, he would spend a week or so among the haunts of his fellow mortals, "enjoying good company," as he used to express it. His fondness for high life in his own way was the great weakness of his character, and probably did more to injure his health than the privations he suffered by flood and field.
By and bye as June wore on, and the season for angling as a remunerative employment was passing away, Sandy would be taking an occasional turn into the forest to ascertain if the stags and the "yell" hinds were coming into condition. When he was satisfied that there were in some favoured glens "good animals" — animals that would command attention in Leadenhall — he would look out the rifle, which he had thrown aside in Banchory, Dufftown, or some other place he was in the way of making his head- quarters at the close of the previous season, and which he would now find all covered over with rust and in a sad state of disrepair. The rod was now cast aside, as if he was never to look at it again, and the rifle, put into as good order as was thought necessary, was laid hold of. He now disappeared from the habitations of man, taking with him by way of provisions, a " pocket pistol," well filled, and a "whisky buckie" — a compound of whisky and oatmeal rolled together like a great pill of two or three pounds' weight, in fact " Atholl brose " of portable consistence. Several days would elapse before he would again be seen or heard of; but some early morning he would appear, bearing on his shoulders two huge venison haunches which he had probably carried a distance of seven or eight miles during the night.
A few days after these had been despatched to Leadenhall, Sandy would be found, like a prince, at some favourite hotel, surrounded by a gang of harpies who had smelt the game, and practising on their victim's weakness for "good company," endeavoured to supply that commodity in return for the "treat" which they knew he would bestow in the most lordly manner. While the price of his haunches lasted, ball and revel were the order of things ; and high and fast life went on for some time.
Not, however, on every occasion that he received money from the great London market did Sandy spend it in this foolish and reckless manner. It only so happened when he had the misfortune to fall into the trap laid for him by some worthless and designing loafers, that too often dogged his steps. At other times he would husband his money almost with miser care, and these were so much more frequent than those of a prodigal expenditure that he was seldom without as much as served his needs, after handsome donations to his poor relatives— a duty which he never neglected when he had the means of discharging it
" When again in want of money, Sandy would prepare for another expedition, taking the precaution, however, to select a different forest He had several reasons for so acting, among others a desire not to be too hard on any one, unless indeed he bore a grudge to the owner for some act of severity towards himself which he not unfrequently took this way of avenging, but generally from prudential motives, afraid lest the fact of the former inroad should have got wind, or the deer's " grealach " (inside) might have by some chance been discovered by the keepers who would then be doubly on the alert, or that some one of the many accidents by which murder will be out might render a second visit after so short a time unsafe."
While poaching for deer he was very seldom detected or caught. This was partly owing to his caution. From long habit he had acquired the art of keeping such a sharp lookout that it was almost impossible for a keeper to approach him unobserved. His piercing eye was continually on the watch for signs of danger as well as for game, both of which he had the faculty of discovering to a degree seldom, if ever, attained by any other man. Besides this, " he made so little noise in the forest," as the keepers affirmed, " that it wisna good fin'an' him oot." Sandy's aim was so true that a second shot was scarcely ever necessary to secure the game. Yet it was not steadiness but quickness of aim that signalized his shooting. He has often been surpassed at rifle practice at a target, but never at taking up a stag between the trees as it bounded through the forest. " I remember meeting him," says an old friend who was well acquainted with the character of his shooting, "one day soon after he had been in the forest, and he complained bitterly of himself for having missed two or three fine stags. 'Were they standing, Sandy?' said I. 'They were, James; and I believe that's how I missed them.' ' I think so,' said I, ( if you had got a glimpse of them bounding between the trees, there would have been another story to tell.' "
But he more frequently baffled the gamekeepers by the address with which he had concealed himself than in any other way. The writer has been told by the late John Bowman, gamekeeper in the Ballochbuie, that if he once lost sight of Sandy Davidson in the forest he could seldom find him out again; and those who remember old John will have little difficulty in believing that, if Sandy could elude him, he was pretty safe under similar conditions from the pursuit of any other keeper on Deeside.
Notwithstanding all his arts however, he was sometimes caught ; but, unless under special circumstances, he was not informed upon. All that was generally exacted from him was a promise that he would not come back again within a certain time; and if once he pledged his word it might almost implicitly be relied upon. Such an engagement was, in Sandy's estimation, like a solemn truce between two armies. But though it was very seldom that he was brought before the Justices and fined for his poaching, he had a great horror of being caught, not so much because he accounted it a sort of military defeat, involving through the promise he was sure to have to make a cession of territory and a curtailment of privilege, as that it put the poor gamekeepers into a false position with their employers, and endangered their livelihood should it be discovered that they had not reported him. One instance of this kind deserves to be noticed, as it is highly honourable to Sandy:
A keeper one day by some unlucky chance came upon him, under circumstances when it was impossible for him not to report him .to headquarters. He pointed out the circumstances to Sandy, remarking, "If I don't tell on you, my wife and family will be ruined." "I would not have such a thing happen to a poor man on my account, no, not if the matter were to cost me one hundred pounds, instead of five. Go you and report me, and when I am summoned, I will appear and relieve you of danger," was Sandy's heroic answer. He was reported, and paid the fine ungrudgingly, and was a great friend to the keeper afterwards, frequently giving him small sums of money to assist him in bringing up his family, and abstaining from shooting on the ground over which he watched, lest any should represent his kindness as bribery.
Though he could be thus generous to a poor man acting openly in the discharge of his duty, he hated with a corresponding intensity sneaks and poltroons, and if they injured him he did not spare them when it was in his power to retaliate.
It happened once that Sandy had shot a fine stag in Glengelder, now a portion of the royal forest of Balmoral. At that time some change of gamekeepers was contemplated on the estate, and several persons were grasping at the situation and endeavouring to supplant each other. Finding the animal too heavy for his strength to remove it before morning he had engaged a man to bring a horse for that purpose, describing to him where he would meet him at an hour which he appointed. The man came, but he had either misunderstood his instructions, or in the darkness failed to find the place, and though Sandy repeatedly fired his gun as a signal to attract his attention, it proved of no avail. On his way home the man was discovered on the highway by two of the candidates for the vacant situation, who had some temporary employment as watchers over the property, and guessing what errand he had been on, they so wrought on his fears that he told them all the circumstances. The result was that Sandy was summoned before Mr. Roy, factor on the Invercauld Estates, and the only Justice of the Peace then in the district, and fined the statutory penalty of £$. The factor, as a magistrate, was obliged to discharge this public duty, though he knew this was not the way to manage Sandy, for whose good qualities, notwithstanding that he hated his profession, he had in his private capacity a certain degree of respect. Sandy bore Mr. Roy no ill-will for the discharge of his duty, but for the " fool " who informed upon him, and especially the " sneaks " who had played upon his simplicity " to entrap a man unlawfully whom they had not the skill to convict by the means which the law permitted," he entertained the reverse of friendly feelings, putting himself to considerable trouble to poach on their beats, when he might have obtained his game more easily and safely elsewhere, and making no secret of his delight when some years afterwards they were dismissed from their situations.
It was when in pursuit of the deer that Sandy had to pass the dreariest and most lonesome time of all his poaching expeditions ; and to a man tainted as he was with the superstitious notions of his day and class, it must, one would suppose, have been almost unendurable. Leaving some distant village late in the afternoon, furnished with his rifle, powder and ball, pocket pistol, and "whisky buckie," he would set out for the forest in which he meant to try his luck. Long before he reached its confines he would strike off from the public road, and, after traversing twenty miles or more of rough trackless hill-ground in the dark, the dawn would find him concealed in some wild corry of the Ben Muicdhui range, watching the movements of the antlered herds that might be within eye-shot of him. There he would lie the whole day long — sleep, it is true, a considerable part of it — taking note at intervals of all that came within his ken, keepers' movements, as well as those of the deer. As evening drew on he would be very observant of the places to which the latter repaired for the night He had studied their habits so long and so thoroughly that when he saw a herd lie down he could generally tell where they would be found at daybreak next morning ; and thither he would convey himself in the darkness. He might, however, have several days to spend in this manner before he got his coveted shot, for deer were not so plentiful then as they are now in the conies of Ben Muicdhui. And how terrifically dreary and lonesome must have been the wakeful nights he passed in these wild regions, where even nature herself is most weird and preternatural ! We are apt to suppose that superstitious beliefs fill the mind with unnatural fears, and perhaps so they do; but it would be an error to conclude that such beliefs make a coward of a man, or unfit him for braving any danger. It may be fairly doubted whether the most sceptical disciple of the materialistic school would not have been the subject of greater fear — fear of unknown danger, whether preternatural or not — at the dead hour of midnight, if placed among the yawning chasms and towering precipices of Ben Muicdhui, than Sandy Davidson, with all his superstitious beliefs.
One whose information has often been quoted in this sketch thus describes the condition of his mind: " Not withstanding the eerie life he led among the hills at all hours, he never got above a belief in the preternatural— especially a belief in those merry gentry who are said to be clad in green. He once came from the Glenbeg forest, in the Braemar district, where he had been spending the night to have an early shot at a stag, declaring to me in solemn seriousness —
"I have oftentimes had doubts about the fairies, but I heard them last night, as sure as I ever heard anything, singing and playing on the bag-pipes.' This he evidently believed, as he was above an untruth or a jest on such a subject, and besides was very grave and troubled-like in mind. But though he was superstitious from the training of the time, and the affair of the ( Black han f ' in particular, it never in the least prevented him from going at all hours into what many less brave would have thought the very jaws of death and destruction — the murky and dark forest, the eerie mountains, heightened in gloom and terror by the shade of the night, and the strange unearthly soueh of the wind among their beetling crags."
As a variety, Sandy often intermitted his visits to the forest, in order to have a day or two at the "pouting" when the river was in condition — a sport of which he was passionately fond, and in the pursuit of which he had no equal. The testimony of one, well acquainted with his skill in the various branches of the line of life he led, is as follows —
" I have known several men more successful than Sandy Davidson as an angler; occasionally too he would miss his mark in the forest, especially if the deer were standing ; he has even been known, though very rarely, to be surpassed on the moors; but as a spearman of salmon I have never known his equal. How well I remember one sultry summer day when the river Dee was low enough for 'pouting' (spearing) purposes, a little party of us set out on this sport with Sandy as one of the number. We were all good old tried hands ; yet at the close of the day he had three more fish to his own hand than we all put together. He had practised this sport from a boy about the Auld Brig o' Dee, and knew every stone for miles along the river where the salmon were likely to 'haul.' His practised eyes would scan the water to a great depth. His power of detecting the fish in streams and at great depths was something wonderful. It was a treat to watch him when the game came in view ; the expertness of his movement, the eagerness of his manner, and the keenness of his glancing eye. Then he would raise the spear cautiously, take his quick aim, hurl it to a distance of many yards, transfixing his prey as surely as the falcon is sure of his quarry. I have seen him do this in all positions, sometimes while standing up to the neck in some dark, forbidding pool, at other times in some dangerous rapid, and yet of the many salmon I have seen him throw his spear at I have never known him to miss but one."
But another branch of his poaching operations comes now to be noticed; and in doing so we give the information of one often quoted in this sketch : "The time would be coming on apace when his step would become lighter, and his eye brighter ; for the glorious 12th of Augusthad to the year of his death this inspiring effect on poor Sandy. The rifle would now be thrown aside, as if it had been useless lumber, and the fowling piece would be hunted up in the same manner the other had been a month or two before. Other sportsmen had their prescribed field of operations, Sandy's was practically without limit
The crack of his gun might be heard anywhere, from Inverness to Glenmark — a distance of 80 miles. His habit was to shoot in early morning and late evening, especially when the gentlemen were in their shooting quarters. I have often heard him say, 'Real gentlemen are deserving of respect; and I hold it to be too impudent to shoot over their grounds when they themselves are out.'
"It might be supposed that in the dim twilight or early dawn the produce of his gun would not be very great But it was not so. Though he disdained to adopt any unsportsmanlike method of obtaining game— expressing his contempt for those who did so by the not uncommon remark, Why ! he is no man at all who would not give a muircock a chance for his life by getting on the wing; an old wife could kill a sitting bird ' ; yet he was so sure a shot, and his eyes, either from natural strength or long use, had got such a power of descrying, especially game and gamekeepers, that a full bag was often the result of an hour's shooting in the dusk.
"The unemployed part of the day was spent by him in sleep, either below an overhanging rock, or deeply imbedded among the long heather. His power of falling asleep was something extraordinary, but it was somewhat like a Red Indian's sleep, very light, for the slightest sound would awaken him.
" He not only had, for a poacher, the courteous feeling about not shooting when the gentlemen were out ; but from a similar motive it was his general practice not to wander far from the marches of different gentlemen's properties. I have heard him defend this practice by saying, 'Some people would think this cowardice on my part, because, if likely to be taken, I could soon move across the march ; but this is not the reason with me. It is because it is not so impudent like as when one goes into the heart of the property.' There were, however, some notable exceptions to this rule.
"He was very well known to most of the gentlemen and keepers in the north of Scotland for these respectful characteristics, and was in consequence often tolerated when more impudent poachers would not have been. Those keepers who were not inclined to overlook his poaching encroachments, or who treated him with, as he thought, unnecessary severity when he was in their power, roused a sleeping lion within him; and it was the only revenge he ever took or threatened to take even on those who had treated him most harshly. ' I would never like,' he would say, to annoy a civil man, but those scoundrels who would not allow an honest man to live deserve punishment'
"A case of this kind once occurred on Speyside. Sandy, as already noticed, was seldom caught napping, but it did sometimes happen. On one occasion he was passing the noonday hours on the braes of Avonside, concealed among the long heather as usual, waiting the evening to have his shot, when the party at the Lodge had retired for the day. He had fallen into a deeper slumber than usual, and was only awakened by the sound of footsteps close at hand His dog Charlie,' knowing his business better than to rush off, like illiterate curs, and make a noise, apprehended the danger of the circumstances and crouched closer to his master; but all in vain. Men may pass very close to each other without discovery, dogs seldom will Finding himself detected Sandy sprang to his feet at once, resolved to act as dignified a part as circumstances would permit The gentleman of the party, who was himself the discoverer, flew into a passion and stormed furiously, while the object of his wrath stood before him unmoved.
" I demand your name instantly,' said the irate sportsman, in a tone that told Sandy he had the worst to expect ; and he therefore immediately replied, 'My name is Alexander Davidson ; what is your name ? ' "My name,' replied the other, ' is George MacPherson Grant of Ballindalloch, and I require you to follow me.' "Sandy was taken before the Justices and fined £5. When questioned about this business, he used to remark, 'The money was not at all lost, for the moors of Ballindalloch paid for it handsomely afterwards. I knew Sir George perfectly, but I thought it would not be every day I would have it in my power to ask the name of such a great man ; and I believe he had as little occasion to ask mine.'
"I have been told that when he came to the Ballindalloch moors his eyes would assume a determined expression, his steps quicken, and his aim become unerring. He would also deviate from his usual practice of shooting on the marches, and would strike into the very finest ground and blaze away in defiance of the watchers, and yet he was never afterwards caught on these moors. When pursued, as he sometimes was, he has been known to disappear on comparatively bare ground, plunge into some moss pit leaving nothing exposed above water but his nose, and in this state remain till danger was past"
It will readily be conjectured that in leading such a life, and following such a calling, Sandy must have had many privations to endure, and many adventures and hair-breadth escapes " by flood and field," but he had such an aversion to recount his hardships, lest he should be thought to be soliciting commiseration, and was so sensitive on the point of appearing to be boastful, that it was very seldom he could be got to narrate either his privations or adventures. One or two instances, merely as examples, must therefore suffice in this sketch.
On one occasion, late in the season, he set out from the neighbourhood of Ballater, provisioned only with the usual "whisky buckie," to have a day among the ptarmigan on Benavon. The first day's sport proving unsuccessful, he passed the night in some crevice of the rocks, and next morning found him shooting over the broad brow of Benabourd. Wandering still further into the wilds, he on the following day made the circuit of Ben Muicdhui's towering summit, having nothing to live on all this while but the pound or two of meal and whisky, which, not deeming it would be required to support him for such a length of time, had not been reserved for future exigencies. Retracing his steps, he was on the afternoon of the third day overtaken on Benavon by one of those bitter storms of wind and snow which sometimes suddenly sweep over these inhospitable regions, like a Siberian poorga, threatening destruction to any living thing that may happen to be within its range. He was near no place of shelter, and the biting wind sent its fang to the bone. Still he continued to make his way through it; but his poor dog Charlie, cowering and shivering at his heels, was sinking fast before the breath of the storm. His master did everything he could to cheer him up, patted him, ran with him in the face of the blast to keep the blood from freezing in his veins, but all to no purpose; poor Charlie caught no heat, but set up his pitiful whine amid the hiss of the vengeful storm. Sandy had been accustomed to bear many things with indifference, but the call for pity, whether from man or beast, went straight to his heart. Stripping himself of his thin tartan coat he rolled poor Charlie up in its folds, leaving himself exposed to the storm, and in this state he awaited its termination.
The incident would probably never have become known, for Sandy was as averse to dilate on his acts of mercy as he was to rehearse his sufferings, had not a man in search of some stray sheep happened to come upon him and his dog in the plight described. When the matter was referred to in his hearing, he would attempt to turn it off with the slight remark, " Poor beast ! I was sorry for him." Though he made no scruple of denuding himself of his coat in the midst of a snow storm to alleviate the sufferings of his poor dog, it shows how shy he was of making known his own sufferings, when he did not ask the man who had been cast in his way for a morsel of food, though he must have been famishing, having had nothing to eat for the greater part of two days, and knowing that many hours must elapse before he could reach a human habitation. On this occasion Charlie had fared much better than his master ; for he had not been allowed to feel the pangs of hunger while a bird was in the bag, in which there was probably enough for both, had the human sufferer had the means of cooking the game so as to make it fit and lawful food.
"I don't think," said Sandy, when he got to the house where his wants were supplied, and as an apology for the heartiness of the meal he was able to indulge in, " I don't think I was ever so hungry in my life. It was provoking to have the birds on my back and yet be starving of hunger; but I do believe another half day would have made me eat the grouse raw."
The incident just mentioned shows how great his affection for his dogs was. Indeed it got, in the case of Charlie, to assume a type beyond what is current between man and his pets of the lower creation. An old maid's attachment to her cat is passionate and jealous enough; but it was a different kind of bond that knit Sandy to his dogs — a bond somewhat akin to what fellowship in suffering generates between human beings. "When Charlie died, I shed tears over him; we had gone so much together," is perhaps the most pathetic expression Sandy was ever known to utter. Though Charlie reciprocated to the full his master's affection for him, and though he would probably at any time have risked his life to save him had he been in danger, yet his power of enduring hunger and cold was not equal to his whose lot he shared. The following anecdote of Charlie has been told the writer by one who knew man and dog very well —
"I remember poor Charlie very well, — a rather little, white and brown dog. He was up to all his ways, and had a sort of human fondness for him. Yet for all this, I have known him under the pressure of sheer hunger desert him among the mountains. I recollect once when Sandy had been some days in the forest, Charlie made his appearance alone at my house. I was very much astonished, knowing how fond the dog was of him, and feared that something must have befallen his master, perhaps he might be lying dead among the hills. We got the dog into an outhouse and shut him in, giving him something to eat. But he had no sooner got his belly filled, than out he would be, scraping at the door and howling. I believe he would have gone mad if we had not let him out As soon as the door was opened, off he went like shot, and though we tried to coax him and called to him, it was of no use ; away he went, and we saw no more of him till a day or so after Sandy and he both appeared together, and I then learned that Charlie had come twelve miles for his victuals the day he paid us the visit alone."
"I never but once," Sandy used to say, "got fairly bewildered among the hills. It was late in the year, and I had been shooting in Glenrinnes. It had been dull all day, and towards evening snow began to fall. I think I never saw the snowflakes so big or falling so fast In less than two hours there was not the vestige of a black thing over the whole face of the earth. I knew the ground as well as you know the floor of your own house, and yet I could make nothing of it I kept going on, going on, thinking I should certainly meet with some object that I could recognise. But no ; and at last the snow got so deep that I scarcely knew if I was going up or down the hill. I thought of several plans to guide me, but they all failed At last I came to a stream, and I resolved to follow it downwards, being sure it would bring me to some house; but so stupid was I in the head that I could not make out which way the stream ran, and when I put in some snow to see, it seemed to me to float up the stream. But I reasoned that I might be bewildered, but the laws of nature were not likely to be wrong; and so I followed the way the snow took, and at last with much ado I got to a house I knew."
These were some of his field experiences; as an example of his flood experiences may be mentioned an adventure he once had in the Loch of Skene.
In his many wanderings he had come to this place for the purpose of shooting water-fowl, at a time when the loch was almost wholly frozen over with what appeared to him a strong sheet of ice. He had shot at and wounded a teal drake, which fell on the ice near the middle of the lake. Un- fortunately on this occasion he was not accompanied by Charlie or any other dog, and was under the necessity of either relinquishing his prize, or venturing on the ice for it Any bird he might have shot would have tempted him to incur some risk for its recovery, but for a teal drake he would have run almost any danger. He all his life attached a laugh- able importance to the feathers of this bird, as dressing for salmon hooks. It was a remark he often made, " The hook without teal is no better than one made up of crows' feathers." His desire to possess the feathers of this teal nearly proved fatal to him.
He had not made his way far on the ice when he became aware that it was not so strong as it appeared to be. He therefore proceeded with great caution, testing its strength at almost every step he took. When just in the act of picking up the coveted teal, the .ice gave way ; a large ledge had snapped off, and on this ledge he found himself floating away into the open water in the centre of the lake. Strangely enough the fragile raft remained unbroken till it came into collision with the fixed ice, when it went into fragments, precipitating Sandy into the water. At this critical moment he concentrated all the energies of his mind, and at once adopted the most likely way of escaping with sweet life. Firmly grasping his gun in both hands, he struck off with it fragment after fragment of the ice, taking care not to disengage but small pieces at a time lest he should be cut off from reaching the rest In this way he made a lane of clear water for himself a distance of a quarter of a mile ; and at last reaching ice of sufficient strength to sustain his weight, he hitched himself on to it, and gained the land, "very nearly gone," as he expressed it, and with his hands frightfully lacerated by the method he had adopted to break through the ice.
Sandy was a hero worshipper of the true Carlylean brand. He was disposed to pay due honour to the titled great ; but unless the dignity they bore from men was sustained by a corresponding patent of nobility from nature, they were fit only to be made " laughing stocks of," and to be treated as counterfeit coin. When, however, he found both patents in conjunction his admiration and respect scarcely knew any bounds. It has been already stated that though everywhere known to be an inveterate and incurable poacher, he was on visiting terms with most of the gentry in the north; and seldom was there a ball or occasion of rejoicing in the wide district over which his calling extended to which he was not invited. He had by nature the feelings of a gentleman, and this almost constant intercourse with the first society in the country had given his manners and conversation a polish and fascination far above those of the lower or even middle classes. However incongruous it may appear that the professional violator of the law of the land should be on familiar terms of acquaintance with clergymen and peers of the realm yet to Sandy the manse and the mansion were equally open.
In proportion to the warmth of his admiration for those who worthily bore their honour, so was the intensity of his dislike and contempt for those whom he deemed to have dishonoured their dignities. Extremely sensitive on all points of honour and character, he never either forgot or forgave any slight cast upon his own.
It happened once in a district where Sandy was very well known by everyone that the tenants of a certain large proprietor had resolved to entertain their landlord at a dinner and ball on the occasion of some family rejoicing. Sandy, happening to be in the neighbourhood at the time, and there being no special cause of quarrel between him and the guest of the evening, presented himself, on invitation by some of his friends among the tenants, to take part in the rejoicing, and add his tribute to the general esteem entertained for the proprietor. But such was not the view of the matter taken by the laird, who, too hastily fancying himself insulted by the presence of such a notorious poacher among his entertainers, demanded that Sandy should leave the company; otherwise he could not stay. Stung to the quick by this insult, Sandy immediately left, and repairing to a neighbouring hotel, engaged rooms and set up an opposition ball, which, as asserted at the time, not only damaged but eclipsed the entertainment to the laird.
Such was his method of taking revenge, and to the end of his days he never got over the slight thus cast upon him. When reference was made to it in his hearing, he would assume a posture of dignity, and in a tone of contempt, exclaim, "Churlish fellow! There is not a spark of the gentleman in him. No gentleman would ever do the like. Of the many gentlemen's residences to which he received invitations, Gordon Castle held by far the first place in his esteem. The late Duke of Richmond was his beau-ideal of what a peer of the realm ought to be. "He is generous, noble-minded, and no oppressor of the poor," were the terms in which Sandy usually described him. But in speaking of his son, then Earl of March, and now leader of her Majesty's Opposition in the House of Lords, these, or indeed any words, were wholly insufficient to express his admiration. " I tell you," he would say, and his eyes spoke more of his feelings than his words, " that is a young nobleman that his country will one day be proud of; mind, I tell you ! "
The author received the following account of Sandy's first interview with the Duke of Gordon from John MacLaren, gamekeeper to Mr. Coltman at Deskrie, who had it from Marshall, the famous violinist and proteg6 of his Grace. The Duke and a friend happened to be shooting on the Glenfiddoch moors, when he observed a puff of smoke on the hillside opposite and, by the aid of a glass, a man with a game bag slung over his shoulder, accompanied by a dog, also engaged in grouse shooting.
Calling his head keeper he said, "Robert, I thought we were to have the whole of these moors to this party to-day. Who can that be shooting over there?" "I do not know, your Grace, but I shall send to enquire." "No," said the Duke, "go yourself, it may be some mistake that you have committed in making your arrangements. 'Robert immediately set off, and was seen by Sandy more than a mile away, who however, instead of making off, sat down and awaited his arrival The keeper knew Sandy and explained to him the circumstances, upbraiding him with his want of courtesy. " Well, Robert," said the culprit, "it was not that, but a pure mistake on my part Tell his Grace that I am the last man in the world that would interfere with his sport, and that I am very sorry for what has happened and will leave immediately/' This being reported to the Duke, who had been told something of Sandy's character, a message was dispatched to intimate that he might take the other side of the hill for the afternoon and come to the Lodge in the evening. Sandy did so, bringing with him a well-filled bag, which he desired Robert to present to the Duke with his thanks for his kindness and an assurance that he would not again disturb either him or any party of his in the pursuit of their sport. It is recorded that he spent a very merry night at Glenfiddoch and received his first invitation to a dance at Gordon Castle.
He was invariably invited to the balls there when he happened to be accessible, and received particular attention from the Earl of March, who always took him aside as he was leaving, and gave him a hint not to want a day's sport when he was inclined. It needless to say that his kindness was never abused. At these balls he often overheated himself in the dance, deeming, as he did, his displays in that line an expression of the high honour in which he held his entertainer. "The Earl of March," he would say, "made me dance with all the large company of ladies staying at Gordon Castle " ; and proud he was of the honour. In his latter years, when his iron constitution was giving way, oxidized as it had been by the exposure and privations he had endured, he was less able to encounter these violent exertions with impunity, and sometimes was brought to admit that in dancing a long round of reels "he was not the man he had been."
For more than a year before his death, those acquainted with Sandy had marked symptoms of failing vitality. Although the black curly hair was still unmixed and the piercing eye undimmed, the once erect frame began to stoop, and the step was less light and springy than it had been. He was aware of all this himself; and probably knew more than he cared to disclose. He now spoke more frequently of his death than he was wont, and seemed to look upon it as an event by no means likely to be distant
" I hope," he was often heard to say, " that when my time to die comes, it may take place among the bonnie blooming heather, with the glorious sun pouring down his rays of heat and light upon my perishing body."
That wish was granted him. On the morning of the 23rd of August, 1843, passing through Ballater, he met the late Dr. Sheriffs, who, observing something about Sandy's appearance he did not like and on being permitted to examine him as to the state of his health, strongly dissuaded him from going to the moors that day. The warning was unheeded; he must follow that bent of mind which he could never resist, and which made him appear to the poetical onlooker, to be the genius of his native mountains.
Next morning he was discovered on the hills of Glenbucket, lying on his back, with his faithful companion, the little brown pointer, seated on his breast, keeping watch over him. At first knowing his habits, the party who discovered him believed him to be asleep; but it was the sleep that knows no waking. Passing the same place about an hour afterwards and finding the supposed sleeper still in the same position, their apprehensions were aroused, and it was resolved to make an investigation.
It has often been observed of dogs that have been attached to man, that they have a perception of death in their masters as a change that requires them to undertake duties they had never before practised. Had Sandy been concealing himself from the keepers or even asleep, his dog, as it had long been trained to do, would have crouched closely by his side to avoid being observed; but now it took its stand openly upon his breast, and when a stranger approached, instead of concealing itself, the faithful creature attacked savagely, and it was not without a strenuous resistance that it allowed the remains of its master to be conveyed to the nearest human dwelling.
Thus passed away the last poacher of the olden type, under conditions befitting the life he led. Without justifying that life, it is only simple truth to say that in his own eyes it was no violation of the laws of God; and in the eyes of those best capable of judging, it was more the result of a peculiarly romantic and chivalrous turn of mind than of any low or lawless disposition. Whatever be the opinion entertained by some on this matter, no one who knew him intimately — and he had a wider circle of acquaintance than any native of the north of Scotland of his day — will deny to his memory the testimony that he was imbued with the highest sentiments of honour and religion, while his actions were characterized by the strictest integrity of purpose, and the loftiest generosity.
He was interred by his sisters in the family burying ground in the churchyard of Glenmuick, where his grave is marked by an undressed headstone, on which are cut in rude characters the initials of some of his forefathers, with the date "1715 " attached to one of them.
Having for some time previous to his death had a pre- sentiment that it might occur without much warning, he had told his sisters that he wished his dog to be given to Mr. Mactier of Durris, as a mark of his esteem for that gentle- man. That wish was given effect to ; but Sandy's dog was found to have modes of working that unfitted it for co-operating with others of its kind ; and it was accordingly seldom required to perform any service, but passed the rest of its days at Durris House in indolent luxury.
A life so romantic could scarcely pass away without evoking some poetic tears ; and many an elegy was poured on Sandy's grave from the poet's comer of the northern press. Of other tributes to his memory the following, with which we close the memoir of this remarkable man, was written by the late Rev. Robert Scott, minister of Glenbucket, the parish in which his body was discovered, as above stated. It was published at the time in the Aberdeen newspapers, and afterwards, at the solicitation of the friends of the deceased, printed separately for private distribution among them —
THE BRAEMAR POACHER.
"Brave Sandy, art thou dead?' 1 says a rustic bard, in an elegaic production transmitted to us, on the death of Alexander Davidson, the famed poacher of Braemar ; and so say we — for more than once have we heard of the character and exploits of this mountaineer, and while we deprecated his occupation, felt a respect for the man. Sandy Davidson was no ordinary poacher. The deteriorating influence of his trade, that in general leads, step by step, to the utter demoralization of those who pursue it, had no such effect upon him. The simplicity and integrity of his character remained unchanged amid all the vicissitudes of his lawless — though we be loath to use the word — and strangely- chequered life. He was one among a thousand — a perfect specimen of the mountaineer. Sandy scorned the habiliments of the Sassanach; and when clad in the "garb of old Gaul," with his dog and his gun, with a step as elastic as ever rose from the springy heather, and an eye whose dark glance long years could not dim, he might have been taken, while emerging from among the mists of a September morning, for the very genius of his native hills.
There was a romance about Sandy's character and his way of life that rendered him a dangerous example. He was gifted in an eminent degree with those qualities that insure popular favour— fearless, generous, and kind-hearted.
"His foot was foremost in the dance,
His laugh the loudest rang;
Nae e'e could match his mirthful glance,
Nane sung so sweet a sang."
Nor is this random quotation misapplied. Sandy had "borne the bell " over hundreds at competitions in the " fantastic art n at Edinburgh, and in all parts of the country; and although in the " vale of years," and scarcely so lithe in limb as in his early days, an invitation was found on him at his death from the Earl of March, to attend and take part in some merry- doings at Gordon Castle the other day.
His feats in eluding the keepers were innumerable. While closely chased, he has more than once plunged into a moss pit, and lain there with his face alone above water, till the baffled pursuers gave up the search. If caught, however, he yielded without resistance. He knew the penalty that his pursuits incurred; and, although an adept in the various sciences of defence, he was never known to raise his hand against those who attempted to apprehend him, even when the odds were in his favour. Indeed, on his last coming within the reach of the law, which was a few months ago, he not only quietly accompanied his captor from Dufftown to Elgin, but treated him at every public-house in the way. Sandy was a perfect child of Nature — as complete a Hawk- eye of the old country as the times would admit of. He had no home, and he wished for none — no place of residence but the broad face of the Highlands. His gun might have one day been heard ringing among the hills of Perthshire, and on another among the wilds of Lochaber; now, among the moors of Braemar and the fastnesses that bound the " infant rills of Highland Dee " — then, beneath the black shadow of Cairngorm, at the rocky sources of the Avon and the Don ; to-day in Strathspey, and to-morrow far to the north-west, among the hills of Moray and Inverness. Everywhere Sandy was well known, and, wherever he was known, there was an open door and a Highland welcome awaiting him. Little he cared, however, for such accommodation.
Armed by Nature against the power of inclement skies, the shelter of a bush or rock on the hillside was at all seasons sufficient. There, with his faithful dog to watch over his slumbers, he slept soundly the live-long mght ; and thus he was found, on the 24th August, 1843, by a party of sports- men, a corpse cold and stiff, on the moors of Glencaimey. Many a quondam visitor to Ballater, who had heard of Sandy and seen him, will, we believe, breathe a sigh of regret to the memory of the bold poacher when they hear that he is no more. His way of life made him often amenable to the game-laws; but, although a poacher, he had little in common with that class. He was the Robin Hood of the freebooters of the forest and moorland. Poaching to him was not the effect of idle habits. It was part of the vocation of a simple but wild and untameable spirit that scorned all restraint on the natural liberty of man. He was decently interred by his two sisters at Ballater.
Picture added on 24 February 2010 at 15:50