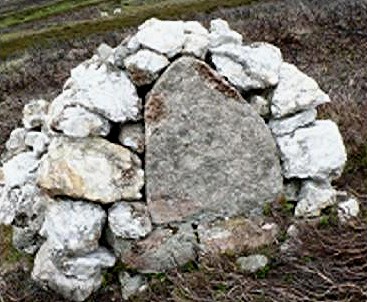 The Glenbuchat Image Library
42 Davidson's CairnAlexander 'Sandy' Davidson, 1791-1843, Prince of Poachers
Alexander (Sandy) Davidson, 1792–1843, was born at Mill of Inver, Craithie, on Deeside.
Who died in 1843 in the heather on Creag an Sgor
See entry 43 for details about his death
His exploits as one of the last Highland Poachers were recorded by William McCrombie Smith in his 1904 biography
"Brave, simple – in the highest tradition and best sense of the word – generous, kind-hearted Sandy Davidson". He was buried at the Glenmuick churchyard… "where his grave is marked by an undressed headstone, on which are cut in rude characters the initials of some of his forefathers with the date '1715' attached to one of them".
There is a Cairn on the slopes of Creag an Sgor, which marks where he died, among the "blooming heather".
Alexander Davidson

'At Davidson's Cairn, Glenbucket.'
The blue heavens smiled, and the day was serene,
And soft stillness lay on the dim moorland scene,
When a pilgrim I stood by the cairn on the heath,
Where Sandy the poacher had breathed his last breath.
The prowess tradition delights to unfold
Of this marvellous poacher, so daring and bold,
Who his native integrity still could maintain,
And preserve repute without blemish or stain.
No mean man, no rude skulking coward was he,
But noble and Courteous, and brave as could be,
At he grand Ducal ball 'mong the noble and fair,
A welcome, as equal, brave Sandy had there.
A limb from his body had sooner been torn,
Than wrong should for him by another be borne,
And no mortal more needful and poor than himself,
Right free would he part with his game or his pelt.
His fine spirit wounded. Per chance he did leave
The haunts where men scramble, and cheat and deceive,
And took his lone way to the mountains and wild,
To sojourn with nature, her free, fearless child.
For years on the moors, from the Dee to the Spey,
He rested by night, and he wandered by day,
Till at last on the slope of the steep Craigenscore,
He sank on the heather to wander no more.
Ah! Meet that the heather he loved so to tread,
The soft fragrant heather should be his deathbed,
And meet that his dog, constant comrade and true,
Should from his pale forehead lick off the death-dew.
True heart; from the story and the kindly kept cairn,
The worldly, the proud, and self-seeking may learn,
What it is gives a true lasting title to fame,
And long be remembered and honoured the name.
Organisation The Royal Commission on the Ancient and Historical Monuments of Scotland
Alternative Name(s) UPPERTON
Canmore ID 126664
Site Type COMMEMORATIVE CAIRN
County ABERDEENSHIRE
Parish GLENBUCHAT
Council ABERDEENSHIRE
NGR NJ 3641 1970
Latitude, Longitude 57.263517N, 3.055883W
Images 0
Archaeological Notes
NJ31NE 72 3641 1970
Davidson's Cairn [NAT]
OS 1:10,000 map, 1975.
Davidson's Cairn. A small cairn marking the spot where Davidson, a poacher, was found dead of natural causes.
Name Book, 1866.
Davidson's Cairn is a small cairn of white quartz boulders, within which has been set a granite boulder bearing the inscription 'A DAVIDSON 1792 - 1843'.
Visited by RCAHMS (JRS), 21 October 1997.
Picture added on 24 February 2010 at 15:18