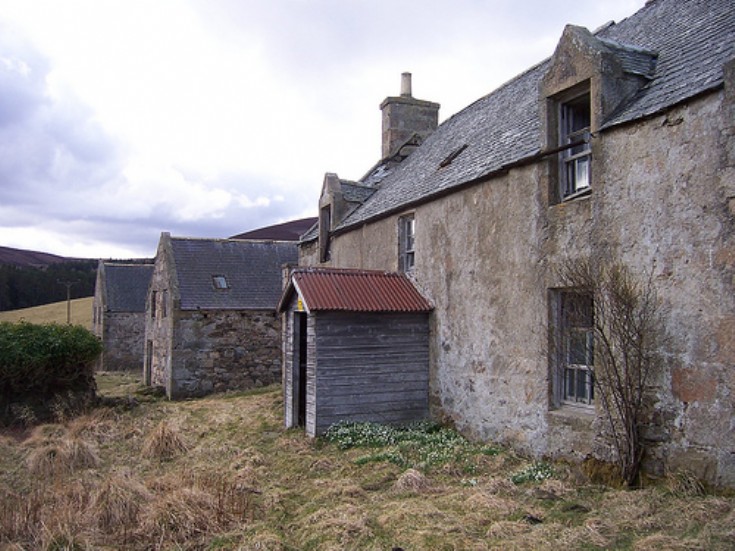 The Glenbuchat Image Library
17 Badenyon Home of John o'Badenyon
John o'Badenyon by John Skinner. See See
entry 18 for music and poem

See
entry no 36 Badenyon 1865 map and Begg family
JOHN SKINNER (1721-1807), Scottish author, son of John Skinner, a parish schoolmaster, was born at Balfour, Aberdeenshire, on the 3rd of October 1721. He had been intended for the Presbyterian ministry, but, after passing through Marischal College, Aberdeen, and teaching for a few years, he took orders in the Episcopal Church, and was appointed to the charge of Longside in 1742. Very soon after Skinner joined the Episcopalians they became, in consequence of the Jacobite rebellion in 1745, a much persecuted remnant. Skinner's church was burnt; his house was plundered; for some years he had to minister to his congregation by stealth; and in 1753 he suffered six months' imprisonment for having officiated to more than four persons besides his own family. After 1760 the penal laws were less strictly enforced, but throughout the century the lot of the Episcopalian ministers in Scotland was far from comfortable, and only the humblest provisions for church services were tolerated. He died at the house of his son, John Skinner, bishop of Aberdeen, on the 16th of June 1807. It is by his few songs that Skinner is generally known. A correspondence took place between him and Burns, who considered his "Tullochgorum" "the best Scotch song Scotland ever saw," and procured his collaboration for Johnson's Musical Museum. Other of his lyrics are: "The Monymusk Christmas Ba'ing," a football idyll; "The Ewie wi' the Crookit Horn" and "John o' Badenyon." His best songs had stolen into print; a collection was not published till 1809, under the title of Amusements of Leisure Hours. Throughout his life Skinner was a vigorous student, and published in 1788 an Ecclesiastical History of Scotland (2 vols.) in the form of letters.
A Life of Skinner, in connexion with the history of Episcopacy in the north of Scotland, was published by the Rev. W. Walker in 1883. His songs and poems were edited by H. G. Reid (1859).
JOHN SKINNER.
Rev. John Skinner, poet, author of John o'Badenyon theologion, Episcopalian minister of Longside in Buchan. His song 'Tullochgorum' was regarded by Robert Burns as "the best Scotch song ever Scotland saw". (letter from Burns to Skinner October 1787). Died 16 June 1807
Among those modern Scottish poets whose lives, by extending to a considerably distant period, render them connecting links between the old and recent minstrelsy of Caledonia, the first place is due to the Rev. JOHN SKINNER. This ingenious and learned person was born on the 3d of October 1721, at Balfour, in the parish of Birse, and county of Aberdeen. His father, who bore the same Christian name, was parochial schoolmaster; but two years after his son's birth, he was presented to the more lucrative situation of schoolmaster of Echt, a parish about twelve miles distant from Aberdeen. He discharged the duties of this latter appointment during the long incumbency of fifty years. He was twice married. By his first union with Mrs Jean Gillanders, the relict of Donald Farquharson of Balfour, was born an only child, the subject of this memoir. The mother dying when the child was only two years old, the charge of his early training depended solely on his father, who for several years remained a widower. The paternal duties were adequately performed: the son,[Pg 2] while a mere youth, was initiated in classical learning, and in his thirteenth year he became a successful competitor for a bursary or exhibition in Marischal College, Aberdeen. At the University, during the usual philosophical course of four years, he pursued his studies with diligence and success; and he afterwards became an usher in the parish schools of Kemnay and Monymusk.
From early youth, young Skinner had courted the Muse of his country, and composed verses in the Scottish dialect. When a mere stripling, he could repeat, which he did with enthusiasm, the long poem by James I. of "Christ-kirk on the Green;" he afterwards translated it into Latin verse; and an imitation of the same poem, entitled "The Monymusk Christmas Ba'ing," descriptive of the diversions attendant on the annual Christmas gatherings for playing the game of foot-ball at Monymusk, which he composed in his sixteenth year, attracting the notice of the lady of Sir Archibald Grant, Bart. of Monymusk, brought him the favour of that influential family. Though the humble usher of a parish school, he was honoured with the patronage of the worthy baronet and his lady, became an inmate of their mansion, and had the uncontrolled use of its library. The residence of the poet in Monymusk House indirectly conduced towards his forming those ecclesiastical sentiments which exercised such an important influence on his subsequent career. The Episcopal clergyman of the district was frequently a guest at the table of Sir Archibald; and by the arguments and persuasive conversation of this person, Mr Skinner was induced to enlist his sympathies in the cause of the Episcopal or non-juring clergy of Scotland. They bore the latter appellation from their refusal, during the existence of the exiled family of Stewart, to take the oath of allegiance to the House of[Pg 3] Hanover. In 1740, on the invitation of Mr Robert Forbes, Episcopal minister at Leith, afterwards a bishop, Mr Skinner, in the capacity of private tutor to the only son of Mr Sinclair of Scolloway, proceeded to Zetland, where he acquired the intimate friendship of the Rev. Mr Hunter, the only non-juring clergyman in that remote district. There he remained only one year, owing to the death of the elder Mr Sinclair, and the removal of his pupil to pursue his studies in a less retired locality. He lamented the father's death in Latin, as well as in English verse. He left Scolloway with the best wishes of the family; and as a substantial proof of the goodwill of his friend Mr Hunter, he received in marriage the hand of his eldest daughter.
Returning to Aberdeenshire, he was ordained a presbyter of the Episcopal Church, by Bishop Dunbar of Peterhead; and in November 1742, on the unanimous invitation of the people, he was appointed to the pastoral charge of the congregation at Longside. Uninfluenced by the soarings of ambition, he seems to have fixed here, at the outset, a permanent habitation: he rented a cottage at Linshart in the vicinity, which, though consisting only of a single apartment, besides the kitchen, sufficed for the expenditure of his limited emoluments. In every respect he realised Goldsmith's description of the village pastor:—
"A man he was to all the country dear,
And passing rich with forty pounds a-year;
Remote from towns he ran his godly race,
Nor e'er had changed, nor wish'd to change his place."
Secluded, however, as were Mr Skinner's habits, and though he never had interfered in the political movements of the period, he did not escape his share in those ruthless severities which were visited upon the non-juring clergy subsequent to the last Rebellion. His chapel was destroyed by the soldiers of the barbarous Duke of Cumberland; and, on the plea of his having transgressed the law by preaching to more than four persons without subscribing the oath of allegiance, he was, during six months, detained a prisoner in the jail of Aberdeen.
Entering on the sacred duties of the pastoral office, Mr Skinner appears to have checked the indulgence of his rhyming propensities. His subsequent poetical productions, which include the whole of his popular songs, were written to please his friends, or gratify the members of his family, and without the most distant view to publication. In 1787, he writes to Burns, on the subject of Scottish song:—"While I was young, I dabbled a good deal in these things; but on getting the black gown, I gave it pretty much over, till my daughters grew up, who, being all tolerably good singers, plagued me for words to some of their favourite tunes, and so extorted those effusions which have made a public appearance, beyond my expectations, and contrary to my intentions; at the same time, I hope there is nothing to be found in them uncharacteristic or unbecoming the cloth, which I would always wish to see respected." Some of Mr Skinner's best songs were composed at a sitting, while they seldom underwent any revision after being committed to paper. To the following incident, his most popular song, "Tullochgorum," owed its origin. In the course of a visit he was making to a friend in Ellon (not Cullen, as has been stated on the authority of Burns), a dispute arose among the guests on the subject of Whig and Tory politics, which, becoming somewhat too exciting for the comfort of the lady of the[Pg 5] house, in order to bring it promptly to a close, she requested Mr Skinner to suggest appropriate words for the favourite air, "The Reel of Tullochgorum." Mr Skinner readily complied, and, before leaving the house, produced what Burns, in a letter to the author, characterised as "the best Scotch song ever Scotland saw." The name of the lady who made the request to the poet was Mrs Montgomery, and hence the allusion in the first stanza of the ballad:—
"Come gie 's a sang, Montgomery cried,
And lay your disputes all aside;
What signifies 't for folks to chide
For what was done before them?
Let Whig and Tory all agree," &c.
Though claiming no distinction as a writer of verses, Mr Skinner did not conceal his ambition to excel in another department of literature. In 1746, in his twenty-fifth year, he published a pamphlet, in defence of the non-juring character of his Church, entitled "A Preservative against Presbytery." A performance of greater effort, published in 1757, excited some attention, and the unqualified commendation of the learned Bishop Sherlock. In this production, entitled "A Dissertation on Jacob's Prophecy," which was intended as a supplement to a treatise on the same subject by Dr Sherlock, the author has established, by a critical examination of the original language, that the words in Jacob's prophecy (Gen. xlix. 10), rendered "sceptre" and "lawgiver" in the authorised version, ought to be translated "tribeship" and "typifier," a difference of interpretation which obviates some difficulties respecting the exact fulfilment of this remarkable prediction. In a pamphlet printed in 1767, Mr Skinner again vindicated the claims and authority of his Church; and on[Pg 6] this occasion, against the alleged misrepresentations of Mr Norman Sievewright, English clergyman at Brechin, who had published a work unfavourable to the cause of Scottish Episcopacy. His most important work, "An Ecclesiastical History of Scotland, from the first appearance of Christianity in that kingdom," was published in the year 1788, in two octavo volumes. This publication, which is arranged in the form of letters to a friend, and dedicated, in elegant Latin verse, "Ad Filium et Episcopum," (to his son, and bishop), by partaking too rigidly of a sectarian character, did not attain any measure of success. Mr Skinner's other prose works were published after his death, together with a Memoir of the author, under the editorial care of his son, Bishop Skinner of Aberdeen. These consist of theological essays, in the form of "Letters addressed to Candidates for Holy Orders," "A Dissertation on the Sheckinah, or Divine Presence with the Church or People of God," and "An Essay towards a literal or true radical exposition of the Song of Songs," the whole being included in two octavo volumes, which appeared in 1809. A third volume was added, containing a collection of the author's compositions in Latin verse, and his fugitive songs and ballads in the Scottish dialect—the latter portion of this volume being at the same time published in a more compendious form, with the title, "Amusements of Leisure Hours; or, Poetical Pieces, chiefly in the Scottish dialect."
Though living in constant retirement at Linshart, the reputation of the Longside pastor, both as a poet and a man of classical taste, became widely extended, and persons distinguished in the world of letters sought his correspondence and friendship. With Dr Gleig, afterwards titular Bishop of Brechin, Dr Doig of Stirling,[Pg 7] and John Ramsay of Ochtertyre, he maintained an epistolary intercourse for several years. Dr Gleig, who edited the Encyclopædia Britannica, consulted Mr Skinner respecting various important articles contributed to that valuable publication. His correspondence with Doig and Ramsay was chiefly on their favourite topic of philology. These two learned friends visited Mr Skinner in the summer of 1795, and entertained him for a week at Peterhead. This brief period of intellectual intercourse was regarded by the poet as the most entirely pleasurable of his existence; and the impression of it on the vivid imagination of Mr Ramsay is recorded in a Latin eulogy on his northern correspondent, which he subsequently transmitted to him. A poetical epistle addressed by Mr Skinner to Robert Burns, in commendation of his talents, was characterized by the Ayrshire Bard as "the best poetical compliment he had ever received." It led to a regular correspondence, which was carried on with much satisfaction to both parties. The letters, which chiefly relate to the preparation of Johnson's Musical Museum, then in the course of publication, have been included in his published correspondence. Burns never saw Mr Skinner; he had not informed himself as to his locality during the prosecution of his northern tour, and had thus the mortification of ascertaining that he had been in his neighbourhood, without having formed his personal acquaintance. To Mr Skinner's son, whom he accidentally met in Aberdeen on his return, he expressed a deep regret for the blunder, as "he would have gone twenty miles out of his way to visit the author of 'Tullochgorum.'"
As a man of ingenuity, various acquirements, and agreeable manners, Mr Skinner was held in much[Pg 8] estimation among his contemporaries. Whatever he read, with the assistance of a commonplace-book, he accurately remembered, and could readily turn to account; and, though his library was contained in a closet of five feet square, he was abundantly well informed on every ordinary topic of conversation. He was fond of controversial discussion, and wielded both argument and wit with a power alarming to every antagonist. Though keen in debate, he was however possessed of a most imperturbable suavity of temper. His conversation was of a playful cast, interspersed with anecdote, and free from every affectation of learning. As a clergyman, Mr Skinner enjoyed the esteem and veneration of his flock. Besides efficiently discharging his ministerial duties, he practised gratuitously as a physician, having qualified himself, by acquiring a competent acquaintance with the healing art at the medical classes in Marischal College. His pulpit duties were widely acceptable; but his discourses, though edifying and instructive, were more the result of the promptitude of the preacher than the effects of a painstaking preparation. He abandoned the aid of the manuscript in the pulpit, on account of the untoward occurrence of his notes being scattered by a startled fowl, in the early part of his ministry, while he was addressing his people from the door of his house, after the wanton destruction of his chapel.
In a scene less calculated to invite poetic inspiration no votary of the muse had ever resided. On every side of his lonely dwelling extended a wild uncultivated plain; nor for miles around did any other human habitation relieve the monotony of this cheerless solitude. In her gayest moods, Nature never wore a pleasing aspect in Long-gate, nor did the distant prospect compensate for[Pg 9] the dreary gloominess of the surrounding landscape. For his poetic suggestions Mr Skinner was wholly dependent on the singular activity of his fancy; as he derived his chief happiness in his communings with an attached flock, and in the endearing intercourse of his family. Of his children, who were somewhat numerous he contrived to afford the whole, both sons and daughters, a superior education; and he had the satisfaction, for a long period of years, to address one of his sons as the bishop of his diocese.
The death of Mr Skinner's wife, in the year 1799, fifty-eight years after their marriage, was the most severe trial which he seems to have experienced. In a Latin elegy, he gave expression to the deep sense which he entertained of his bereavement. In 1807, his son, Bishop Skinner, having sustained a similar bereavement, invited his aged father to share the comforts of his house; and after ministering at Longside for the remarkably lengthened incumbency of sixty-five years, Mr Skinner removed to Aberdeen. But a greater change was at hand; on the 16th of June 1807, in less than a week after his arrival, he was suddenly seized with illness, and almost immediately expired. His remains were interred in the churchyard of Longside; and the flock to which he had so long ministered placed over the grave a handsome monument, bearing, on a marble tablet, an elegant tribute to the remembrance of his virtues and learning. At the residence of Bishop Skinner, he had seen his descendants in the fourth generation.
Of Mr Skinner's songs, printed in this collection, the most popular are "Tullochgorum," "John o' Badenyon," and "The Ewie wi' the Crookit Horn." The whole are pervaded by sprightliness and good-humoured[Pg 10] pleasantry. Though possessing the fault of being somewhat too lengthy, no song-compositions of any modern writer in Scottish verse have, with the exception of those of Burns, maintained a stronger hold of the Scottish heart, or been more commonly sung in the social circle.
The Scottish Episcopal Church
A New History, by Gavin White

1 - Tullochgorum
They called him Tullochgorum, for he wrote the words to The Reel of Tullochgorum, which may still be found in anthologies of Scottish verse. But his real name was John Skinner. And near his grave at Longside there is a small housing estate called Tullochgorum, which is almost the only evidence that he is not entirely forgotten to-day. John Skinner was the maker of the Scottish Episcopal Church as we know it. A parish schoolmaster at Monymusk in Aberdeenshire, he visited the Episcopal chapel over the river at Blairdaff in 1739 or 1740, reputedly because he was courting a young lady of that persuasion. Perhaps so, but she is never heard of again, while he resigned his position, was re-baptised, trained under a minister at Orkney, and served the Episcopal chapel at Longside, near Peterhead, from 1742 until 1807. And if the young lady was fictional, it is not clear what the attraction was. We are told that he had long talks with the Episcopal minister whom he met in the library of Monymusk House. It is suggested that he was attracted by the English Prayer Book of which Lady Grant, wife of the laird and herself English, had presented copies to the chapel, but we do not know how much they were used, and Skinner never used the Prayer Book at Longside. As for the Jacobite cause, the continued devotion to the House of Stuart, Skinner was almost unique amongst northern Episcopalians in not being a Jacobite. He was to be mildly disciplined by his bishop for "qualifiying" by an oath to the Hanoverian succession in 1747. The attraction was probably something mystical or sacramental not to be found in the Church of Scotland as he knew it. (1)
Skinner's influence lay in his training of clergy by the apprentice system then in force, and for much of his ministry he trained most of the candidates, the remainder in later days going to Bishop Jolly at Fraserburgh. But there was a major difference between Skinner and Jolly; almost uniquely amongst the northern clergy, Jolly was not a Hutchinsonian, though his library contained almost every Hutchinsonian volume that could be had. And Skinner was not only a Hutchinsonian but probably the first disciple in the Scottish Episcopal Church.
He became such in 1753 while imprisoned at Aberdeen, together with his nine-year old son, the future bishop, who would not be separated from him. Skinner may have been loyal to the Hanoverians, but it had become an offence to take service for more than five persons. While in prison he could and did read as never before. And that was the year in which Hutchinsonian teachings came back from oblivion, and Hutchinsonian books were re-printed. The reason for this is grotesque; an act of the Union parliament had permitted the naturalisation of Jews, and this had led to the panicky notion that Britain would be flooded by Jews against whose propaganda only the Hutchinsonian learning would suffice. The act was duly repealed, but the Hutchinsonian teaching had revived. (2)
John Hutchinson was an English land-agent who ground out twelve great volumes of virtually unreadable phantasmagoria. There were several main themes in all this. First, the Old Testament said everything that was in the New, but the Jews had corrupted it by inserting vowel-points, and it was true that if you messed around with the vowels and put in what suited you, the most astonishing results could be achieved. And were. Second, Newton's theory of gravity was all wrong; if modern Jewish scholars are amongst the select few who study Hutchinsonianism, the others are historians of science. Thirdly, natural religion, the common eighteenth century reliance on what could be proved about God from nature, was all wrong - - God revealed himself directly, and did not have to be deduced. Fourthly, the three persons of the Trinity, Father, Son, and Holy Ghost, were signified in the Old Testament by Fire, Light, and Air, or by the ox, the lion, and the eagle in Ezekiel, with the "man" in Ezekiel being the humanity of Christ, loosely joined to the second person. This meant that Hutchinsonians were technically Nestorian, or, to put it plainly, they divided the divine from the human in Christ. And they rejected "eternal generation" of the Son; instead they tended to pull the three persons of the Trinity together so they were scarcely distinct. Which made it impossible for them to use the Athanasian Creed, or, except selectively, the English Prayer Book which contained it. (3)
But how should all this appeal to a good and sensible man such as John Skinner ? Much of it he probably took on trust because he believed in a few simple truths which seemed to be linked to the rest; most of us do this all the time. And the few simple truths were appropriate to his time. Eighteenth century thinkers relied heavily on nature, some relied exclusively on nature, and the church could respond in various ways. The usual one was to lean heavily towards the secular philosophy of the day, and to rely on nature to show that there was an intelligent power behind the creation, which nobody really denied, and then to show that that power was benevolent. This was not to deny salvation through the cross or a rising from the dead, but these weapons were not for that battle, and tended to be a bit neglected and in some cases forgotten. Similarly, the Trinity tended to be left on one side because it was God as a creator who mattered; this was the age in which God was described as "your Maker". And the way in which to leave the Trinity on one side was to regard Jesus Christ as a moral teacher and not God at all - - to separate the persons of the Trinity. This, after all, was the age that saw the rise of Unitarianism, a form of Christianity in which Christ was solely human.
But if this was the main way in which Christians responded, and successfully responded, to what we now call the Enlightenment of the eighteenth century, there could be others, and Hutchinsonianism was one such. And in its 1753 revival it was not the full-flown teaching of John Hutchinson, who was really a product of seventeenth century fantasy, the world of the ranters, but rather a minority response for minority people to the problems of their day. It could never be a major doctrine with major drawing power; it could be the sort of thing that lived in a crack in the wall. And which, instead of accommodating the spirit of the age, rejected it altogether.
The age said that truth could be found in nature; Hutchinsonians said it came by direct revelation, and the Old Testament was full of it, and so was classical literature - - John Skinner even found the Trinity in Jupiter, Neptune, and Pluto. The age said that only God the Father really mattered, and sent the other persons off to a distance; Hutchinsonians pulled them so closely together that they were really indistinguishable. And they did all this with a wealth of learning, or at least of pedantry, which so exhausted their critics that nobody could follow them in their tortuous reasoning, even if their critics had Hebrew, which few in those days had. Having Hebrew meant that you knew it all, and not having Hebrew meant that you did not. (4)
But why should it specifically appeal to Episcopalians ? There were three reasons, and the first was that Episcopalians were very largely, or had been, supporters of the Stuart cause. It is common to assume that this support was an accidental result of some meeting in London when Bishop Rose of Edinburgh made the wrong answer to William III, or was due to unthinking loyalty to a king to whom an oath had been sworn. It was probably deeper. Being a Jacobite was a way of looking at things, and accepting their finality and givenness. A king was a king by right, and this was directly given by God in the same way as night or day, and if it turned out to be disadvantageous, or downright dangerous, he was still the king. This was quite at variance with the doctrine that a king held his office by mutual agreement, and could be given notice at will - - this made kingship indirect and conditional. Those who held the Jacobite view, even if not acting upon it, could find something of the same givenness in the Hutchinsonian view of nature governed, not by a set of principles, but directly by God, and they could find the same givenness in the Old Testament according to John Hutchinson. They could keep their old way of looking at things, while transferring it from allegiance to a dynasty which was now an embarrassment to what seemed to them a scholarly and respectable system. But whatever the link between the Jacobite cause and Hutchinsonianism, it was undoubtedly there. Peter Nockles cannot be faulted when he writes, "Hutchinson's own psycho-theological theories had philosophical and political implications; the emphasis was on man's dependence on God, with political and social subordination one aspect of that dependence." (5)
Secondly, Hutchinsonianism was marginal, and those who had not accepted the new regime were pushed to the margins of society. Normal routes to success were closed to them, and normal security denied to them. That they retreated into a set of beliefs which was laughed at by society was only natural. And it is noteworthy that the later generations of English Hutchinsonians were not representative of the Church of England, even if they were in no way Non-Juror, as Jacobite clergy were called in that land. They were mostly men (there is no evidence that any woman was ever a Hutchinsonian) without a university education, clergy ordained in special circumstances, self-made merchants, or, in the case of those actually in Oxford, and after 1753 there were such, old men living on staircases and passing on the lore to the scorn of their betters. There was in Hutchinsonianism something of the spirit of those brave souls who meet together to prove that Bacon wrote Shakespeare.
Thirdly, there was a genuine spiritual core to the belief. John Wesley sniffed that Hutchinson "had not the least conception, much less experience, of inward religion", that anyone could prove what he liked from Hebrew without vowels, and the system was "unsupported by any solid proof". It was typical of Wesley to expect proof; the Hutchinsonians were not as committed to Enlightenment standards as he. But he was probably wrong about inward religion. There are devout oases in the barren deserts of Hutchinson's writing, and the basic belief in God working directly through everything could not help but lead to a sacramental view of life. John Skinner believed that the Shechinah, or Divine Presence, was Christ himself, but others held it to refer to be the Eucharistic elements. Hutchinsonianism appealed to churchmen, Scottish or English, who were sacramental in outlook. (6)
Yet the reign of Hutchinsonianism in Scottish Episcopal circles was relatively short-lived. Even John Skinner moderated his adherence; his 1788 Ecclesiastical History of Scotland was rather cool in its advocacy of the developed teaching, though heated on the advantages of studying Hebrew. And the teachings could not be widely spread when a knowledge of Hebrew was necessary even to read Hutchinson, whose works were mostly in English embellished with Latin but studded with nuggets of Hebrew. Archbishop Tait had a story of a lay Hutchinsonian who taught his coachman Hebrew so he could discuss the teachings with someone. Skinner's son John, who became Bishop of Aberdeen, and his grandson William, who was in turn Bishop of Aberdeen, were not of that faith, though we are told that another clerical grandson, John Skinner of Forfar, was. There were probably not more than thirty Hutchinsonians in the Scottish Episcopal Church, the last of them being John Murdoch, the clergyman of Keith, who died in 1848, still refusing to use the Athanasian Creed. But the influence of those who had learned Hebrew and waded through the books, or at least the Abstract, was more widespread. Laity could not follow the evidence, but they could rejoice in the sort of religion which flowed from the preaching of those who had done so. And it is said that the sermons of the two principal English Hutchinsonians, William Jones of Nayland and Bishop George Horne of Norwich, were much quarried by Aberdeenshire Episcopal clergy. But they were also much quarried by many high churchmen in England who were in no sense Hutchinsonian themselves, but approved of the devout and sacramental tone of those writers. Finally, the teachings were only found amongst the northern clergy. The southern clergy were either English and in Qualified chapels, or were Scottish but pursuing the more normal reaction to the perils of the day. Such was George Gleig of Stirling, who poured scorn on the notions of the Hutchinsonians, and developed his own theory of original sin, for both of which reasons he was refused consecration by the other bishops on the first four occasions of his election, only becoming Bishop of Brechin in 1806. The Skinner faction, if it were not more of a clan, did not run everything in the Episcopal Church of that day, but they ran most things. (7)
But perhaps the deepest significance of the Hutchinsonian connection was that it drew the Scottish Episcopalians into fellowship with the Hutchinsonian remnant in the Church of England. F.C.Mather, in his biography of the high church Bishop Horsley of St. Asaph, says that late eighteenth century attempts to repeal the Penal Laws against Episcopalians began "with a small committee of correspondents in London consisting of Hutchinsonian friends in the English Church, William Stevens and George Gaskin, together with the lawyer, J.A.Park." There were others, and there were some who were not Hutchinsonians, such as Horsley himself, who did so much to win over Lord Thurlow. But of the nine men who are famed as having worked for the repeal which occurred in 1792, Horsley was clearly not of the teaching, John Bowdler of Eltham probably was, and the other seven, Bishop Horne, William Jones, James Allen Park, William Stevens, Dr. Berkeley, Jonathon Boucher, and Dr. Gaskin, certainly were. But putting it the other way round, we do not know the identity of any English Hutchinsonian of that decade who was not active in assisting the Scottish Episcopalians. The Penal Laws would have been repealed without them, but perhaps not until much later, and perhaps without bringing them into a relationship with the Church of England when they accepted the Thirty Nine Articles at Laurencekirk in 1804. Had the Stuart line become barren earlier in history, when there was a Hutchinsonian presence in the Church of Scotland, and had Scottish Episcopalians ventured into those murky waters at the same time as their Presbyterian neighbours, the northern Episcopalians might have been drawn back into the national church - - though that calls for many possibilities which did not, in fact, occur. (8)
Lastly, there is a link with the high church Oxford Movement of the nineteenth century. In 1836 Dr. Thomas Arnold, of Rugby fame, wrote a spirited attack on leaders of the new movement, whom he called the "Oxford Malignants", and identified them with "the formalist Judaising fanatics...who have ever been the disgrace of the Church of England." Did he mean Hutchinsonians ? If he did, then it is ironic that what was revived in 1753 as an anti-Jewish defence should become identified with Judaism. But the result of Skinner's imprisonment was to be an alliance with the coming element in the Church of England, and an early step into the sacramentalist world of the next century. (9)
Picture added on 02 February 2010 at 10:43