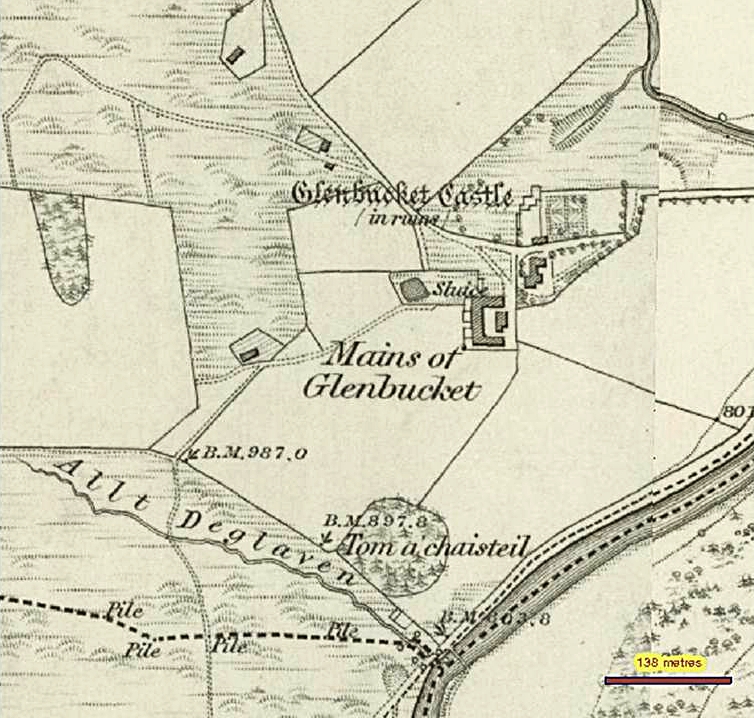 The Glenbuchat Image Library
14 Glenbuchat Castle, Tom a' Chaisteil, Tom a' Chaisteil,
also known as Gallows Hill or Woody Hillock, is the traditional place of execution for Glenbuchat Castle. There are no vestiges of any moat or fort to be seen.
Name Book 1866.
A conspicuous natural knoll on which no artificial features can be seen.
Visited by OS (N K B) 29 August 1968.
Tom a' Chaisteil is a tree-covered, largely natural hillock set on the edge of an old river terrace about 150m SW of Mains of Glenbuchat farmsteading (NJ31SE 71.01). The mound rises to a height of at least 8m above the field to the N and NW, and there are steep and lengthy slopes dropping to the E, S and SW. The flat summit of the mound measures 24.2m from ESE to WNW by 12m transversely and appears to have been artificially levelled. On the N and W flanks, about 5m below the top, there are the remains of a ditch and external bank. This feature, which may be nothing more than a tree-ring enclosure of relatively recent date, has largely been eroded to form a narrow terrace, but it is best preserved on the WNW where a short length of the ditch measures about 2m in breadth, and the bank about 4m in thickness and 0.2m in internal height.
Picture added on 27 January 2010 at 10:35
This picture is in the following groups
castle