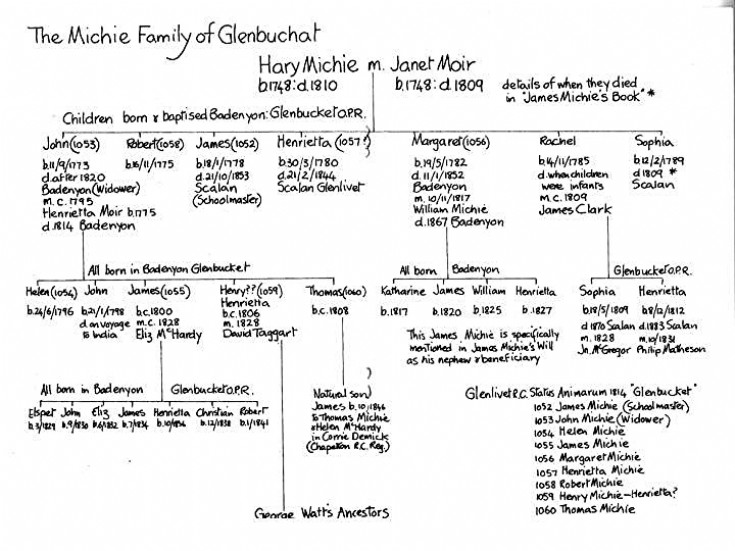 The Glenbuchat Image Library
13 Michies of BadenyonThe Michies of Badenyon
George Watt
From Scalan News
I was born 73 years ago in Glenlivet. My maternal grandparents George Mitchell and Betsy Stuart had the farm of Tom-breckachie. On the day my father went to register the birth at the Registry Office beside the Pole Inn, the story goes that my middle name Mitchell was left on the bar counter. Since then I have been plain George Watt! I also have a cousin Marjory in the Braes whose husband Gordon McGillivray farms Achnascraw. This article is about my paternal forebears in Glenbuchat (see back cover map) the Michies of Badenyon, and their connection with Scalan.
An article in the June 1995 issue, 'Tombae and Scalan: Status Animarum', presented an 1814 'state of souls' census by the priest at Tombae. James Michie was discussed in it. Born at Badenyon in January 1778, he was almost certainly one of the last Scalan students (the register is missing) and he went on to become a schoolmaster at Achnascraw. When the college closed, James took up residence there with his sister Henrietta as housekeeper, farming and making whisky for the southern market. When an 1823 Act (introduced to Parliament by their landlord the Duke of Gordon) made small stills illegal, James found himself regarded, like his neighbours, as a 'smuggler'. He left the choir and disappeared from Church records.
James Michie's Book
A book which seems to have belonged to James as a Scalan student came into the possession of John S. Gallacher, a retired teacher who regularly comes back from Motherwell to Millbank, beside Achnascraw. John's forebears lived at the Scalan, and he has carefully preserved this little volume (12 cm. by 5 cm.) entitled Serious Considerations of a Soul that Sincerely seeks the Way of Truth in the Sight of God. The words 'James Michie's Book' are inscribed on it several times in a schoolboy hand, but inside the back cover the handwriting is mature: 'August 4th 1809. My sister Sophia departed this life at half past seven o'clock afternoon.' Then, 'December 7th 1809. My Mother departed this life nearly about nine o'clock afternoon.' Finally, 'November 30th 1810. My father departed this life half past one o'clock afternoon.
To me this was like finding the last piece of a jigsaw puzzle. I had already learned of my great-great-grandmother's 1828 marriage to David Taggart, in Glenbuchat Old Parish Records (OPR). This Henrietta Michie died at Badenyon in 1892 aged 86. The death certificate gives her parents as John Michie and Henrietta Moir. The censuses show that their daughter Henrietta was born about 1806, but her baptism is not recorded in the OPR. The couple had other children who were not entered at Glenbuchat. There is census evidence once again for James, born about 1800, and Thomas c.1808. No doubt they were baptised by the Glenlivet priest. As schoolmaster at Achnascraw James Michie went to mass at Tombae and there met members of his family who came over, weather permitting, from Badenyon by the Ladder Path.
Kirk and chapel records vary, and there is one mistake on the Catholic side. The James Michie who was born about 1800 married a McHardy from Demickmore. Their first child Elspet was registered in Glenbuchat on March 14 1829 as 'lawful daughter' (they were married) to James Michie and his spouse Elizabeth McHardy alias Bain. I believe Elspet (a form of Elizabeth) was baptised at the new church of Chapeltown, with the mother's name given - in error - as Helen McHardy. The priest at that time was not familiar with local names.
In addition to various local records, I obtained valuable information from The Michie Families of Aberdeenshire by Charles Michie of Calcutta, written about 1905. Most of the Badenyon Michies are listed but Henrietta Michie, born 1780, is wrongly said to have married David Taggart in 1828 and died at Scalan in 1844. This was the first indication I had of a Scalan connection.
Picture added on 26 January 2010 at 23:58