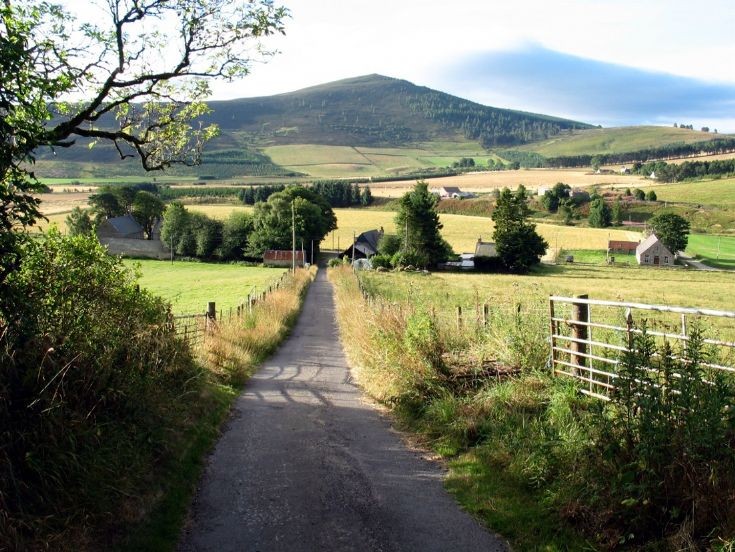 The Glenbuchat Image Library
12 Ben Newe: WellOrganisation The Royal Commission on the Ancient and Historical Monuments of Scotland
Site Type HOLY WELL, COIN, PIN
County ABERDEENSHIRE
Parish GLENBUCHAT
Council ABERDEENSHIRE
NGR NJ 3817 1431
Latitude, Longitude 57.215349N, 3.025365W
Images 0
Click for picture of site of well
Archaeological Notes
There is an alleged holy well (a pool of rainwater) on the summit of Ben Newe. Macfarlane (W Macfarlane 1906-8) records that the well was renowned for its cures. Some years before 1866 (Name Book 1866) many pins were found in the well, and coins and charms were offered in recent years (W D Simpson 1942). The well may be the sacred place (the Celtic 'nemeton') preserved in the 'Newe' element of Ben Newe (W J Watson 1926).
Name Book 1866; W Macfarlane 1906-8; W J Watson 1926; W D Simpson 1942.
A rainwater well in a fold in the rock on the summit of Ben Newe at NJ 3817 1431. Offerings of coins are still made.
Surveyed at 1/2500
Visited by OS (N K B) 29 August 1968.
This well is situated at an altitude of 565m OD.
NMRS, MS/712/43.
From "Holy Wells" in Scotland by Russell Walker
In this and similar cases we possibly have the origin of "Holy Wells" in Scotland. And it would seem evident that, however pure the religion of our early Scottish saints may have been,, they were perfectly alive to the power it gave them over the people—this snatching of the waters from the baneful fiends their pagan predecessors had cursed them with, and converting them by blessing and washing into waters of purity and healing—and they showed themselves far from slow at the work of conversion.
Doubtless, however, many of our holy wells were not called after the saints until after their death.....
....In other cases the result depended on the rising or falling of the waters : " if they rise, convalescence follows; if otherwise, death." If a certain worm in a medicinal spring on the top of a hill in the parish of Strathdon (
Ben Newe
) were found alive, it argued the survivance of a patient: and in a well of Ardnacloich, in Appin, the patient, " if he bee to dye, shall find a dead worme therein ; or a quick one, if health bee to follow."
The witching hour of midnight was also regarded as a favourable time to approach some of the wells.
A Class 13 (North Scottish Spiral-decorated) glass bead, found by Captain H Lumsden in 1937 on Glenbuchat Hill, is in the National Museum of Antiquities of Scotland (NMAS, Accession no: FJ 137).
Picture added on 26 January 2010 at 23:43