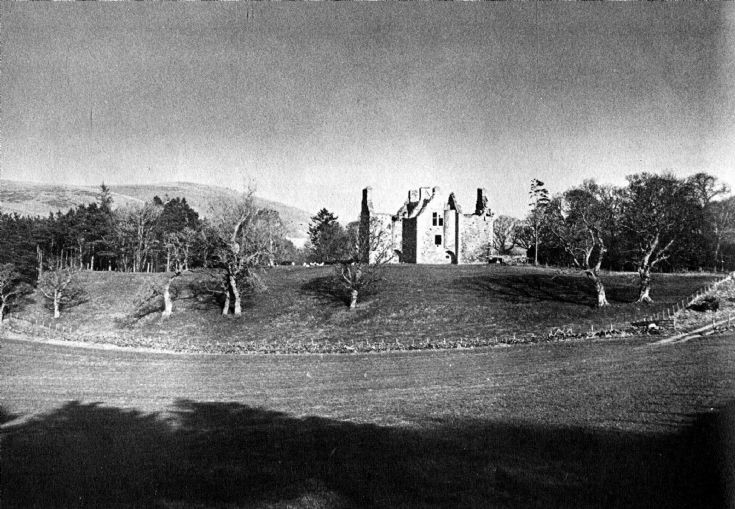 The Glenbuchat Image Library
23 Glenbuchat Castle
GLENBUCHAT CASTLE, Nr Alford, Aberdeenshire
From Scotwars - Glenbuchat Castle
Sometimes spelled 'Glenbucket', this Z-plan tower house, now roofless but far from ruinous, stands on rising ground above the river Don it was built in 1590 by John Gordon and Helen Carnegie whose fate-challenging motto inscribed above the lintel - 'No thing on Earth remanis bot faime' - is now, suitably, illegible. Both square and round turrets protrude from the corners, the stair turrets in the re-entrant angles are supported on arches, or 'squinches', an unusual and attractive arrangement.
Jacobites to the last, the Gordons joined both the 1715 rising (proximity to Kildrummy may have given them little choice) and the 1745, forfeiting their lands after Culloden Though now in the care of the State, neither the castle nor its wild surroundings betray evidence of zealous conservation and are the better for it.
Glenbuchat Castle
Glenbuchat belonged in succession to two branches of the Gordon family. The builder was John Gordon of Cairnburrow who marked the occasion of his second marriage, to Helen Carnegie, daughter of Sir Robert Carnegie of Kinnaird in Angus, by having the castle built, in 1590, as the stone inscriptions above the entrance records. Like other members of his clan, he was accused of complicity in the murder of the "Bonnie Earl o' Moray" 1592 as a result of which his house was occupied by government soldiers during the Catholic rising two years later. This, however, was an isolated incident of the castle figuring in national events and the story of Glenbuchat was largely uneventful, the peace of the household disturbed on occasion only by domestic disputes.
The chief difficulty came with the rivalry between John's second and third sons, Adam and John. Adam in 1623 seized Glenbuchat from his brother John, the rightful owner, and despite the intervention of the Privy Council and temporary confinement within the tollbooth of Edinburgh, he succeeded in retaining possession.
The first line of Glenbuchat Gordons gave way in 1701 to another branch when John Gordon of Knockespock purchased the estate for his son, also John. In sharp contrast to his unruly predecessors, the new laird acquired an almost legendary reputation as an unswerving supporter of the Jacobite cause. He sold the estate in 1738, before his last, tragic stand against the House of Hanover.
The remodeling of the interior of the castle was most likely carried out shortly after 1701 to make the residence more comfortable and amenable for its new laird. But by the time of its resale in 1738 it had ceased to be a residence of gentry; it was partly unroofed and inhabited by a farmer. In 1901 the estate was bought by Mr. James Barclay, MP, who carried out much-needed repairs. In 1946 the castle was placed in state care by Col. James Barclay Milne and two years later the Deeside Field Club purchased the Castle park and gifted it to the nation.
The lintel over the main doorway into the castle bears the inscription:
"Nothing on earth remains but fame"
Picture added on 18 December 2009 at 13:01
This picture is in the following groups
castle