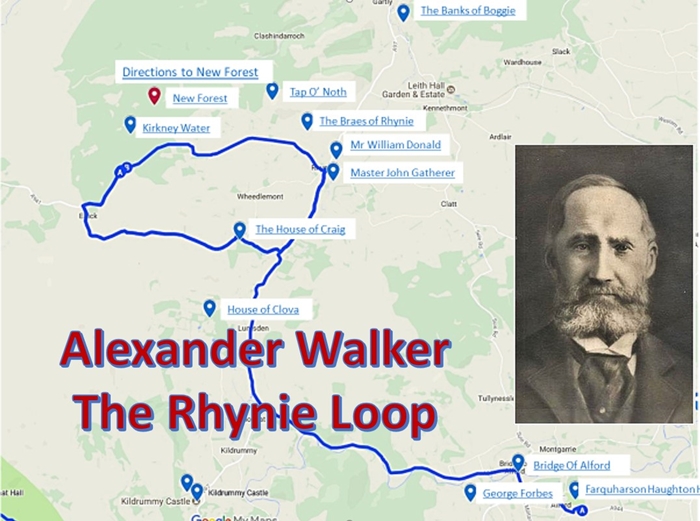 The Glenbuchat Image Library
26 The Rhynie Loop
This page has been prepared to coincide of the visit of the North Atlantic Fiddle Convention to Aberdeen in July 2018. On the last day, Sunday 15th July there is to be an Alexander Walker Day to celebrate the fiddle composer from Newe
See PowerPoint presentation belowClick for more details about Alexander Walker
There is to be a 'Fiddle Bus out from Aberdeen to Glenbuchat when some of his tunes will be played at the places mentioned in their titles. At Glenbuchat Hall there will be workshops, 'Fiddle Walks' and a late afternoon concert of his music.
To Augment this occasion a Route has been prepared to let people drive around Rhynie and to see the site of his birth at the base of Tap O' Noth
Rhynie Alexander Walker Loop.
The Journey starts at Alford, takes you on to Rhynie, round the Cabrach via Alexander's home and back to the main Alford Road.
The PowerPoint presentation below shows the route and highlights the names of Alexander's Tunes related to the area and gives some historical detail behind them.
The presentation is best seen on a PC or iPad but can be seen on a Mobile Phone. On the phone if the touch screen areas are too small, a swipe will take you to the next slide.
Have a good Trip.
Click here for PowerPoint in full screen