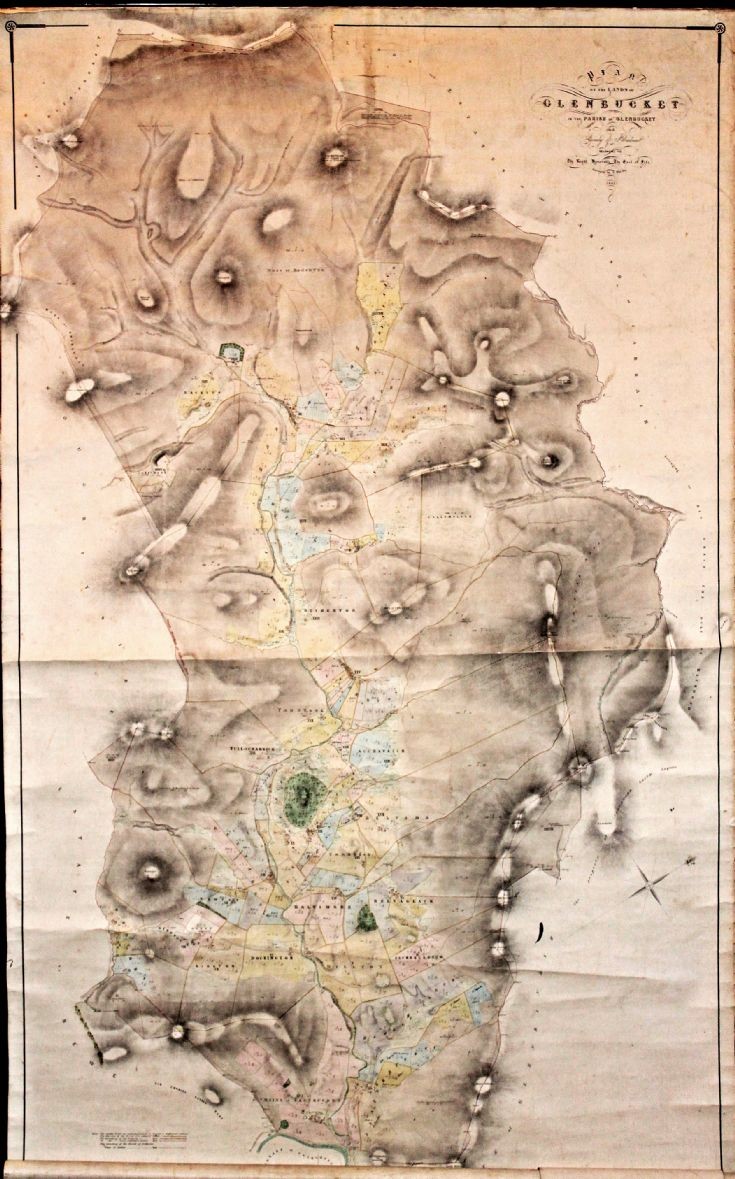 The Glenbuchat Image Library
1 Glenbuchat Estate Map 1864 Click for Estate map outline plan of sub-sections
THE LANDS OF GLENBUCKET
in the
PARISH OF GLENBUCKET, AND COUNTY OF ABERDEEN
SURVEYED BY P. MACBEY 1861 ARRANGED TO 1864
This hand drawn, coloured map of Glenbuchat Estate dates from 1861, with updates added to the year 1864. It was probably one of a series of professionally surveyed maps of the Earl of Fife s landed properties in the North East. It was commissioned to give accurate, detailed information on the lands of the glen, and its tenanted farms and crofts and used for land management and administration purposes, for the commercial and economic interests of Fife Estates, based at their main offices at Montcoffer House, near Duff House, Banff.
It represents the earliest, highly detailed and precise map of the glen we have, and predates, by a few years, the large scale, Ordnance Survey 6" to 1 Mile, maps of 1869.
Aside from a few of the main geographical features of the glen, every property on the estate is recorded, from the largest farm at the Mains of Glenbuchat, to the poorest of crofts and cottar houses, such as those at the Deochry or at Tullocharroch. Every field, pasture, moor and wood, its boundaries and size is recorded. Each individual building - farm steading, house or cottage is shown (the domestic dwellings marked in red and the farm buildings in black). The map has the added historical advantage (not always the case) of retaining its associated list of tenants of the day and the boundaries and areas of their properties, in arable land, pasture and rough ground.
From the historical perspective of 150 years later, the estate map gives us a detailed picture of the glen in the early 1860's. It depicts a recently formed, 'post-improvement' farming landscape. The physical alteration of the communally worked, infield-outfield, runrig field systems and open pastures and moors of the multiple tenanted, farming townships of the previous centuries, having been instigated by the estate reorganisation of the early part of the 19th century. As Fife Estates strove to maximise cash income from its upland property (with a minimum of investment, Glenbuchat being seen primarily as a rented, shooting estate) the lands of the medieval clachans have been divided up into 'Lots' of single tenanted farms and crofts, with their patchwork of mainly irregular shaped, stone dyked, enclosed fields. However, the tenants of these new holdings still lived in the cluster of traditional cottages of old clachans e.g. see Belnaboth, Easterbuchat etc. (See The Limekilns Of Upper Donside pp 18,19.) It was to take the impetus and cash injection of the improving laird, J.W. Barclay, in the early 20th century, to bring the housing and farm buildings of the estates tenants up to modern standards. (See Glenbuchat Yesterdays Vol. 1, Introduction).
View Large Version
Picture added on 20 November 2017 at 18:32
This picture is in the following groups
estate