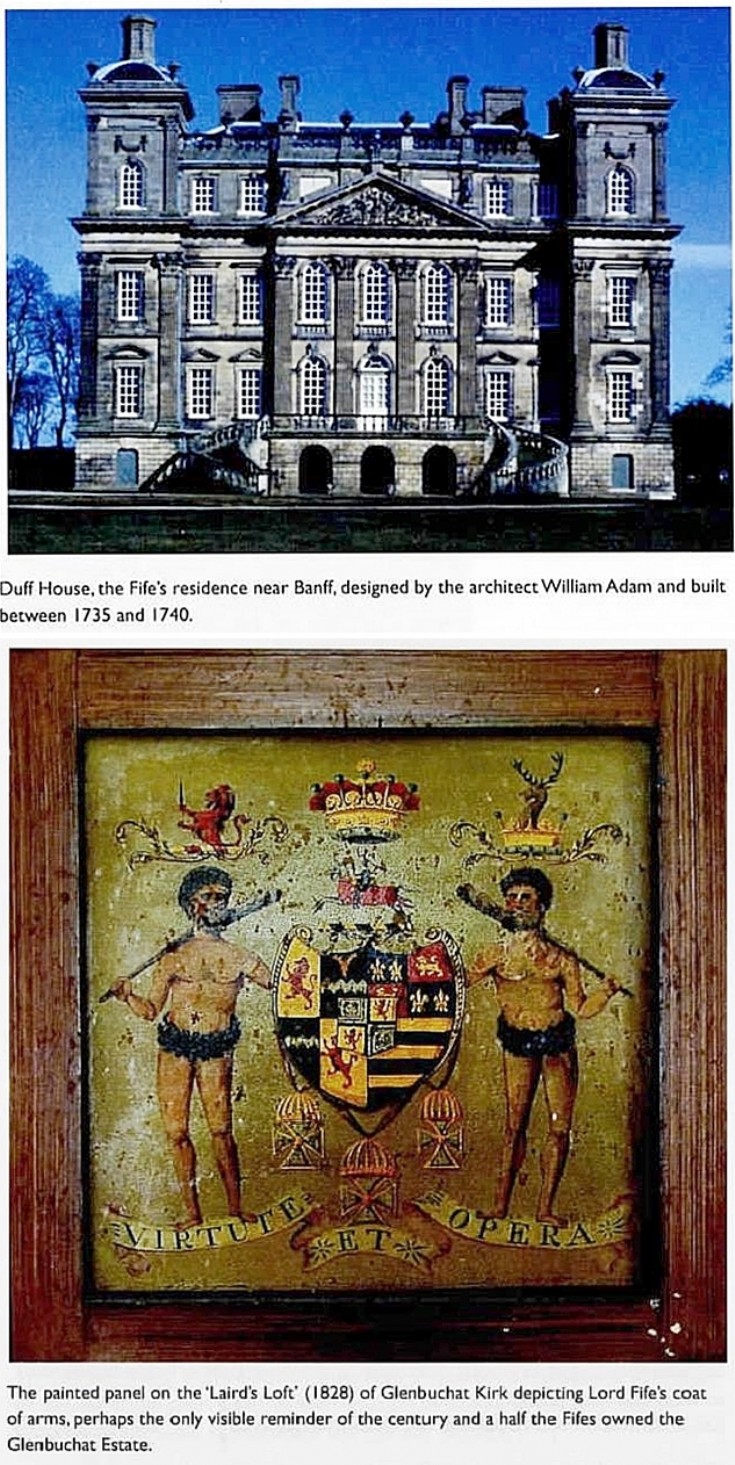 The Glenbuchat Image Library
9 Part 8 Kilns: AppendicesPictures above
1. Duff House Banff
2. Fife coat of arms at the Old Glenbucket Kirk
Click for the Introduction pageAppendices
Extracts from the Duff House/Montcoffer Papers,
(MS 3175, University of Aberdeen Library, Historic Collection, Special Libraries and Archives.)
Easily quarried limestone was a valuable resource for the farmers in the parishes of Upper Donside in the 18th and 19th centuries. The tenants of Glenbuchat Estate were fortunate in having the quarries at the Balloch and several smaller outcrops of limestone lower down the Glen, and an adjacent peat moss, to provide the fuel to burn it. But these natural assets caused some on-going difficulties to the successive lairds, the Earls of Fife, from their own tenants, and from neighbouring lairds and their tenantry.
Fife Estates
The whole of the upland parish of Glenbuchat and part of neighbouring Glen Nochty, (Noughtyside Estate, which included the farms of the Mains of lnvernettie, Rhinstock, Newtown, Clashnoirs, Corribreck, Torancroy and Aldahule), were small remote portions of the vast Fife Estates in the late 18th and early 19th centuries. In the 1870s these lands extended to almost 150,000 acres covering large parts of Moray, Banffshire and Aberdeenshire - an eighth of the total area of the three counties. (The Earl of Fife's neighbour, the Duke of Richmond and Gordon, owned a further eighth of the three counties.) The Fifes were not traditional aristocrats as the Gordons were, but sell-made, in that they had earned their wealth, status and political power as merchants trading with the Continent and by a long series of astute land deals in the North East. The founder of the Fife's wealth in the late 17th century was William Duff of Dipple. A former tenant of the Duke of Gordon, he established a private banking and money lending business in Elgin, advancing money to hard up lairds against title deeds and feudal superiorities, which were then readily foreclosed when they defaulted with repayments. Glenbuchat Estate was acquired by the Fifes in 1737 from John Gordon the famous Jacobite Laird of Glenbucket in this way. Mar Estates on Deeside were bought in 1734 and with them came the feudal superiorities of large parts of Strathdon. Successive members of the Duff family built up their fortunes. William Duff, Lord Braco became 1st Earl Fife in the Irish Peerage in 1759 (but was generally addressed as the Earl of Fife) and his descendant, Alexander 6th Earl Fife, married HRH Princess Louise, eldest daughter of Albert. Prince of Wales in 1889, and was created 1st Duke of Fife in l900. The Fifes had disposed of their properties in Upper Donside by the 1880s
Appendix 1
Fife Estates' interest in their lands in Upper Donside was limited to extracting rentals from the farms and crofts and in the rental of the shooting facilities. It was not concerned with exploiting the limestone quarries commercially, as the remoteness and the transport problems of the day meant there was only a relatively small local demand for the lime. The quarry at the Balloch was leased at a nominal rent, but as with the peat mosses, tenants would have had customary rights to extract limestone and make lime for their own use.
What concerned the successive Fife lairds was the time spent by the tenants in cutting peats, and quarrying and burning limestone to sell to the tenants of neighbouring estates, to the neglect, as they saw it, of their own farms. In addition, the quarry and the adjacent peat moss appear to have become an unregulated 'free for all', and the resource was suffering as a result. Another of the laird's concerns in allowing access to the quarry may have been due to the possibility of establishing legal customary rights to it by neighbouring lairds and their tenants.
Sometime in the early 1760s William, 1st Earl Fife, prohibited his tenants in Glenbuchat and Noughtyside Estates from selling limestone and lime out with the estates, and he stopped other lairds in the area and their tenants from quarrying and carrying away the limestone rock. Lime was considered so essential as a 'fertiliser' that this ban caused hardship to farmers throughout the local area, who now had to obtain it from further afield. In 1796 the minister of Kildrummy, Aberdeenshire, in writing an account of his parish, which had no accessible deposits of limestone, voiced his irritation at the ban on the supply of lime:
'Lime is brought for manure in considerable quantities from the parish of Cabrach on the north. The parish of Glenbucket on the west contains on inexhaustible stare of this fertilizing mineral, (but) because by on ill directed policy of the landlord it has been there for some years locked up, for as both the stone and peat in that very upland district are more than equal to the consumption of all generations, this restraint must have been imposed from the idea of inducing the people to bestow that labour in the soil which would be otherwise laid out on the calcination and carriage of lime-stone, in a country where the whole cattle are supported during the summer in widely extended mountain pasture shielings inaccessible to the plough, and where the whole arable land is under crop at farthest by the middle of June, there is an interval of nearly industry of the people coinciding with their own inclination, might be more profitably exerted in making lime for sale than by their present casual and often misguided excavations.'
(OSA. Kildrummy, Vol. I, pp 539-40)
Neighbouring lairds could, with a special dispensation granted by Lord Fife personally, have a limited supply to limestone or lime from the Balloch Quarry for their own use.
John Forbes, Bellabeg (a small estate in Strathdon), to William Rose factor to Fife Estates, 16th August 1766:
'Sir, l wont a few lime stones for plaster for my house, and as l hear that the quarry of Glenbucket is stopped and non is to be got out of it, l have wrote you this line, you will be so good as to speak to Lord are to see if he will allow me stones, as l do not trouble the moss (for peat) but bring them home to Bellabeg and burn them with my own (kiln?) and pretend no right to any part of his quarry, and hopes that all the stones l will need will (not) hurt the quarry, and it will be o favour done me'
(MS 3175/11/A33)
Lord Fife appears to have genuinely tried to accommodate neighbouring lairds (if not their tenants) with lime for their home farms, and to keep on good terms with them, so long as proper applications were made.
Lord Fife, Whitehall, London to John Forbes, New (Newe Estate) March 16th 1780:
'Sir, you have my leave for taking limestone or lime from Glenbucket for your farm at New, if you either choose the lime, you will be so good as inform the factor that he must settle it with the tennants that under selling to you they may (not sell ) it to others .Fife'
(MS 3175/M/A33)

And again, in 1734, John Forbes of Newe Estate wrote to William Rose on May 31st 1884, complaining:
'that no lime is now to be had by any person whatever from Balloch and Mr MacGreggor confirmed this to me two days ago and that I could not expect any without fresh orders, I had consulted with some of your people (tenants) some months ago for only 200 bolls, no mighty matter, this being the time for making lime if it can be had. You can prescribe any made of takery agreeable to Lord Fife.'
(MS 3175/M/A44)
The strict ban on access to the quarry without the personal permission of Lord Fife did not always go unchallenged. In 1771 Captain Forbes of Newe Estate took matters into his own hands. Following the church service on Sunday, when public announcements were made, he encouraged Lord Fife's tenants to supply him with lime, for a high price, in defiance of the ban and apparently misleading the Earl's factor John Forbes of lnverernan:
John Forbes of lnverernan to Lord Fife, 77th August 1771:
'lt gives me much concern to understand by a letter of your L'ship to Mr Stewart (ground officer) that l have not been so attentive as I see now was necessary before. 'But the plain fact of which involved me was an intimation that Capt. Forbes caused make upon the sebbath forenoon publickly that any of the people of Glenbucket and Nochty who were willing to make and burn lime would have 8d per boll and if they (meet?) trouble he promised (to get?) their masters consents.
Now my lord, such intimation was made and that only (?) as I formerly prohibited your tennents from selling lime to any body, indeed it never entered my head but that Capt Forbes previous to such publication had applied for and obtained consent.'
(MS3175/159)
The consequences of this infringement are not recorded but the matter was dealt with quickly:
William Rose to John Forbes of lnverernan. 10th August 1771:
'The methods you have taken will receive formal regulation about the sole of lime, and put the people (tenants) to the condition they were on the use of bestowing their lime to their own ends, and consequently applying their labour to more advantage.'
(MS 3175/159)
Lord Fife's tenants had customary rights to quarry limestone and sell lime within the estate. The strict enforcement of the prohibition on occasions appears to have been too rigorous, and one tenant had to make the long journey to Duff House, Banff to complain about the factor:
William Rose to John Forbes of lnverernan, 3rd July 1773:
'John Anderson in Backies (Croft) has made an errand here remonstrating that you have stopped him selling lime altho he has been in use as with his (custom?) to exercise that practise, if the custom is in his favour, which ye know the fact of allow him to continue but I think you should be allowed the first place to be preferred in with lime you want for the Manse.'
(Glenbuchat Manse was being rebuilt at this time.)
In 1780 another laird allegedly obtained a supply of lime from the quarry, and was given a subtle reprimand by Lord Fife's factor:
William Rose to Alexander Leith, Glenkindy Estate. 7th January 1780:
'l was told a fortnight ago that you had your grieve at the quarries, and your horses leading lime from Glenbucket to your farm, but l discredited the report and am glad to understand it not true as it would have looked odd to have done so before mention was made in your letter to Lord Fife.'
Once permission was requested, the matter was settled:
Alexander Leith. Glenkindy to William Rose. Date 1780:
'I am just now informed by Mr Farquharson Ballater that Lord Fife is so good as to give me leave to get lime stones from the estate of Glenbucket. This will be to me a singular favour and l will be obliged to you to procure me his Lordships order for that effect and shall always acknowledge it as o favour and no right of mine.'

Lord Fife. Marr Lodge to Alexander Leith. Glenkindy, 17th Oct. 1780:
' I shall give direction that you have 200 bales lime for your farm annually from Glenbucket and you will be so obliging as apply to William McGreggor who will (arrange!) the manner the tennants are to serve you.
'
(MS 3175 /M/A/33)
Some 60 years after it was first imposed, the ban was still in place.
James Forbes, Backies Croft to George Wilson. Factor, Duff House, 28th April 1820:
'There has been some tennants from Naughty side quarring limestones and selling them to Mr Forbes tennants (Newe). I have gone and told them their danger in so doing. I hope you will send a letter to me that l may go and show them it'
(MS 3175 /A/195(1)15)
And again, in 1821:
William Brodie to George Wilson, 29th May 1821.
'There has been some tennants selling lime out of the estate here to tennants of Mr Gordon of Wards, also there has been stone given to New (Newe estate} tennants. I told them that I would write you as there was orders not to give lime or stones out of the estate. Peter Tulloch in Badenyon sold the lime and James Thom in Corrybreck (?) of Belnabodoch sold the stones.'
(MS 3175/A195/(2)/1)
Some time before the early 1840s the ban on the sale of limestone and lime out with the Estate had been lifted and the minister of Glenbuchat was able to report:
'it is worked to great advantage by the tenants both for their own use and for sale'.
(NSA,Glenbucket, Aberdeenshire. p.436).
Appendix 2
The presence of limestone quarries in Glenbuchat encouraged the Reverend Patrick Duff of Old Aberdeen Church (St Machar Cathedral}, who was brought up in the Glen, to propose several ambitious schemes for introducing agricultural improvements, based on the supply of cheap lime to the tenants. His correspondence with William, Lord Braco (subsequently 1st Earl Fife) from the midi 1750s to the early 1760s, throws an interesting light on the landowners attitude to the use of the quarry, and on the condition of farming in the Glen and the progress of improved agriculture in the mid-18th century.
The Rev. Duff was distantly related to Lord Fife, had unusual access to him and benefited from his patronage in his ecclesiastical career. He was briefly, for less than a year minister of Glenbuchat, his home parish (1754-5).before being presented by Lord Fife to the prestigious position of minister, second charge (1755), and subsequently first charge (17731784) of Old Machar Church until his death. (Records of Old Aberdeen, Vol. II, Spalding Club, pp 211-215). He took part in University and church politics, and as Lord Fife's 'appointed man' in Old Aberdeen, kept him well informed of events there. His widowed mother and older brother, Isobel Innes and the Reverend John Duff, had rental of the Mains of Glenbuchat, the largest farm on the estate, and she lived in the decaying 'mansion house' - Glenbuchat Castle. In 1765 he succeeded his mother and brother and was granted a 19-year lease, as an absentee tenant, of the Mains of Glenbuchat and the Mill and Mill Croft. He paid £330 13s 4d (Scots) for the Mains, and £224 for Mill and Mill Croft, the two most valuable properties on the estate with the highest rental value. (Rental Roll for Glenbucket of 1766, MS 3175 F/59/7)
The Rev. Duff, in common with many of his colleagues in the ministry, had a zeal for the fashionable movement for agricultural improvements. With his connections to Lord Fife and to Glenbuchat, he had the opportunity to attempt to put his theories into practice. He persistently petitioned Lord Fife, personally and by letter, about the impoverished condition of the tenants on Glenbuchat Estate and on how to improve their lot, and the profitability of the estate. by introducing new methods of farming. An integral part of the improvements was the control and management of the lime quarry at the Balloch and regulation on the use of lime by the tenants. He saw the efficient working of the lime quarries and the availability of cheap lime as the key to agricultural improvements, and a more prosperous tenantry.
Rev. Duff to Lord Braco, 9th Sept. 1757:
'You no doubt remember that l have often complained to you of the idleness, poverty and misery of your tennants at Glenbucket and have sometimes token the liberty to point out such remedies as l thought would be effectual for the cure of these evils. All these remedies have been hither to obstructed in their operation by those who thro (self?) interest or ill nature have been led to do so. This I think the more intolerable because I am certain that with a very moderate degree of attention these evils might be removed and have in fact been removed from among some of their neighbours far less advantageously situated by nature than they*. I write therefore once more (and) take the liberty to propose a plan for the improvement of your lands in that place and submit it to your judgement whether it may have any tendency to remove the grievance complained of or not'
(*i.e. no limestone quarries)
In summary, his proposals were as follows:
l. He wished to take on a 19-year tack (lease) of the whole of the Estate at the existing rental.
2. On taking over the Lime Quarry he would make 2-3 thousand bolls of lime every year at his own expense, and sell it to the tenants at the cheap rate of 3d per boll.
3. He would take no profit for 7 years.
4. I will oblige myself to live a month or two every year in the Parish'.
5. He could throw it all up if several bad years occurred.
Three years later, he appears to be making progress:
Rev. Duff to Lord Fife. 1st October 1760:
'You desired that l should give you proposals in writing for making lime for the use of your tennants in Glenbucket I have enclosed some proposals for this purpose and have taken the liberty to suggest some other things which l imagine of such importance that were it not for the hazard of bad years l would venture to take a nineteen years tack of the whole parish. And after the end of the first seven years to pay you twenty times of addition to the present rent." and if some such method is not pursued, as though pretending to an extraordinary degree of sageicity; I can venture to fortell that your land will still continue in its present unimproved state and your tennants still live idle poor and miserable. As to the price of the lime, all l need say is that it never was my intention to make profit by it and that an exact account of the expense of it shall be laid before your Lship and that I will oblige myself that it shall not exceed three pence per boll and l believe it may be had much cheaper.'

'Preposals for the improvement of the lands of Glenbucket;

l) That the pernicious practice of selling lime be immediately stopped and that none be indulged in this practice for the future without a special licence from the Earl of Fife.

2) That a sum not exceeding five pounds sterling be laid out by his Lordship, for building kills (kilns) and purchasing tools for making lime and that a reasonable annual rent for this money be added to the present rent of the quarry.

3) That the mass and quarry which has been formerly wasted and destroyed or the benefits of others, be preserved for the use of Lord Fife's own lands in the first place- that proper hands be employed to manufacture lime to be distributed to the tenants in proportion to the lands they posses - that one exact account be kept of the expence of the lime and that it be sold to the tennants at its honest value which Mr Duff will oblidge himself shall not exceed three pence per boil, and concerning the low price of meal at present, he expects that it may be offered cheaper.

4) That the lime road wants some reparation, the Earls tennants upon Naughty side be employed for this purpose, as they were last year, it being much more reasonable that every Heritars tennants be employed upon his own ground where it lies adjacent than upon his neighbours; and by this means the whole tennants in Glenbucket being exempted from working upon the highway (compulsory Statute Labour Laws), could easily furnish next year a cart road to the moss of Beltimore which would serve all the tennants below the Craig (Belnacraig): the only people who live at any distance from the moss without a cart road to the moss, it (being) impossible for the people below the Craig to find time to lead lime or improve their lands to any purpose, as the whole summer season is at present consumed in providing fire (peat) against winter

5) That the practice of using carts be immediately introduced and that for this purpose every tennant who keeps two horses be obliged to provide one cart at least against next year

6) That great attention be given to the method of using lime and particularly that no tennant be suffered to take above four crops at most after lime, until he has thrown his field at least four years into grass, or that he be obliged in the course of eight years to take as many green crops such as turnip potatoes cabbage pease or clover as he takes of white corn crops such as oats, bear or rye. Following may supply the place of green crops.
(i.e. he wishes to lay down rules for lime application and crop rotations)

7) That how soon any tennant shall have prepared his intown (land) to produce grass, that he be obliged to sow grass seed and to lay the lime and dung, which in the usual course ought to have been laid upon the intown, upon his outfield. By this means vast tracts of outfield which at present lie barren and uncultivated might in a short time be made equal in value to the best intown.
(i.e. he is reducing the distinction between infield and outfield land by applying lime and dung to both, and proposing to make it all suitable for annual cultivation)
8) That as enclosing by dykes would be attended with no great an expense, that some countenance and encouragement be given to the practice of winter herding, a practice which if discreetly managed so far from being a means of oppression, might be of very great benefit to the industrious farmer
.
(i.e. he is not advocating enclosed fields — a step too far at this time — but winter herding, to keep the stock away from the crops still in the ground over winter. In summer the stock were kept away from the growing crops, in the summer pastures and shielings in the hills. The idea of forced winter herding was detested by the tenants for obvious reasons of weather, but also, because they were fiercely protective of their customary right to have their animals roam free and forage over all the land after harvest, until sowing time the following year)
9) That no tacks be given but upon such conditions as are consistent with the above or some better plan.
(i.e. these legally enforceable conditions were to be included in new leases)
A new proposal was put by the Rev. Duff to Lord Fife on 5th February 1761:
'Peter Stuart (ground officer) has often complained of the trouble of managing Glenbucket and desired to be relieved from it if your L'shp. inclines to trust me with the management of your estate there l will undertake to carry every the least article of that plan into execution'

'The only reason why l would desire to be entrusted with the management of the your estate there is because the very name of it will give me an authority and influence over your tennants without which it would be impossible to execute any scheme-.Your L'ship well knows how obstinate that kind of people are and with what difficulty they are torn from their old custom however absurd and ridiculous. This l have already experienced in a manner which l could not possibly expect For it was with the greatest difficulty imaginable that I could prevail upon my mother (tenant of the Mains of Glenbuchat at this time) to suffer me to make an experiment of lime last year, and she is commonly thought to be possessed of as good an understanding (of improved methods of agriculture) as others, in her way.

But before the end of August she was entirely reconciled to this scheme, for in the course of a few weeks, with a machine that did not cost me above six guineas, and with oxen only, I brought to the Mains about four hundred bolls of lime, the expense of which she was sensible did not much exceed two pence per boil.

Last year likewise I made trial of a little flax seed and the experiment succeeded so well that my mother is resolved this year to sow an acre, and I think myself no inconsiderable benefactor to your people in Glenbucket by the invention of a machine which is presently at work there, to which I can press flax at nine pence per stone, being just the one half of the payment usually taken at the mills. This machine cost me two guineas which I expect that it will be worth the money the first year.

I mention these particulars to show your L'ship, how impossible it is for any one not possessed of some authority over your tennants to prevail with them to alter their usual methods: and therefore without such an authority I never would undertake any plan because I could expect nothing but to be affronted in the end by the miscarrying of it.'
Rev. Duff to Lord Fife, 9th March 1761:
'l have lately agreed to a man formerly employed by Lord Strichen in burning lime to Glenbucket to instruct the servants whom I intend to employ (at the quarry) there this summer in a better method of working than they are acquainted with in that country. This fellow from the account which I have given him of the ease with which the stone may be dug out of the quarry and of the convenience of the moss offers two hundred merks of rent for it: which is just twenty times the rent formerly paid'

' I am entirely of the opinion that it would not at all be for your interest to accept of it; Because the tacksman will naturally claim an exclusive right to the quarry, and to take what price for the lime he pleases; by which means your moss would not only be miserably exhausted and destroyed but in effect will bar to all manner of improvement I will therefore take upon me to say that your interest will be more effectual promoted by obliging your tennants to improve their farms than by selling (leasing) the quarry'

'By the bargain l have mode with this fellow, l find that I can afford to sell lime at the rate of 20 shillings for the hundred boils, which does not amount to 2 pence half penny per boll. And l shall put your L'ship to no expense, besides a guinea or two for building kilns: as to the whole tools such as spades shovels hammers levers l will buy and uphold them myself.'

'There is one thing further which l would ask in favour of your tennants in which I hope your L'ship will indulge me: as the loss at the expense of providing carts will be heavy upon them at first you would be pleased to give them wood from Braemar (part of Fife estates) for this purpose. Four or five dozen of deals (planks) will mount a good many carts and tho this expense be trifling it will however show your Lordship disposition to encourage those who deserve your favour.'
Concerned that another year will be lost, he presses Lord Fife for a decision, so that he can go to Glenbuchat and supervise the casting of the peat for burning the limestone.
Rev. Duff to Lord Fife, 4th May 1761:
'The hurry of the (General) elections being aver I hope it will not be thought improper of me to remind your L'shp. The chief difficulty which l fear; arises from the want of dry fire to burn the lime and it is for this reason that l would wish the peats to be cast immediately after the bear (barley seed sowing) is over that they may be got ready as soon as possible. I thought it absolutely necessary to mention your design of employing me on the management of Glenbuchat without which l could expect no obedience to my orders.'
Lord Fife is dragging his heels on making a decision and the Rev. Duff tries again:
Rev. Duff to Lord Fife 11th May 1761:
'You may remember there is now several years since l first proposed this method of furnishing lime and had it been followed I will venture to say that your estate there might have been improved at least in equal proportion with your neighbours Glenkindy and New,
(Newe)
(These estates had resident lairds, who would have taken a daily interest in the running of their properties and encouraged improved agriculture practices by their tenants.)
Lord Fife has a summary of the Rev. Duff's proposals drawn up and his persistence appears to have finally paid off.
'19th June 1761 Memorial Concerning the proposal made to the Right Hon'ble The Earl Of Fife by the Revd. Mr Patrick Duff

Mr Duff's proposals.

The Earl has considered the proposals made by Mr Duff in October 1760 consisting of 9 articles.

The first of which is that the pernicious practise of selling lime from his L'shps. Quarry of Glenbucket be totally prevented for the future, except in so for as may be necessary for the improvement of the ground or other necessary purposes within the Estate, unless a special licence be given by his L'shp to sell to others.
The 2nd proposal is that the Earl advances a sum not exceeding £5 for building Kilns and purchasing tools for making lime, and that the (cost) there of be added to the present rent of the Quarry, and that the remaining seven articles of these proposals point out some rules for the preservation of the moss and quarry, the improvement of the land sand the accommodation of the tennants by making of roads within the Estate, introducing the method of using carts, winter herding and the method of using lime to the best advantage and the management of their farms.'
Lord Fife's answer to the proposals:
'The Earl is now resolved to grant a factory in favour of Mr Duff over the estate of Glenbucket and lnvernettie in term as of his letter to subsist during the Earls pleasure.
To give a sum not exceeding two guineas for building lime kills and such decayed or fallen trees from the fir wood at Glenbucket which will be necessary or a lime house.
To give the service of the tenents at the rate of one spade and two barrows off each plough of land, for providing peats to burn lime and to cause the tenents to cast and lead the some to the lime kilns.
To give five or six dozen of deals (planks) from Braemar to be distribute by Mr Duff to which of the tenents as agreed to furnish carts, for encouraging them to make the same.
To furnish the necessary tools for the lime quarry and to advance Mr Duff £10 ster. upon getting his bill for the same payable at Mart (Martimas) next, free of rent (interest) to that time, and to cause hold Barron courts from time to time for appointing and inforcing the practice of winter herding and for the observance of such rules and directions as may be thought necessary and (rules 1) anent the application of lime and the management and improvement of their grounds, and his L'shp. will endeavour to get the tenents excused from the work at the public highway (Statute Labour Laws) until the roads necessary within the estate be made out, and the Earl will likewise have it in view to consider what agreement may be made with Mr Duff anent the improvement of the Barren Muir within the Estate.'

'On the other hand Mr Duff is to become bound to employ the necessary persons for making lime. to furnish the some to the tenents at the sale of two pence per boll to the extent of any quantity not below 1000 bolls yearly, to satisfy upon those he employs for making the lime. and to make the quarry tools forthcoming to the Earl when called for and to erect the lime kilns and lime house without any alarm or distress (expense) on the Earl, further than the two guineas and decayed timber above mentioned and to accept of the services before named in full for providing pears in manner. But previous to executing any contract betwixt the Earl and Mr Duff to the effect, his L.ship think it absolutely necessary to make some settlement with the present tacksman of the Quarry and to obtain his renounciation of the Quarry and free him of the quarry rent being 10merits yearly upon which he has tack subsisting until Whit 1763. In that case it will be under consideration whether this quarry rent is to be paid out of the produce of the lime sold at two pence per boll or proportioned on the estate to be afterwards payable by the tenents as they have lime.'
'To James Thom, Factor of Glenbuchat Estate, from Lord Fife (undated June 1761):
'I have agreed with Mr Duff to whom I intend to commit the management of my estate in Glenbucket to make a thousand bolls of lime this year for the use of my tenants there. One condition in this bargain is that the tennants must give the peats which l am told be a very easie condition as the moss is scarce three hundred yards from the lime quarry and the tennants are to have no further trouble imposed upon them of any kind. You are therefore immediately to order the tennants to provide such a quantity of lime as shall be sufficient for this purpose and that this task be got ready as soon as possible. I expect likewise that every tennent who possess any considerable farm will take care to provide a cart as soon as possible and for their encouragement l have given Mr Duff authority to send for five or six dozen of deals from Braemar to be given to those who shall seem to deserve it; and if there are any fallen or withered trees in the little fir Wood at Glenbucket you may take them for the purpose of building on house at the lime quarry. You are likewise to give obedience to Mr Duffs orders with respect to the roads.'
No further correspondence on this subject has been found in the Estate records so far, and there is no evidence that this agreement was acted upon, or the proposals for lime production taken up. William, 1st Earl Fife, died in 1763 and was succeeded by his son James, 2nd Earl Fife. The lack of further correspondence found between the Rev. Duff and the second Lord Fife may indicate a cooler relationship between the two, with the new Laird less indulgent of his distant relative and his schemes for the improvement of the lands of Glenbuchat.
The huge quantities of lime proposed, and the investment of money in building kilns, suggests that a large-scale production, using stone-built industrial style kilns was envisaged. There is no record of these types of kilns having been built, and no sign of any remains of them in the Glen. There are the remnants of a group of 3 small draw kilns on the lower side of the public road at the Balloch, which suggests a small scale commercial operation, perhaps from a later time when the quarries were let: A lime house' may have been built. The 1867 OS map shows a dwelling with some cultivated land - Corriemore, near the Balloch Quarry, but again it possibly dates from a later time than the 1760s.
Perhaps the conditions of the agreement, most of which the Rev. Duff proposed himself, were too demanding to make a feasible scheme - in particular the manufacture of at least 1000 bolls of burnt lime at the unrealistic cost of 2d per boll, when the amount of labour required to cut peat and to quarry and burn the limestone was considered. Also, there is no record of the tenants being consulted on the improvements, and one can speculate that the fiercely independent tenantry, accustomed to being left to their own devices, would have resented the Rev. Duff's style of managing the estate, and the imposition of new labour obligations in providing peat, building and improving roads, and on winter herding. The Rev. Duff was not resident in the Glen, and not on hand to oversee the proposed improvements. Scarcity of money may also have doomed the scheme to sell lime to the tenants. They would be unwilling to pay hard cash when they could make it for themselves at no monetary cost. The fact that the quarry was let at the nominal sum of 10 merks per annum indicates that providing limestone, or lime for sale, was not a profitable enterprise. Almost sixty years later the quarry was still a loss-making concern:
John Forbes to George Wilson Factor to Fife Estates 15th February 1817:
'I and James Shand wishes (in) particular to pass the Lime Quarry as we have lost money with it and when we make lime we cannot get money from those we sell, wishing to have nothing to do with it more to pay rent for it' (sic)
MS 3175 A/195/ (2)/3
The Reverend Duff was undoubtedly smitten with the agricultural improvement bug, and his motives appear to have been a genuine attempt to improve the agriculture of the Glen by enforcing new methods of farming on the tenantry. However, the tenants were in no position to experiment with novel ways of farming when a crop failure could mean financial disaster or worse, and the traditional ways were proven to work in most years. There was little investment or commitment to improvements from the successive Lords Fife to this remote upland part of their estates. In the 1760's, in common with most of the North East Scotland, Glenbuchat was not yet ready for the 'agricultural revolution'.
In January 1766 john Forbes younger of lnverernan was appointed factor of Glenbuchat and lnvernettie Estates. By the end of 1774 the Rev. Duff was in financial difficulties. He had over extended himself by renting another farming property near Aberdeen and tried to relinquish the leases of the Mains and Mill of Glenbuchat. There was a protracted correspondence with James 1st Lord Fife, whereby the Rev. Duff put forward various proposals and schemes to extract himself from the tenancies, but Lord Fife appears to have held him to the terms of the original leases. (MS 3175/830/1) The Rev. Duff died in 1784 (the year his lease ended) and a new tenant was installed in the Mains of Glenbuchat in 1785.
Sources of Information Maps
.
The First and Second Editions of the Ordnance Survey, 6 inch to l mile maps of the Upper Donside area of 1869-1870 and 1902-I 903, covering the parishes of Strathdon, Glenbuchat, Towie and Kildrummy (Aberdeenshire sheets L. LX, LXVIII, LXIX) were used to identify the sites of the limekilns. Additional information was gathered from a map of Glenbuchat Estate from 1854 in one of the author's possession.
Statistical Accounts.
An invaluable source of information on the farming practices of the time, including lime burning, are the reports given by the parish ministers in the Old Statistical Account of Scotland (OSA) of the 1790's, and again in the second series of parish reports in the New Statistical Account (NSA) of the early 1840s. Many of these country ministers were experts, or at least knowledgeable observers of the farming scene of the day, some running their own farms as a side line to their religious duties. They had travelled around the country and were impressed by the new methods of agriculture practised in the south of Scotland and areas of England. Some were appalled at the poverty of their own farming parishioners ,and on occasions out-spoken critics of the lairds for not encouraging improved agriculture as a way of alleviating the condition of their tenants. Their accounts of farming in their parishes from the 1790s came at a time when the pace of change in farming practices was increasing, and the 'agricultural revolution' was under way in most areas. By the time of the second of the parish reports (NSA) in the early 1840s' the agricultural revolution had happened, and this generation of ministers often expressed astonishment at the changes in farming methods and the appearance of the agricultural landscape in their parishes, compared with a few decades previously.
Duff House/Montcoffer Papers MS 3175.
Another major source of historically valuable information on the North East generally (and for the purposes of this booklet. Glenbuchat in particular}, has become available in recent years: the Estate Papers of the Dukes of Fife's estates, from the 18th and 19th centuries (Duff House Papers MS 3175, Aberdeen University Library, Historic Collections, Special Libraries and Archives, Kings College). Unfortunately, this vast collection of material is not indexed in detail at present, and references to lime burning and other topics are come upon mostly by chance, often as a small part of a different topic.
Web Sites
The Royal Commission on Ancient and Historical Monuments Scotland (RCAHMS) has an on-line database of archaeological sites in Scotland, which displays maps (CANMORE) and lists limekiln sites and quarries in the area. With descriptions and information on records held in Edinburgh.
www.rcahms.gov.uk/canmore.html
Aberdeenshire Archaeology Service has an on-line database with information on archaeological sites within Aberdeenshire including limekilns.
www.aberdeenshire.gov.uk/archeology
www.blackdown-hills.net/parishchests/otterford/lime
www.limekins.org.uk
www.arnsidesilverdaleonb.org.uk/limestoneheritageproject.documents/limekilns.pdf
www.corgarff.com (For many things to do with Corgarff, and the McHardy family of Corryhoul in particular, by Andrew J. McHardy)
www.glen-nochty.com (For information on Glen Nochty, by David Walker)
http://ca.geocities.com/glenbuchat2003 (a site on the history and genealogy of the Hay family of Glenbuchat, by Doug Hay.)
References.
1. List of Pollable Persons within the Shire of Aberdeen. Aberdeen Spalding Club, 1844.
2. Ordnance Survey Name Book. Glenbucket,1866.
3. Whyte, L., Agriculture and Society in Seventeenth Century Scotland, 1979, p. 199
4. Robertson. T., Simpson. J. B., and Anderson. G. C., The Limestones of Scotland. HMSO, 1949. p. 45.
5. Robertson. T, .Simpson. J. B., and Anderson, G. C., The Limestones of Scotland. HMSO. 1949, pp. 45-45.
6. Macfarlane. W., Geographical Collections Relating to Scotland, 1724. Vol. X. p.82
7. Adams. I. H., The Agents for Agricultural Change, in The Making of the Scottish Countryside. Parry and Slate, eds. 1980. p. 164
8. Forfeited Estates Papers. Scottish Hist. Soc., 57, ed. A. H. Millar. Edin.. 1909. p. 245.
9. Smith. Alexander, A New History of Aberdeenshire, Vol.1. 1875. p. 66I.
I0. NSA. Strathdon, Aberdeenshire, 1843. Vol. 12, p. 552.
11. NSA. Towie, Aberdeenshire. 1839. VoI.12.
12. Pirie. J. Carnie Parish. p.74. 1906. Aberdeen City Library
13. Information supplied by Mr Kenneth C. McHardy, www.corgarff.com
14. Personal communication from Henry Hamilton to W. D. Simpso, in The Book of Glenbuchat, Third Spalding Club. 1943, interleaved note book cop, Aberdeen University Library, Historic Collections. Special Libraries and Archives, Kings College.
15. Anderson J., General view of Agriculture of the County of Aberdeenshire. P58. Edin. 1794.
16. Keith. George Skene, A General View of Agriculture of Aberdeenshire. p.53, 1811.
17. Papers of Forbes family, Newe, Aberdeenshire, MS 2769/1/17/1, Aberdeen University Library, Historic Collections, Special Libraries and Archives, Kings College.
18. An estimate derived from the figure of 454 in the OSA account, Glenbuchat, 1793.
19. MS 3175/1669 Aberdeen University Library, Historic Collections, Special Libraries and Archives, Kings College.
20. Rental of the Earl of Fife's lands in the parish of Glenbucket, crop 1818 and 1822, National Archives of Scotland. Edinburgh. GD 1/421/127
21. Minutes of Evidence for Glenbucket, Poor Law Commission for Scotland. 1846 p.685.
22. Beattie, David. M., Pillars and Patches Along the Pathway: A History of Nichol Township. p.42. (Grand Valley: Star and Vidette Printing. 1984.
23. Estate Map of Glenbuchat 1864 — in authors possession.
24. From Mr George Farquharson, Mill of Glenbuchat, Glenbuchat.
25. Christie, Charles, Stray Memories of Strathdon, 1938, Private publication, p. 28, Aberdeen City Library.
26. Christie. Charles. Stray Memories of Strathdon, 1933. Private publication, p. 41, Aberdeen City Library.
27. Information supplied by Andrew J. McHardy - www.corgarff.com
28. Minutes of Evidence for Glenbucket, Poor Law Commission for Scotland. 1846. p. 685.
29. Minutes of Evidence for Glenbucket, Poor Law Commission for Scotland. 1846 p. 685
30. Estate map for Glenbuchat — 1864, in authors possession.
31. Estate map for Glenbuchat— 1864, in authors possession.
32. NSA, Strathdon, Aberdeenshire, 1843. Vol. 12. p.558.
33. Barclay. J. W, in The Book of Glenbuchat, Third Spalding Club. ed. W, D. Simpson. 1943, p. 43.
34. NSA. Strathdon, Aberdeenshire. 1843. Vol. 12, p. 533.
35. NSA. Old Deer, Aberdeenshire. 1843. Vol.. 12. p. 142.
36. NSA. Dumbarton, 1845. Vol. 8. p. 246.
37. NSA. Old Deer, Banffshire, 1843. Vol.12. p. 142.
38. Transactions of the Highland and Agricultural Society of Scotland, Series 1. Vol. 11, p. 162.
39. OSA. Kildrummy, Aberdeenshire. 1796. Vol. 14. pp. 539-540.
40. Duff House Papers MS 2175/828, Aberdeen University Library, Historic Collections, Special Archives and Collections.
41. Forbes of Newe Estate Papers, MS 2769/1/26/box 1, Aberdeen University Library, Historic Collections, Special Archives and Collections.
42. Souter. David, General View of Agriculture of the County of Banff. 1812, pp. 232-233.
43. OSA. New Deer, Aberdeenshire, 1793. Vol. 9. p. 187.
44. NSA. Abernethy, Elginshire, 1845, Vol. 13. p. 94.
45. OSA. Strathdon, Aberdeenshire. 1793. Vol.13. p. 181.
46. NSA. Strathdon, Aberdeenshire, 1843. Vol 12, p. 553.
47. Paterson. Edith (nee McHardy), My Father the Bagpiper. Chap. 2, privately printed. 1995. p. S.
48. NSA. Strathdon, Aberdeenshire. 1843. Vol. 12, pp. 551, 552.
49. Barclay. J. W. in The Book of Glenbuchat, Third Spalding Club. ed. W. D. Simpson, 1943. p. 45.
50. Information supplied by Andrew J. McHardy - www.corgarff.com
51. NSA. Inveraven, Banffshire. 1845. Vol. 13. p.127.
52. Information supplied by Mr Kenneth C. McHardy - www.corgarff.com
53. Stewart Fraser, Amy, In Memory Long, Routledge & Kegan Paul, London, Henley & Boston, 1977. p. 71.
54. Carter, I., Farm Life in North East Scotland 1840-1914. 1979. pp. 77-78.
55. Allan. J. R., North East Lowlands of Scotland, Hale. London. 1974. pp. 78-79.
56. Hendrick, James and Smith James. M., Methods Of Applying Lime, in Transactions of the Highland Agriculture Society of Scotland. Vol. XXVIII. 1916. pp. 45 - 157.
57. Gardner and Garner. The Use of Lime in British Agriculture, 1953, p. 5.
58. Mclntosh, Gibble, Tartan Tapestry, an Anthology of Strathdon and Lonach 1823- 2003. p. 25.
Click to return to Introduction page
Picture added on 06 August 2015 at 21:08
This picture is in the following groups
Kilns