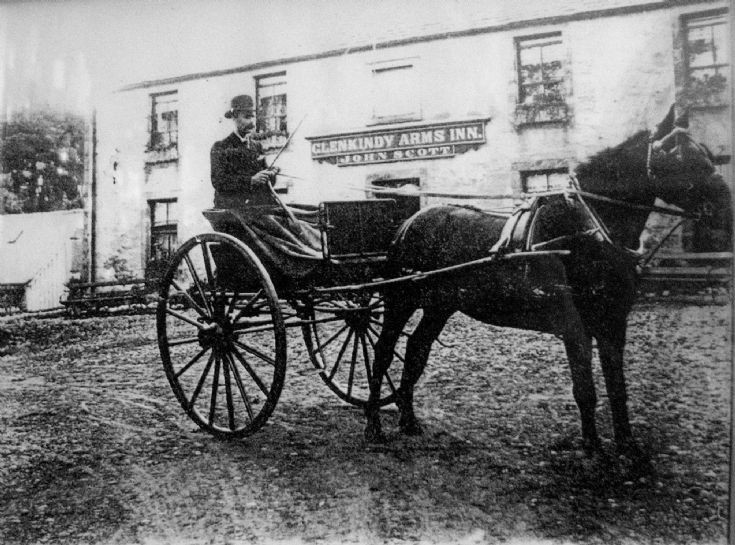 The Glenbuchat Image Library
186 ? Rev Jack Glenkindie? Rev Alexander Jack
The above photo is of a smartly dressed gentleman in a horse drawn gig outside the Glenkindie Arms Hotel
The picture probably dates from about 1900 and is very similar to another of the
Rev Spark of Glenbuchat.
Although similar there are facial differences, different dress and a different Gig indicating that this is another person.
At the time, only a few would possess such a fine non-agricultural vehicle, apart from the minister and the doctor. The likely subject of the photo is therefore the minister of Towie.
If anyone is able to clarify this person's identity please let us know.
The minister at the time in Towie was the Rev Alexander Jack.
His obituary in 1920 or 1921 gave a picture of his life.
"
Alexander Jack
, M.A. 1873.
Son of John Jack. ;
Born. Fordyce, Mar. 1851.
Died at Towie 22nd Nov 1920
Head Master, Glenlivet, Banff. ; New Byth, Aberdeenshire ; Drumblade, Aberdeenshire;
Minister of Towie, Aberdeenshire, 1888.
Rev. Alexander Jack (M.A., 1873), minister of the parish of Towie, Aberdeenshire, died at the Manse of Towie on 22 November, aged sixty nine. After graduating, he was a teacher for a number of years, being successively headmaster of Glenlivet public school, Banffshire; English master in the High School, Leith; and headmaster of New Byth public school and Drumblade public school, Aberdeenshire. He afterwards studied for the ministry of the Church of Scotland at Aberdeen University, and on leaving the Divinity Hall in 1886 he was licensed by the Presbytery of Aberdeen. His first appointment was as minister of Ruthrieston Mission Church, and in 1888 he was ordained minister of the parish of Towie. During the long period of thirty-two years in which Mr. Jack carried out his ministry in this parish, he took a leading part in all matters pertaining to parochial, educational, and ecclesiastical life.
A correspondent of one of the Northern newspapers, in the course of an appreciation of Mr. Jack, wrote: "By his death the Church in the north has lost one of her most eloquent preachers and a man of very striking personality. Visitors to his parish were enthusiastic about the excellence of his sermons and his eloquent delivery. With qualifications much above the ordinary, Mr. Jack might have filled, had he cared, a much more important charge,, but he was content to devote himself to his duties in the remote rural parish to which he was called more than thirty-two years ago.
Mr. Jack was the author of a Geography of Aberdeen, Banff, and Moray in rhyme, which was published in 1876."
From an article published in the "Free Press" on Monday 18th December 1876
(From Portsoy Past & Present Web Site)
Portsoy was famous at one time for a sort of serpentine rock, found in the vicinity, of which chimney-piece and other ornaments were made. It was known as Portsoy marble at home, and as Scotch marble abroad. There are also interesting specimens of mica-schist, asbestos of a greenish tint, and a flesh coloured granite, unknown (it is said) in any other part of the world except in Arabia, and, which, when polished exhibits figures bearing a fancied resemblance to the characters of the Arabic alphabet. (Stat Acc.)
The existence of the serpentine and some other peculiarities of the district, are thus summed up in Jack's Rhyming Geography of Aberdeen, Banff and Moray (1876): -
Fordyce for schools has long been known,
Portsoy for Serpentine,
Sandend's on coast, while Cowhythe Hill
Deflects the plummet line
An appreciation of his life is also noted in the History of the Royal Army Chaplains Department. Rev Jack had been Chaplain to the 6th Battalion Gordon Highlanders
Chaplain 3rd Class. The Rev. Alexander Jack
Chaplain 3rd Class attached to 6th Battalion, The Gordon Highlanders.
He died from natural causes on 22 November 1920. He was 69.
He was son of John and Ann Jack and the husband of Jane Ann Jack of Towie, Aberdeenshire
He is buried in the North West part of the churchyard in Towie
Additional Information
He attended the Grammar School, Portsoy and Aberdeen University, MA 1873. He then taught at Dr Seaver's School, Brighton, Glenlivet School, High School, Beith, New Byth School and Drumblade School. He changed career and became a Missionary at Fetterangus, 1884-1885 and was Licensed by Presbytery of Aberdeen in 1886 when he was a Missionary at Ruthrieston. He was ordained in 1888 and appointed Minister of Towie in 1888 and in 1900 he was also appointed Chaplain to 4th Battalion The Gordon Highlanders.
He is also in the United Kingdom Book of Remembrance, Berkshire
The other interest in the Photograph is the Glenkindie Arms in the background.
Click for more history about the Glenkindie Arms
Round about 1900 the proprietor of the Inn was a
Mr John Scott.
As well as running the hotel he also was a farmer and exhibited cattle at shows.
His son Alexander was killed in the First World War and in fact he was in the same battalion (6th Gordon Highlanders) which had then Rev Jack as their Chaplain. A number of other Glenkindie residents were also in the same battalion and killed in the first war.
Alexander Thom Scott
L/cpl 266406 6th Gordon Highlanders e Keith 35
Died of Wounds F & F 14-May-17
Son of the late John & Ann Dawson Scott, Glenkindie Arms, Glenkindie.
Etaples Military Cemetery Fr 0040 Plot XVIII Row N
Grave 6 Strathdon & Towie
Others mentioned on the Glenkindie war memorial are:
WWI ROLL OF HONOUR:
Barron William Gordon Highlanders Private
Begg Henry Royal Army Medical Corps Captain Mb.Ch.B.
Coutts George Gordon Highlanders Private
Dawson John Gordon Highlanders Private
Ellis George Gordon Highlanders Private
Ellis Peter Royal Engineers Sapper
Henderson George Machine Gun Corps Private London Machine Gun Corps
Ingram John W. Canadians Corporal
Innes John W. Royal Navy Seaman
Law George Royal Engineers Sergeant
Mcconnachie George Australians Corporal
Mcconnachie James Australians Sergeant
Ogg Peter Gordon Highlanders Private
Riddell Duncan Machine Gun Corps Private
Ross William Gordon Highlanders Sergeant
Scott Alexander T. Gordon Highlanders Lance Corporal
Shearer James Gordon Highlanders Private
Smith Charles P. Gordon Highlanders Private
Smith Hugh G. Royal Engineers Lance Corporal
Stewart Charles Gordon Highlanders Private
Tawse Edwin G. Gordon Highlanders Corporal
Taylor John A. Gordon Highlanders Private
Thom Adam Mcg. Black Watch Private
WWII ROLL OF HONOUR:
Thain John Gordon Highlanders Sergeant
Young Ronald J. Royal Marines Marine
From Aberdeen University Roll of Honour
Begg Henry Royal Army Medical Corps Captain Mb.Ch.B.
Rank: Captain
Regiment: 2/1st Highland Field Ambulance, Royal Army Medical Corps
Biography:
Son of George Begg, farmer; born Glenkindie, 10 October 1881; educated Glenkindie Public School; matriculated, 1900; graduated M.B., 1906. Later he took up practice in Kentish Town, London, acting also as Clinical Assistant at the Great Northern Central Hospital and the Mount Vernon Chest Hospital. Commissioned in the R.A.M.C. in 1915 he was posted to the 2/1st Highland Field Ambulance, with which he served continuously in France until his death at Beaumont-Hamel on 14 November 1916. Henry Begg was not a man who laid himself out to gain popularity; but no one was more deservedly popular owing to sterling merit, high courage and cheerfulness of disposition in difficulties. He never lost either heart or head; he believed that difficulties existed for the purpose of being overcome; and in consequence he gained the affection and trust of his men to a high degree. He was an ideal stretcher-bearer officer; for those under him knew he would never send them where he was not prepared to take them. The sense of loss felt by his unit on his death was great; his brother officers wrote: "We remember his bright and cheerful disposition at all times and under any circumstances. He was always in the forefront of what was going on, helpful to everyone else and always unselfish."
Date of Death: 14 November 1916
Burial Details: Buried at Louvencourt Military Cemetery, Plot 1, Row E, Grave 5.
Publication: Roll of Service, edited by Mabel Desborough Allardyce. Published 1921.
Picture added on 26 May 2015 at 23:05
This picture is in the following groups
places